Jeremy Guscott Q&A

By Jeremy Guscott
Former England and Lions centre
Last updated on .From the section Rugby Union88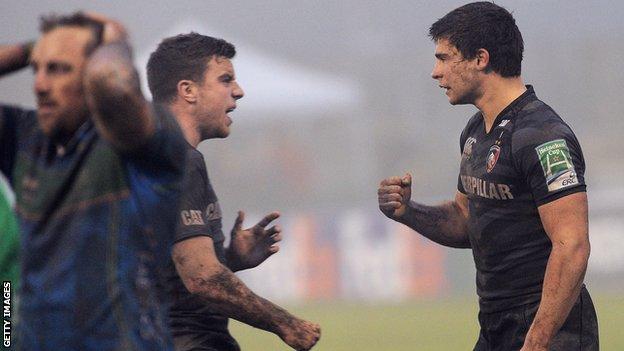 Among the topics Jerry discusses this week are:
- The biggest shock of the weekend's Heineken Cup results
- What he makes of the way the Heineken Cup pools are put together
- How good Australian rugby league's State of Origin is
- Whether he shares Brian Moore's frustration over feeding at scrums
- Where he's had most fun visiting for matches
Jerry answers questions posted on the website at the start of every week - entries are now closed for this Q&A. This week's answers appear below.
Which of this weekend's results (if any) has shocked you the most? Certainly for me the Ospreys result against Toulouse was unexpected but Toulon's result over Sale has to be mentioned. rhuw
Hi, I agree with both matches you mention, that's a lot of points for Sale to concede - even against Toulon - and Ospreys pulled one out, although Toulouse do look pretty unfit to me. I didn't expect Leicester to have to scrap as hard as they did for victory and I also thought Leinster would win at home.
I thought Northampton did a great job reversing the result against Ulster away from home, that was a big win for Saints by anyone's understanding because they were taken apart the week before.
Do you think that any English club has a chance in the Heineken Cup this year? If so, who do you think has the best chance of overcoming the likes of Ulster, Clermont Auvergne and Toulon? JP
Hi JP, Harlequins and Saracens look most likely of the English clubs to qualify. Leicester are leading their group but have tough games ahead, while Exeter and Sale are out and Northampton need some help.
Quins will be playing at home in the quarter-finals and will be confident no matter who they play - make the semis and they could win the Heineken Cup. Sarries' route will be much harder if they don't get a home draw in the quarter-finals and the same applies to Leicester.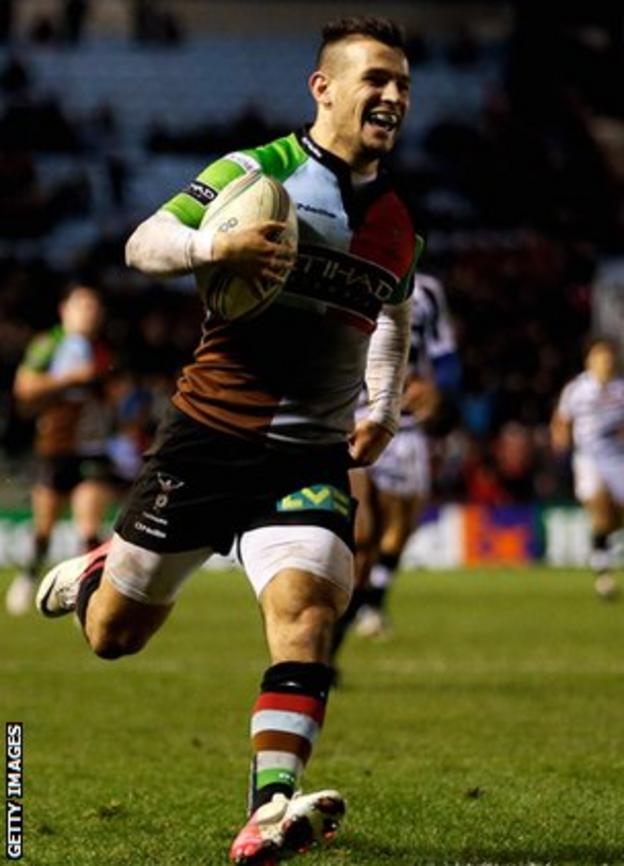 Whilst it's great seeing Quins do well in Europe do you think their group highlights problems with Heineken Cup seeding? We've got an incredibly easy group and currently none of the top seeds are top of their pools, with only one or two even looking to have a possibility of regaining top spot. OnlyJoeQuin
Hi, the tournament organisers ERC have got it all wrong, basing seedings on past performances in the Heineken Cup. It's not current or up to date enough and that's why we get some unevenly matched pools. They should just do it on positions from the respective leagues the previous season.
Currently the pool leaders look pretty good to me in Clermont, Ulster, Toulon, Quins, Sarries and Tigers. Some groups are naturally going to be tougher, but with seedings you also can't account for summer transfers making a team much better from one season to the next.
Jeremy, you have in the past been very critical of rugby league as a sport. Given England's use of ex-league players, have your views changed? Ynecawla
Hi, that's not strictly true, I have been critical of some former rugby league players' performances while playing rugby union, but not of the sport itself. I believe some of the State of Origin games played in Australia are as good as rugby can get.
There are quite a few former league players employed in union as defence coaches, Phil Larder was one of the first and the trend doesn't seemed to have slowed. My views on rugby league haven't changed, I like the sport, but I will still be critical of ex-rugby league players if they don't play well.
I'm watching the development of former Wigan and England rugby league player Joel Tomkins at Saracens with interest, if he can get to grips with union he has a great chance of becoming an England international.
Do you think that, like football in England, the huge investment in foreign players in France (mainly by Toulon), will lead to their national side slowly suffering? And vice versa with England. B-Dog
Hi, they are bringing in a rule that a minimum number of players eligible to represent France must be playing in the team or in the squad - the Jiff. The number of overseas players playing in the Top 14 will affect the development of young French players to some degree but because they have such large squads it will not be to the same extent as the overseas players suffocating young English players' development in the Premiership.
Jeremy, watching the games at the weekend I was incredibly frustrated by the cynical tactics of defending teams in the red zone and the weakness of certain referees in doing anything about it (in one game there were at least four instances of penalties being awarded five metres from the line and no yellow cards). Should the laws be changed to make a penalty an automatic yellow when it's that close to the line? Thom C
Hi Thom, we will always have to rely on the judgement of referees and I do believe they get decisions right most of the time, although I would still like to see more consistency across the board. Yellow cards are usually given for dangerous, persistent or cynical breaches of the rules and some refs interpret these differently, as is human nature. However, refs must not hold back from dishing out yellows for first offences if the foul is cynical and especially if it's in the red zone.
I would say the International Rugby Board and national unions have been slack in certain areas of the game when it comes to rules and referees implementing them. For instance, like Brian Moore, I hate seeing the ball being fed into the scrum crooked 99% of the time and then a ref randomly penalising a scrum-half for feeding - I do think that is ridiculous and makes the refs and the governing bodies who employ the refs look incompetent.
Why have the IRB and unions allowed crooked feeds into the scrum? It's ridiculous and goes against the sport's integrity. Turning a blind eye is unacceptable because who decides where it stops?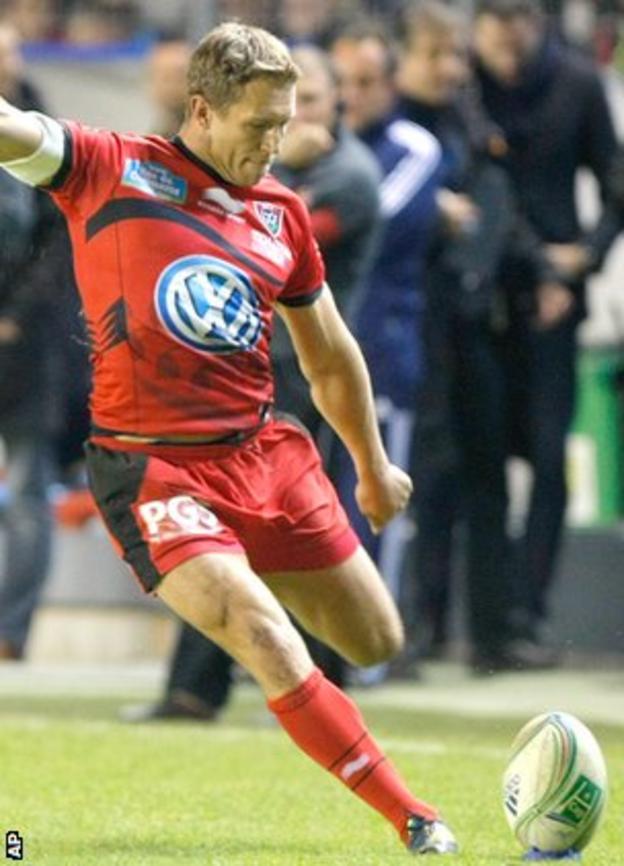 Hi Jeremy, what do you think about Gatland's admission that Jonny Wilkinson is still in the frame for Lions selection and if so should he still be considered for the England 10 shirt? Anonymous
Hi, Wilkinson has retired from England internationals but is hopeful of being called up for the Lions and with Wales fly-half Rhys Priestland injured, his chances have just improved.
Hi Jerry, what has happened to Leinster this year? I know they are missing key players but those marvellous attacking plays and that fierce back-row seem a world apart from the team who only scored one try in about 300 minutes of Heineken Cup rugby. Do you agree with those who claim that their players simply over performed for four to five years? Theslosty
Hi, I certainly don't agree with anyone who would be crazy enough to think Leinster over-performed to win their Heineken Cups, they were brilliant and deserved the victories. A team's run of success has some blips and Leinster are going through theirs. Admittedly injuries haven't helped but that isn't the only reason, they need more strength in depth.
Jeremy, what more do you think that Welsh and Scottish clubs can do to get higher attendances at games? The Ospreys are averaging about 8,000 this year which, while better than last year, could still be improved on. The local derby will always sell well, with over 16,000 tickets already gone for the Scarlets game, but surely when Toulouse and Leinster come to town there should be more interest? Reinas Golden Gloves
Hi, the regions have to find out why the fans don't want to come, why they can't identify with the teams, and work from that information. On a related note I do think the Pro12 needs a new identity and they ought to look more at the Super XV model.
Leicester, Quins, Saints and Saracens are all pretty wealthy clubs these days and their results in the last couple of years suggest an English 'big four' is emerging. Do you agree or can Bath, Wasps or Gloucester challenge long term? Cesc Wilshere
Hi, Quins have limited experience of being winners but that's not to say they won't make a habit of it - they played some brilliant rugby and deserved the title last season. Getting back there again is the hardest test but they look on course to do it.
Tigers have been at the top table since time began but I can see Gloucester challenging and what about Exeter, who continue to get results?
Northampton are actually struggling a bit at the moment but there is still half a season to go. I believe Wasps have improved but Bath have pretty much stayed the same and will make a fight of it - they will have to play some unbelievable rugby to make the top four.
In short I don't think Quins, Sarries, Tigers and Saints have the top four places sewn up this season, let along long term, and will be challenged by Gloucester, Exeter and Bath this year. I think the top 10 in the Premiership will remain competitive for some time and can't see a breakaway by a rich elite while the salary cap exists.
I had a fabulous weekend in Belfast watching Saints beating Ulster, and not just because of the result. We were made to feel very welcome by the Ulster fans, even after the game. Where's your favourite destination for a good time with real rugby fans? John Myhill
Hi John, in general all of Ireland is renowned for its hospitality - the locals' generosity is legendary and very enjoyable. It's not always the city that makes the experience so enjoyable, the supporters make it that much more special.
I couldn't pick a favourite, however, anywhere in Ireland is very enjoyable because they love their rugby, appreciate a good team even if they lose and know how to party.