Tom Shanklin backs Cardiff Blues' return to Arms Park
Last updated on .From the section Rugby Union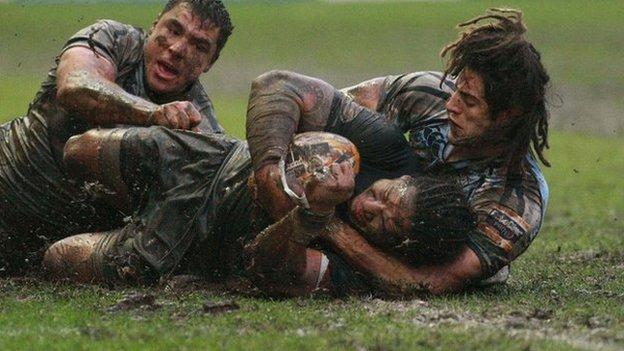 Tom Shanklin believes Cardiff Blues have made the correct decision to return to the Arms Park despite concerns over state of the pitch.
But the boggy state of the Arms Park pitch had a major impact on the game.
"I would rather play on a boggy pitch with a great atmosphere than play on a cricket surface with one man and his dog watching," said former Wales and Blues centre Shanklin.
The Blues returned to the Cardiff Arms Park in the summer after just three seasons at Cardiff City Stadium, the home of Cardiff City Football Club.
They reached an agreement with the Bluebirds that released them from the 20-year deal they signed when they move to the ground in 2009.
Low attendances at Cardiff City Stadium was the overriding reason why the Blues decided to return to the Arms Park.
The crowd for the Blues's festive fixture against the Dragons at the Arms Park was a few hundred lower than the corresponding fixture at Cardiff City Stadium in 2011, but Shanklin says the region were right to return to their original home.
"It's definitely working," he said.
"All the players, all ex-players and all fans love being back at the Arms Park.
"They had a great pitch at the Cardiff City Stadium but you just didn't get any atmosphere there."
He added: "The [Arms Park] pitch wasn't in a bad condition when the game started but it just poured and poured down for the while 80 minutes," said Shanklin.
"I know the Ospreys do have a synthetic pitch and its solid under foot and they have nylon weaved into the grass.
"But the pitch at the Arms Park has a lot of games and it has basically rained for two months here in Wales."