Kassam Stadium: Owner denies London Welsh bid
Last updated on .From the section Rugby Union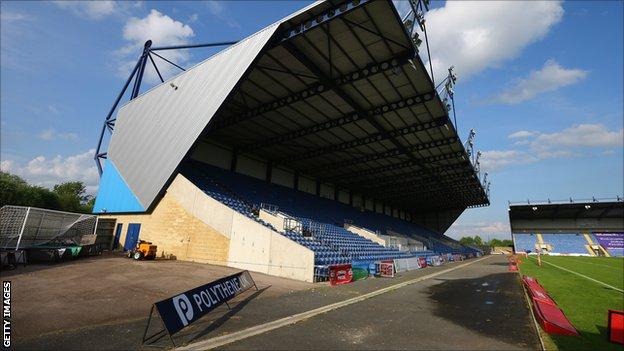 The owner of the Kassam Stadium has denied there has been any contact with London Welsh to buy the ground which is shared with Oxford United.
Welsh want to base themselves in Oxford permanently and their vice-chairman claimed they had been in talks.
But Firoz Kassam says this is not true.
"They have made no approach," he told BBC Radio Oxford. "We have a rental agreement for the one term, with an option for a second - there have been no discussions about a purchase."
Kassam added that United no longer have first refusal on the stadium and that there have been no recent discussions about selling the ground to the football club he sold in 2006.
He said: "I am the custodian of the stadium on behalf of Oxford United - because (football) is what it was built for."
Speaking earlier, London Welsh's former managing director and current vice-chairman John Taylor said they were in discussions with investors to help fund a permanent move to the stadium, which was understood to be without the football club.
"We are exploring the possibility. Conversations have been had with Mr Kassam," he told BBC Oxford.
Welsh, who are in their first season in the Premiership, only moved to Oxford in the summer because their Old Deer Park home was too small for the top flight.
They had been expected to launch a joint-bid to buy the stadium with Oxford United but Taylor added they were looking for funding and have spoken to some major investors in Wales that are keen to help finance the purchase of the stadium, which opened in 2001.
But the club later denied they had started negotiations with Kassam, saying Taylor's comments were "incorrect".
"Any talk of us as a club buying the Kassam, is premature at best," London Welsh chief executive Tony Copsey said in a statement.
"Our immediate focus is on Premiership survival and developing our club as a business to compete within the top echelons of English rugby.
"Certainly any purchase of the Kassam in the future, if we remain in the Premiership, would be something we would consider, but not without consultation with many stake holders including Oxford United Football Club."
A statement from U's supporters' trust OxVox read: "Like many fans, OxVox are very concerned about the possibility of the stadium being sold to any party other than Oxford United FC.
"We have already had positive discussions with both Oxford United and London Welsh on this subject and we are already working with Supporters Direct to formulate ways to possibly help Oxford United acquire the stadium.
"We feel it is important that we continue to progress our relationship with London Welsh so we can understand their plans and to identify if there is a mutual way to work together."