Jeremy Guscott Q&A

By Jeremy Guscott
Former England and Lions centre
Last updated on .From the section Rugby Union131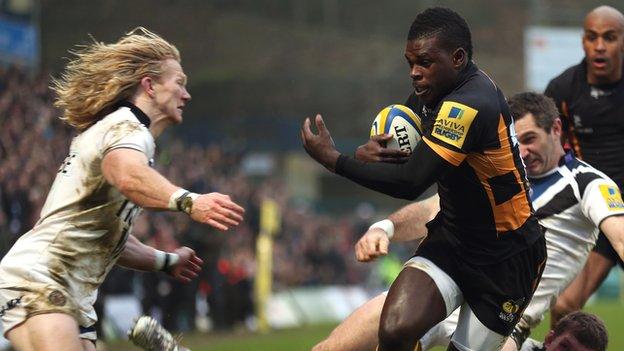 Among the topics Jerry discusses this week are:
- Which new faces he would like to see in the updated England elite squad
- What he makes of the England chances of Wasps flyers Christian Wade and Tom Varndell
- Whether Tom Croft will be recalled
- Who will make it through the Heineken Cup pool stages
- Adam Jones's strong words about the below-par Ospreys
Jerry answers questions posted on the website at the start of every week - entries are now closed for this Q&A. This week's answers appear below.
Hi Jeremy, who are going to be the likely newcomers in the England squad when it is announced on Wednesday? Do you think it's FINALLY time to give Christian Wade and/or Tom Varndell a chance on the England wing(s)? cool calm and calculated
Hi, there are a lot of scenarios for England boss Stuart Lancaster to think about because of the EPS agreement between the Rugby Football Union and the clubs, which limits the movement of players in and out of the squads. Players like Joe Launchbury, Freddie Burns and Tom Youngs are in the Saxons squad at the moment and must be favoured to move up.
Then there's the midfield to consider with Billy Twelvetrees possibly taking the place of either Jordan Turner-Hall and Anthony Allen. Worcester back-rower Matt Kvesic has been making big strides, as well as Will Fraser at Saracens. I'm not convinced Wade or Varndell will make the top squad but, of the two, Lancaster might consider Wade more but there's a lot of competition on the wing.
Hi Jeremy, considering Wade's excellent try on Sunday and his wing partner Varndell playing well, along with all the other English talent on the wing at the moment, do you think Chris Ashton's place on the wing in the England team is safe? If you think it is, who would you pair him with on the other wing (with an out-and-out winger) or if not, who would you replace him with? James_Hal
Hi James, personally I would have an out-and-out winger playing on the wing but, after watching Quins' full-back [Mike] Brown play so well against New Zealand, it's hard to leave him out of the next game. Ashton hasn't done so badly that I would leave him out, his ability to be in the right place at the right time when a team attacks is better than that of his rivals.
The fight for the other wing place is probably between David Strettle, Brown, Ben Foden, Wade and Charlie Sharples. Right now I would be happy with any of them. I don't think any player's spot is safe when there's a lot of competition for it.
Hi Jerry, with Leicester fly-half Toby Flood a doubt for the Six Nations next year as he waits to find out the results of his citing for an alleged tip tackle against Worcester, do you think a door could open for Gloucester's Freddie Burns to get a first-team chance after his impressive season so far? Ethan Glynn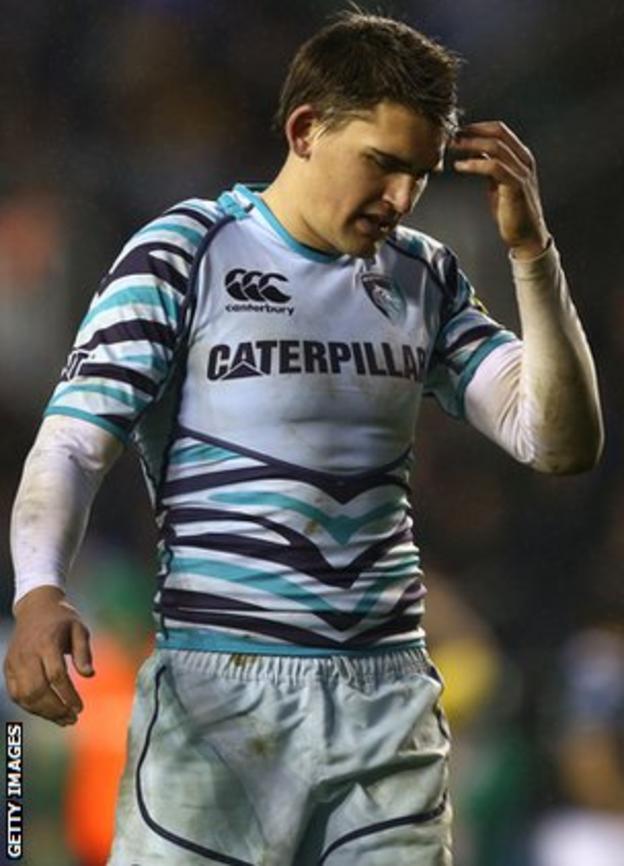 Hi Ethan, we know Lancaster is loyal and to leave Flood out would go against what he's done so far. Burns should be upgraded from the second-string Saxons squad and, if Flood gets banned and doesn't get enough time to prove his fitness by playing at least a week before the Scotland game, then I would expect Burns to be on the bench. Burns offers a different style of play to Flood and Owen Farrell, but I can't see Farrell being dropped for the Scotland match.
Hi Jerry, who would you start at full-back for the opening match of the Six Nations, as Ben Foden is now fit, Alex Goode is the incumbent and Mike Brown is in good form? jwbw11
Hi, that is a difficult selection. I wasn't sure about Goode at full-back but he's proved he can play at international level and his playing style after first phase provides a playmaker that the England backline lacks, especially if Farrell is at 10. Let's hope he shakes off his shoulder injury.
Foden has the most pace out of the three but Brown has been scoring the tries in the Premiership - he's equal fourth in the scoring charts - and is better with the high ball in attack and defence. Personally, I would go with Goode because I want to see him have even more influence on how the England backline attacks.
Hi Jeremy, even though he has Lions' Test caps and more experience than most of the current squad, do you think Leicester blind-side Tom Croft will be left out of the England Six Nations squad? With Tom Wood and Chris Robshaw playing so well, Tom Johnson in the form of his life and James Haskell also playing well, where would Croft fit in? And if so, who would you drop to accommodate him? Sonnybill
Hi Sonnybill, looking at Croft you have to remember the try he scored last season for England v France; none of the other back row players could have scored that and he runs quicker than most of the England backs. Croft also offers a lot in the line-out and that could sway Lancaster.
Last season Croft played 10 Premiership games and won 38 line-outs with four steals, in comparison Wood played eight and won 28 with no steals. This is where selection gets incredibly hard because Croft and Wood are both class internationals. I would go for Wood because he was man of the match against New Zealand and I always believe the man in possession has to have a shocker before the challenger gets his opportunity.
With the last rounds of the Heineken Cup group stages coming up this weekend, any predictions for who's going through? Harlequins and Clermont are pretty much through but who else is joining them? TheLastKingofEngland
Hi LKOE, Toulon and Ulster are pretty much there barring some upsets and then it becomes a bit of a fight. As pool leaders Tigers and Sarries have it in their own hands, win their games and they're through. But there are no easy games and Montpellier, Racing Metro, Toulouse, Castres, Leinster, Munster, Saints and Leinster are still all in the mix with a chance of going through.
I would predict that joining Quins, Clermont, Toulon and Ulster will be Sarries, Montpellier, Tigers and either Saints or Leinster.
Hi Jerry, having watched the Wasps v Bath game it appears the focus on 'tip' tackles has become excessive. Do you think Tom Varndell's tackle on Horacio Agulla, for which he was yellow carded, was dangerous and deserved a yellow card? Dave B
Hi Dave, going by the letter of the law it was justified. Law 10.4(j) reads: "Lifting a player from the ground and dropping or driving that player into the ground whilst that player's feet are still off the ground such that the player's head and/or upper body come into contact with the ground is dangerous play."
That sums it up and Agulla's upper body did hit the ground first. Because he didn't appear to force or drop Agulla he got a yellow and not a red. A referee could quite have easily red-carded Varndell but that would have seemed excessive. However, this particular law has been refereed with some inconsistency.
Hi Jerry, Any thoughts on why a red mist descends on Andy Goode whenever Worcester play Leicester? Red carded last season at Welford Road, yellow (and should have been red) on Friday at Sixways. Worcester have the worst disciplinary record in the Premiership and actions like this will do nothing to improve it. Steve Dane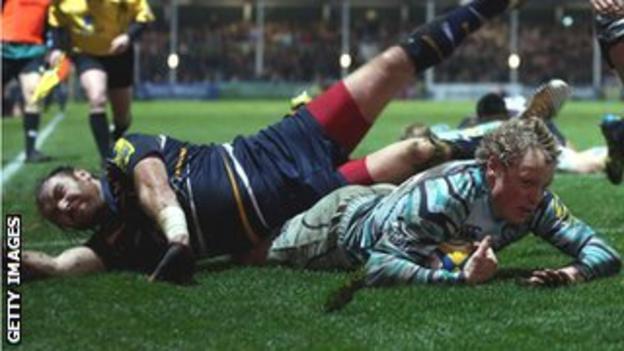 Hi Steve, Goode's knee-drop on Scott Hamilton was very unnecessary and given that Warriors boss Richard Hill had got the help of former referee Steve Lander to try and stop the indiscipline of his players - they lead the Premiership in yellow cards this season with 11 - it seems even more embarrassing for Goode.
He knows being sin-binned probably cost Worcester the game and that should be enough to make sure it doesn't happen again.
Hi Jeremy, over the past few months we have seen a new side to London Wasps that has apparently been missing over the last year or two, and they now sit fourth in the Premiership. What do you think has been the event or key point that has seen them turn their performances around? Chris497
Hi Chris, I would say the stability off the field has helped - going through all that uncertainty last year over the club's future and then surviving the drop will have galvanised the squad. There are three factors that have really turned it around for Wasps. The first is adding experience, in the form of James Haskell, Tom Palmer and Stephen Jones. The second is the good coaching of Dai Young and his assistants, and the third is the ambition of the youngsters - Wade, Billy Vunipola, Joe Launchbury and Elliot Daly.
Hi Jerry, with Wales' Jekyll and Hyde nature when faced with either northern or southern hemisphere sides, I don't think the results in the summer and autumn should overly affect their confidence for the Six Nations. Wales haven't had a bad result against any team in the competition for some time. I still fancy our chances - am I just mad? Hywel Roberts
Hi Hywel, Wales haven't been brilliant the season after Grand Slam success in the past, but, if they follow the attitude of the All Blacks and improve, of course they will be a handful in this season's Six Nations. However, the evidence so far doesn't suggest they've moved up a gear.
Hi Jeremy, while I appreciate the honesty of Adam Jones's comments about the Ospreys' poor performance on Friday I can't help but think these words could damage the confidence of the team. What do you think about players speaking negatively about their team in the media? aong-uls
Hi, any criticism is never overly welcome from any player but sometimes you have to hear it publicly or otherwise. As a senior player, Adam Jones was responding to a question and being very open. You have to keep in mind they have a chance of qualifying for the Heineken Cup quarter-finals but with any more performances like the one against Zebre they won't.
Also, there was a bit of embarrassment at not putting away a team at home, who scored two tries against you and were sitting bottom of the league.