England expects from Stuart Lancaster's men

By Tom Fordyce
Chief sports writer, BBC Sport in Leeds
Last updated on .From the section Rugby Union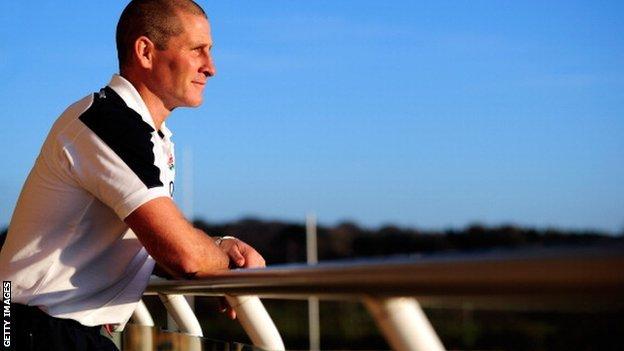 From brave new dawns to just another day. A year after blowing away England's cobwebs by bringing 15 uncapped players into his country's elite squad, Stuart Lancaster's first full anniversary was as restrained as his initial impact was revolutionary.
The head coach's 33-man selection for the Six Nations trials ahead contained few surprises. There is another chance for David Strettle, confirmation of the autumn elevation of young guns Freddie Burns, Tom Youngs and Joe Launchbury, a summoning for Burns' Gloucester partner Billy Twelvetrees.
By changing so little, Lancaster has, perversely, shown how much has changed.
While he made his announcement at the same venue as 12 months ago - the down-to-earth West Park RFC in the well-heeled village of Bramhope, just north of Leeds - expectations among England supporters have been transformed since he stepped into the spotlight as interim coach.
"It seems shorter than a year in lots of ways," Lancaster reflected. "So many things have happened. It's interesting to sit here a year on and remember where we were as a group.
"It wasn't just the 15 changes that was significant, it was the number of caps that left that side. Even now with the evolution of the team you see an experienced player like Tom Palmer drop out of the squad and a younger man like Joe Launchbury come in.
"That is always going to continue - whether it's Charlie Hodgson and Lee Mears [retiring from the international game] in the summer and younger players replacing them, or my desire to balance creating a winning team in the here and now and developing a team to win in 2015 too."
Last January, the scandals and disappointments of the World Cup in New Zealand still lighting up the back pages and keeping paparazzi and tittle-tattlers in lucrative employment, Lancaster had to make clean the break with the recent past and give disillusioned die-hards a few reasons to be cheerful.
It wasn't entirely easy, but by picking half a squad of fresh faces, and taking those international greenhorns to blustery Yorkshire rather than leafy Surrey, half the battle had been won.
This time more will be required. It isn't just that remarkable thrashing of the All Blacks in the final match of the autumn, although that simultaneously made Lancaster's job both easier and harder.
This year's Six Nations, if not lying limp for England's advances, is at least winking suggestively. With three of the five matches at home, Scotland - a team without a coach but in possession of the Wooden Spoon - up first, last season's champions Wales on a miserable trot and Ireland balancing between generations, England have genuine aspirations of a first Grand Slam in a decade.
Uncapped a year ago, men like skipper Chris Robshaw and lock Geoff Parling are now established. Proven older hands like Dan Cole have been joined by those previously held back by injury like Tom Wood and Courtney Lawes. While there are concerns about creativity in the backs, the pressure from young thrusters like Burns and Twelvetrees will please the purists.
Lancaster being the coach he is, the new kids will also continue to get game time, even if off the bench. Launchbury was blooded against the Wallabies and Springboks, Burns the All Blacks; if defence coach Andy Farrell's words are anything to go by, the uncapped Twelvetrees will soon follow suit.
"He's got talent across the board," said Farrell. "We know he's played a lot at 10, but what he's shown in his game at 12 is an ability to get over the gain line, take the ball up and be aggressive in defence.
"He's developed massively, and we're interested to see if he can transfer that form from Gloucester to the international set-up. That's what it's all about - be able to express yourself immediately, impress your team-mates in international rugby."
While the names in Lancaster's squad might be familiar, not all will have followed the same untroubled path through the national set-up.
Calum Clark was one of the young bucks called into the ranks a year ago. But his recall, two months after returning from the 32-week ban he received for breaking the elbow of Leicester's Rob Hawkins, might rile some stern moralists.
Lancaster's thinking is simple. He sees 23-year-old Clark as the leading young contender for a southern hemisphere style number seven, a marauder with the physical gifts and open-side skills to one day compete with the best.
This doesn't mean skipper Robshaw's days at seven are numbered. Nor does it mean that Wood might not one day move across from the blind-side, or that Worcester's Matt Kvesic and Saracens' Will Fraser, who are named in the second-string Saxons squad, might not also step up.
But Lancaster is among the converted, having first coached the Northampton man when the forward was a 14-year-old schoolboy at Barnard Castle school, taking him to the Leeds academy and backing him publicly in the same city's hinterlands this week.
"He has had tough lessons to learn," admits Lancaster of Clark, who was also sent off for a head-butt in the final of the Junior World Cup.
"I know his personality inside out. I know what he can offer. He was hugely regretful of the incident, and he's never felt anything but remorse about it. Everyone deserves a second chance.
"He has been harnessing the competitive nature he has got, which you want in players to win games, but he is channelling that in the right way. I've observed his behaviour in games to make sure he's on the right side of where he should be.
"In addition to his desire to win, his versatility in the second row is an option for us. He is incredibly athletic and very good in the contact areas."
That versatility is key to Lancaster's plans for his second year in charge. If the first was about renewal and revival, the second is about evolution and competition.
The head coach's stated long-term goal is the World Cup on home territory in two and a half years' time. To succeed there he knows he will need strength across every position, and that depth to come from players who will be close to their international peak.
"We want to have the players fighting for the shirt," said Lancaster, who responded to questions about a lack of locks in the squad by hinting that Clark and the fit-again Tom Croft will add second row cover.
"It won't be a straight line upwards. We're still hugely disappointed about having lost two games in the autumn. But the bulk of this squad should remain (to 2015), when you look at the quality of player we've got in the majority of positions, and go way beyond that."
Aspirations are one thing, championships another. The naïve England who were out-smarted by Australia and held at bay by a tired but savvy South Africa did not look champions in waiting. Trips to Dublin and Cardiff are seldom romantic weekends; Wales will surely improve on their dismal autumn, while Scotland's stand-in forwards coach Dean Ryan will have his charges snarling and scrapping in his own feisty image.
Lancaster was keen to point out that the average points difference in England and Scotland matches over the past five years has been just four. Equally he knows an opportunity when he sees one. This year, England expects.