Redruth set for bonus point after 26-3 Bournemouth win
Last updated on .From the section Rugby Union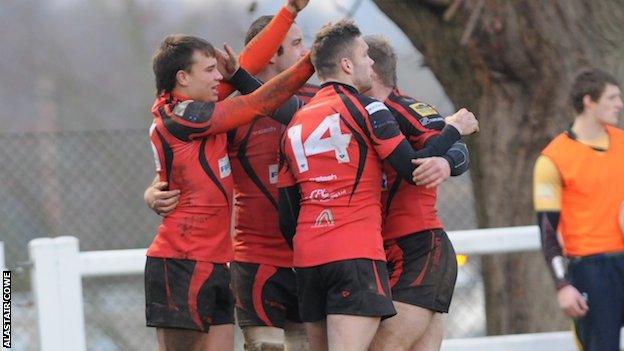 Redruth are set to receive five points from their match at Bournemouth which was postponed after 64 minutes with the Cornish side leading 26-3.
The referee called a halt to the game as rain made the pitch unplayable.
"We'd played just over the hour which means the result should stand," Redruth secretary Roger Watson explained.
"The result was in no doubt and everybody was quite pleased when he blew the whistle and we could all get out of the rain," he added.
"The rain was teeming down and there was standing water all over the pitch - the referee made the right decision," Watson told BBC Radio Cornwall.
Tom Notman scored two first-half tries while Paul Thirby got one in-between to send the Reds into a 21-3 lead at half-time.
Frazer Kellythorne's score on the hour mark secured the bonus point before referee Veryan Boscawen brought the game to an early end.
"We played some great rugby in the first half despite the conditions," Watson said,
"We got four tries, all from backs, when your game, many would say, is forward orientated in terrible conditions.
"It was getting difficult to see which team was which towards the end.
"Bournemouth play in a black shirt and the Redruth shirts looked black with the mud," he added.