Six Nations 2013: Pretorius "privileged" by Wales squad place
Last updated on .From the section Rugby Union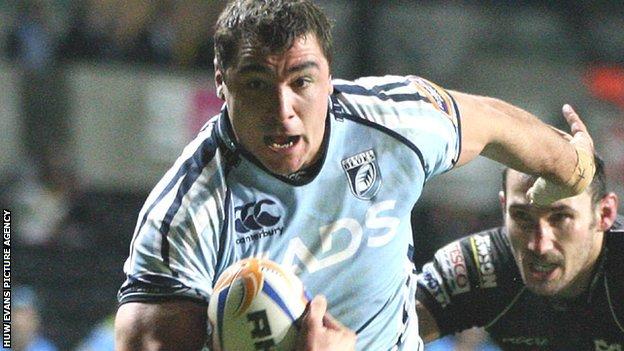 Andries Pretorius says he's privileged to be part of the Wales Six Nations squad.
The South-African-born Blues captain qualifies through residency, and says he feels at home in Wales.
"My ambitions have been far surpassed, and I'm just privileged to be put in this position," he said.
"For me this is my home now... this is where we'd like to raise our kids, and there'd be no place I'd rather go so even if it wasn't for the rugby."
Back row Pretorius, 27, joined Cardiff Blues from Gloucester's academy in 2009 and became eligible for Wales on 1 December, 2012.
He said that he made up his mind to try to play for Wales following a family bereavement.
"If I'm honest I'd probably say about two years ago when my mom passed away I started thinking 'well, have I made the right choice not being home'," he said.
"Then I decided - well you know I'm going to make the most out of this opportunity and if I have been given this choice then I'm going to make it worthwhile."
Pretorius explained his links with the UK go back to his time as a player in Durban, and right from the start there was a Welsh influence.
"When I was playing for the under 21s and playing club rugby I was given the contact details for Allan Lewis who's currently the youth coach for Wales," he said.
"At that time he was the director of rugby for Hartpury College and I sent him an email asking for an opportunity and said I'd prove myself.
"Fortunately I managed to meet him and I got the scholarship to Hartpury College and it all brewed from there."
And the player insists his commitment to Wales does not end with rugby.
"This is my home now, I've got a very small family back home in South Africa and it's not a place I'd like to go back to," he said.
"My wife is Welsh, we love the history of it.
"We've actually been to my wife's grandparents' house and seen where they grew up - it's up in the valleys in Tonypandy.
"Even if it wasn't for the rugby we'd still stay here and we've discussed this with my wife in the past and we both love living here so why would we want to go anywhere else?"