RFU agrees new pay deal with England players and clubs
Last updated on .From the section Rugby Union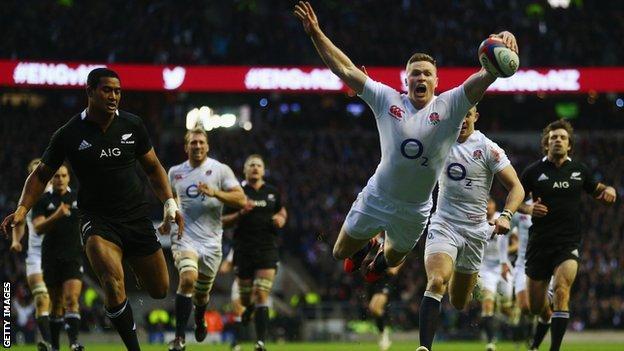 The Rugby Football Union has agreed a new pay deal with England's players to avoid potential disputes before the 2015 Rugby World Cup.
However, the RFU say they are confident there will not be a repeat.
RFU chief executive Ian Ritchie said: "This agreement is a major step forward for the RFU, players and the clubs."
He added: "To get this level of certainty up to and including the World Cup is a good thing.
"The last thing we wanted was to wait years to sort this out and have last-minute discussions."
"Clearly the players want to be satisfied there is a reasonable arrangement in place for the Rugby World Cup in 2015.
"There was a determination on both sides that we would do this positively. We have done the finances and now we can purely concentrate on the rugby."
The new agreement, which covers England senior, Saxons and Under-20s squads, includes confirmation of match fees and performance bonuses.
England, who beat New Zealand 38-21 in December, host the World Cup in two years' time, although this pay deal runs until June 2016.
Rugby Players Association chief executive Damian Hopley also welcomed the new agreement.
"All parties wanted to ensure we built on the foundations and progress made by [head coach] Stuart Lancaster and the squad in the last 12 months," said Hopley.
"The new contract recognises the efforts made by all 33 of the senior Elite Player Squad, as well as the increasing overall value of the players to the RFU and their partners."