Declan Kidney hopeful Jonathan Sexton will not move to France
Last updated on .From the section Rugby Union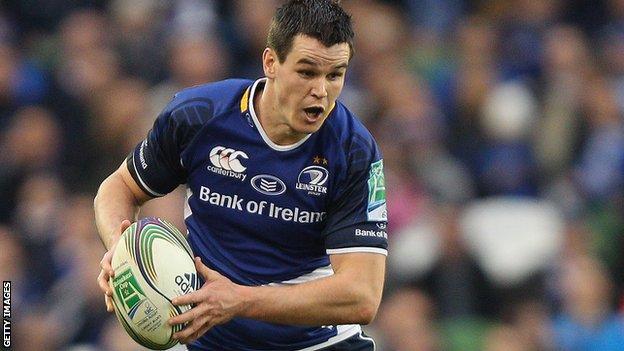 Ireland coach Declan Kidney is hopeful that Jonathan Sexton will not be lured to France's Top 14 by money.
Leinster fly-half Sexton is reportedly the subject of a £625,000 a year offer from Racing Metro and is believed to have held talks with the French club.
However, Kidney is hopeful that the IRFU can renegotiate a deal to keep one of the country's stars at home.
"I don't think anything that Jonny would do would be selfish or lead to a thing like that," said Kidney.
"He just has to do the right things. Whoever came out with the story publicly, I don't think the IRFU or Jonny had any interest in it going like that."
The Ireland coach added: "I've yet to meet an Irish player who has actually made his decision based on money.
"He's made it on how he's looked after (and) his affinity to the team.
"Our fellas' pride in their provinces is only matched by their pride in their Irish jersey."
Kidney said that he expected Sexton's talks with the IRFU to be concluded "fairly soon".
"I wouldn't like to pre-empt these things, you have to let the negotiations carry on.
"It's a profession. Fellas have to look after themselves and I know the union will do everything to keep him but because it's a professional situation, there's only so much money there.
"Hopefully everyone involved will make the right decisions to keep Jonny in Ireland."
Sexton is 27 years old but only made his Ireland debut in November 2009, not long after he became the first-choice 10 at Leinster.
He is one of the top earners since gaining an international contract with the IRFU but any offer from Racing Metro is likely to dwarf any annual package his home union could offer.
Ireland players based overseas such as Tom Hayes (Exeter) or Ryan Caldwell (Bath) are subject to restrictions on call-ups and time off allowed for training camps.
"Tom and Ryan are not available to us next week," added Kidney.
"We had get-togethers in August and September, then we were in for a camp in November. Anybody who moves abroad, that prohibits their involvement in that."