Leading England Women players to miss Six Nations
Last updated on .From the section Rugby Union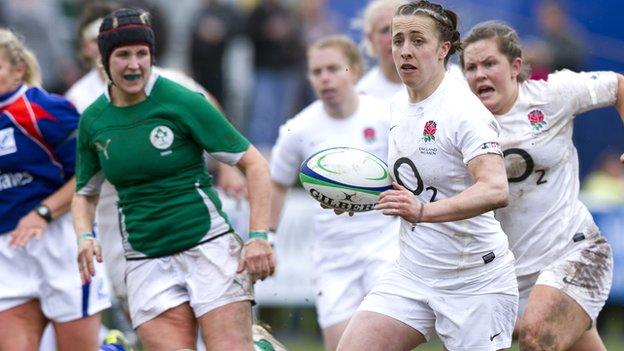 Two-thirds of England Women's strongest side will miss the forthcoming Six Nations to focus on winning the Sevens World Cup in June.
The entire backline - including captain Katy McLean - that started the first and third Test wins in the autumn series whitewash of New Zealand will play no part.
Star flanker Maggie Alphonsi and fellow back-rowers Heather Fisher and Marlie Packer are also among a 17-strong group concentrating on the shorter version of the game.
England have won six Grand Slams in the past seven years and are aiming for their eighth successive Six Nations title.
But coach Gary Street says the decision to do without many of his most talented players is part of a four-year strategy aimed at prioritising certain events over others.
"What we are trying to do is win the Sevens World Cup," he told BBC Sport. "I think the momentum of us winning it would be a huge step for us to kick on.
"It is a very realistic goal. The squad is incredibly strong and the confidence of beating New Zealand in the autumn was a huge boost, especially the way we did it. We didn't just out-work them but our skill level in most aspects was superior."
Unlike their male counterparts, England's Women do not have a wide enough player base to have specialists in both forms of the game, so must utilise their 48-strong elite squad to cover events in both.
"We could split them but we wouldn't give ourselves the best chance to win both World Cups," explains Street, who will work with the 15-a-side squad while fellow coach Barry Maddocks looks after the Sevens group.
It is possible a few players in the Sevens squad returning from injury - centres Claire Allan and Rachael Burford, wing Kay Wilson and Alphonsi, who is still at least a month away from a return - may be drafted in for the odd Six Nations match to give them some game time.
The third match - a potential title decider against France - to be played at Twickenham, after the men's match on 23 February, offers one such opportunity.
But the priority for the 'absentees' will be an intensive, twice-a-week training programme for the next six months, breaking off to compete in Sevens World Series events in Houston, USA (1-2 February), China (30-31 March) and Amsterdam (17-18 May), en route to Moscow, which will host both the men's and women's Sevens World Cups from 28-30 June.
"They will be in a hell of a shape by the time the World Cup comes around," Street adds. "We are making sure they are really Sevens-focused."
Many of the squad will likely form the core of the Great Britain squad that competes in Rio in rugby's inaugural appearance in the Olympics in 2016.
But they will return to 15-a-side competition next season, when the priority will be the next Women's World Cup in France.
"If this was a must-win Six Nations, we wouldn't have this policy," added Street, who will have had only four days of preparation with his players before they face Scotland in their opening match.
"But I think we have got enough strength-in-depth that we can do really well with the players coming in. We have got a few backs that would start for most other countries."
Among those set to feature are 22-year-old Worcester fly-half Ceri Large, Bristol centres Amber Reed, 21 - the only back left who started one of the autumn Tests - and 23-year-old Sally Tuson, a player of "huge potential" according to Street, and 20-year-old Worcester wing Lydia Thompson.
"During my time we have always been favourites for the Six Nations but I can see why Ireland and France might fancy themselves this year," he added.
"A lot of our youngsters have a chance to put their hands up. It is a fantastic challenge for them and the coaching staff, but I have real confidence in them. If they punch their weight it is going to be really exciting for me looking ahead to 2014."