Ospreys' Jonathan Humphreys hits out at unrealistic expectations
Last updated on .From the section Rugby Union196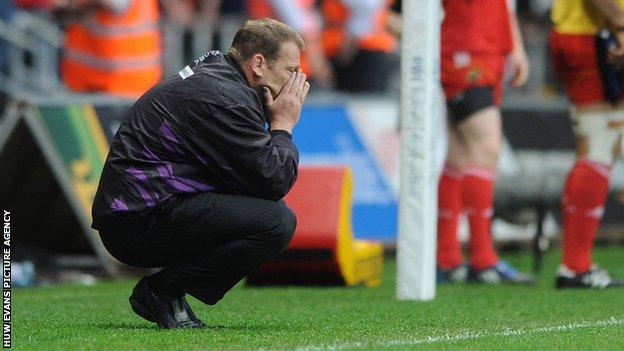 Ospreys forwards coach Jonathan Humphreys has hit out at the "unrealistic" expectations of Welsh success in the Heineken Cup.
The former Wales captain claimed the Welsh regions do not have the money to compete with the rest of Europe.
The Ospreys lost 17-14 to Treviso in their final pool match, with no Welsh side qualifying for the quarter-finals.
"Our [Welsh] expectations are totally unrealistic. We are the least funded and yet we expect the most," he said.
"Someone justify to me why we should be disappointed.
"We have way less money than everybody else in the competition, that's including the Italians... and we are upset about it?"
The Ospreys, Cardiff Blues and Llanelli Scarlets all failed to reach the quarter-finals of the Heineken Cup, managing just three wins and a draw out of 18 pool matches.
The Newport Gwent Dragons, who failed to qualify for the Heineken Cup, were knocked out in pool stages of the Amlin Challenge Cup.
Wales' four regions each receive £3.5m each a year, the money coming from playing in televised matches and a contribution from the WRU.
The regions have introduced a salary cap of £3.5m a year, and are still in negotiations with the Union over the future funding of the professional game in Wales.
That follows a report by accountancy firm PriceWaterhouseCoopers, which questioned the financial viability of regional rugby.
The regions have been hit by the departure of a series of high-profile players for French and English clubs.
These include former Ospreys stars Mike Phillips, James Hook, Lee Byrne, Paul James and Craig Mitchell, who are all Welsh internationals.
Humphreys claims the level of funding does not allow the Welsh regions to compete with the rest of the teams in European tournaments.
"You can't come and win European competitions when you've got less money than everybody else in it," he said.
"But if people want to justifiably say to the Welsh regions, 'You're disappointing', well put us on a level playing field, and then say we're disappointing."
Regional Rugby Wales is the body which represents the four Welsh regions, and their chief executive Stuart Gallacher says he believes one of them should have its funding reduced.
"It may be that we need to look at the whole map of Wales again. I'm not scaremongering, but we haven't got the resources any longer for four teams," he warned.
"I believe we need four [but] I'm not saying four equal. To have an area of Wales without a professional region is self defeating... but I think we can do it differently."
Gallacher would not be drawn on which of the regions should be scaled down.
"I couldn't make that comment, it would be remiss of me," he told BBC Radio Wales' Morning Call programme.
"That is a call for all four regions plus the Welsh Rugby Union. But it's no good ducking it, we can talk around it forever, but we have to make decisions."