Scotland call is Johnnie Beattie's reward for finding form
Last updated on .From the section Rugby Union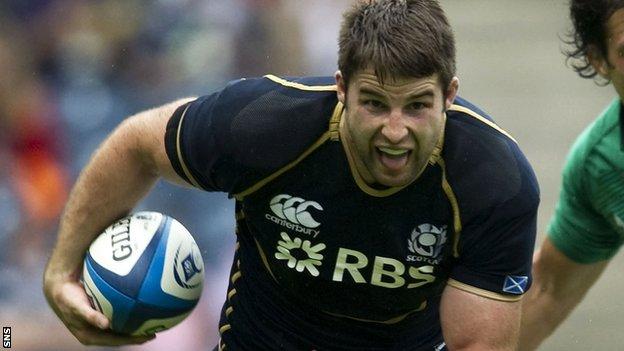 Johnnie Beattie hopes the form he has found with Montpellier this season can rekindle his international career.
The 27-year-old flanker moved to France last summer seeking a route back into the Scotland team.
Beattie is with the Scotland squad this week, although a virus and a wrist injury has curtailed his involvement.
"To be pushing for an international spot, you need to be pushing yourself and showing form," he said. "So far, I think I've done that."
Beattie had dropped down the pecking order at Glasgow under former head coach Sean Lineen and left for France's Top 14 league after eight years with his hometown club.
And he is thriving in his new surroundings, with Montpellier sitting sixth in their domestic table and progressing to the Heineken Cup quarter-finals.
"I'm really enjoying a new environment and a new challenge," he told BBC Scotland before travelling to Glasgow to join the Scotland squad.
"The move has helped because I'm playing regularly. I've played in the last eight or nine games, getting 80 minutes.
"There are a few differences in lifestyle, the weather makes a massive difference, but rugby is much of a muchness.
"The ball is much drier, pitches are much drier, so maybe it appears the quality of skills are better - but it's down to the amount of time the ball is in play and people have the confidence to play.
"In training, it's much more of a dictatorship. Players back home get more of a say and input into how things are run.
"Here, everything is very much driven from the top.
"It's more structured and if you step out of line, you know where you stand and I prefer that.
"I'd say there is more pressure to perform in France. The public are rugby-daft. It's a much bigger sport and just about every game is on television."
The last of Beattie's 16 caps came in a World Cup warm-up with Ireland in the summer of 2011 as he was overlooked for the tournament by former head coach Andy Robinson.
His try-scoring international debut came against Romania in 2006 and he was an impressive performer during the 2010 Six Nations campaign and a successful tour of Argentina in the same year.
However, he struggled with fitness and form after a long lay-off following shoulder surgery.
"I'm delighted to be part of the Six Nations squad," he added.
"The most I've ever enjoyed my rugby was being part of the 2010 Six Nations camp.
"I'm massively honoured to be asked back and I'll hopefully get the chance to play."