London Irish coach Brian Smith hails form of Shane Geraghty
Last updated on .From the section Rugby Union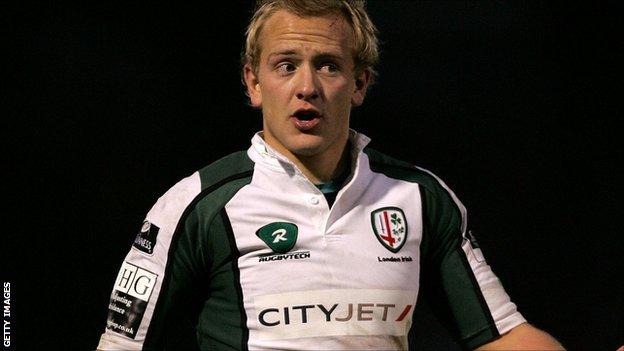 London Irish coach Brian Smith has hailed the form of Shane Geraghty and believes he is a better player now than in his first spell at the club.
Outside-half Geraghty returned to the Exiles in the summer having previously spent five years at the club from 2004.
And Smith paid tribute to the 26-year-old for his recent fine performances.
"Shane is a better player now than when he left, his last two performances have been outstanding," Smith told BBC Radio Berkshire.
"The responsibility of captaining the side meant he played for the team massively and made all the right decisions.
"His running has been sublime and he was absolutely brilliant last weekend, and he has put down a real marker now."
Meanwhile, Smith says he is not surprised to see players leaving the club, admitting not everyone wants to be involved in a relegation scrap.
The Australian has also criticised the way some clubs have been conducting their transfer activity, with Northampton announcing Alex Corbisiero will join them at the end of the season.
"This club is not for everybody as we are a renovation, a building project," he said.
"Our challenge is not for everyone, it's for the true believers and a lot of guys have bought into the vision to rebuild this club.
"For those players leaving, it's a shame that this isn't the fight they want to fight and that's fine because it's not everybody's cup of tea.
"It will free up resources and we can get players who want to fight for London Irish.
"I know who is going and who is staying. Some of the clubs we're dealing with such as Leicester are outstandingly professional, Bath are very good, Gary Gold and Richard Cockerill have been very good. Other clubs handle their business differently.
"Life is a revolving door, this is a relatively small industry.
"People who manage themselves well in these situations normally do well in life.
"Those people whose behaviour is questionable - by and large that's the way they carry on through life, and it normally catches up with them and bites them on the backside."