George Ford: Leicester fly-half 'set for' Bath move
Last updated on .From the section Rugby Union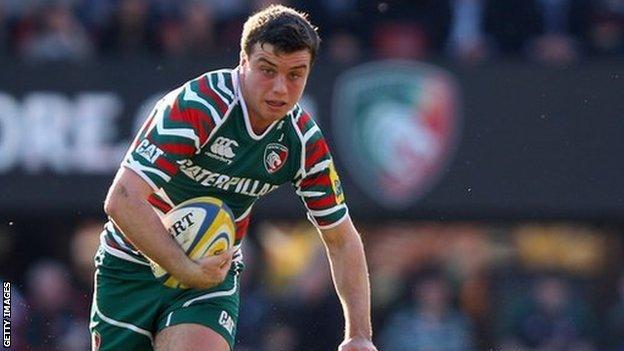 Leicester director of rugby Richard Cockerill expects fly-half George Ford to be a Bath player next season.
Bath head coach Gary Gold has played down signing Ford, whose youth deal means he cannot be approached by other clubs until March.
But Cockerill told BBC Radio Leicester: "I have been told by him and his advisers he is going to sign for Bath."
Cockerill added: "Bath will deny it because they have to because [if they have done a deal already] it's an illegal approach.
"I am not sure how it works with a father talking to a son about joining when he's the coach of another club. Is that an illegal approach or is there a loophole because he's his father? I don't know.
"It's OK. I'm over it. George doesn't want to play for us next year that's OK. I can cope with it and we move on.
"He'll be a Bath player next season. There are all the protocols around that which is fine. They will have to pay compensation. He is very close to his father and wants to play in the same team as his father coaches. You can understand it. That's life."
Gold has insisted Bath have not entered talks with Ford but says he is a player they admire.
"If George became available he's a type of player we would have a look at," Gold told BBC Radio Bristol.
"Of course we know who he is and I do rate him.
"But unfortunately he falls under the England Under-20 remit and nobody is allowed to speak to him - not us, not anybody - and it's irrelevant that his father is here."
England U20 international Ford has been with the Tigers since the age of 15 and made his first-team debut in November 2009.
He started 11 games for Leicester last season and has made a total of 13 appearances this term. But he remains second-choice fly-half behind England's Toby Flood, who is contracted until 2014.
Cockerill said he was sorry to lose Ford.
"We have made every effort to keep George," Cockerill added. "We have spent a lot of time, effort and money developing him.
"He has chosen to leave because he wants to play every week.
"I can live with that. From a Leicester end it's disappointing and you want your best young players to stay. But he has plenty of game time. Floody is a very good player and is in the side on merit and we pick on merit.
"If guys choose to move on because they don't want to fight for their spot then that's fine. I can cope with that.
"The rules apply to everybody and you earn your place in the side and have to fight for your spot.
"I have a lot of time for George. He is here until the end of the season and he will play when he is needed.
"He can't sign for anybody else because regulations dictate he can't.
"I think the club and myself have done everything we can. In my opinion it's poor advice but I would say that because he's leaving us.
"I'm not begging anybody to sign for Leicester. We have put a good offer on the table and have gone through all the scenarios and he's played plenty of rugby this season but he wants to play every week.
"I am not going to guarantee that to anybody, that's the cultural core values we have.
"We would love George to stay. We would happily do a deal but at this point he is leaving."