Six Nations: Tom Wood says England must 'win everything'

By Tom Fordyce
Chief sports writer
Last updated on .From the section Rugby Union147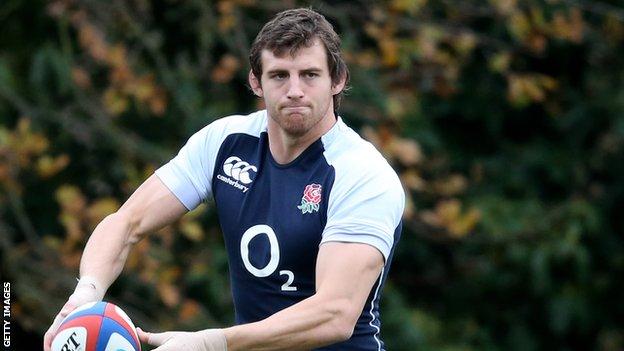 England forward Tom Wood says the team must "win everything" if this year's Six Nations campaign is to be considered a success.
And the flanker says the brilliant performance that saw the All Blacks beaten 38-21 in December must be repeated over the next two months as England take on their northern hemisphere rivals.
"While it was a huge day for us, something that endorsed everything we're doing, we need to keep reproducing that form," he told BBC Sport.
"There's no point in winning that game if we come out and play badly against Scotland. All that good work will be undone, and people will quickly forget the All Blacks game, just as they forgot the South Africa game the week before.
"We have to consistently perform at that level. That is the new benchmark for us.
"We want to get to the level where beating New Zealand like that isn't such a big deal - where we do it regularly, and we do it in their back garden, not only in front of 80,000 of our own fans."
With three of their five matches at home and last year's wooden spoon winners Scotland at Twickenham on the opening weekend, England will begin the tournament carrying greater expectations than a year ago.
"Last year was largely focused on getting pride back in the shirt, showing passion and giving the supporters something to cheer about, not necessarily winning games," says Wood. "Now we want to be classed as a world-class team.
"We're very confident in ourselves and we've got belief in what we're doing. Without disrespecting any other team, our intention is to go out there and win it.
"Success for us would be winning everything. The end goal is the World Cup, but we're not a team that's happy to lose between now and 2015 as long as we win the World Cup."
Wood says he is delighted to be back in the squad after a difficult year affected by a complicated foot injury.
The 26-year-old was in line for the captaincy a year ago, but instead found himself training alone on a rowing machine as his team-mates won four of their five matches to finish second to Grand Slam champions Wales in the Six Nations.
"I've had an angry few months at times," he says. "I've been desperate to get back.
"I'm getting 80 minutes playing time a week now, and I'm managing the load. But it's still something that I have to manage on a daily basis. How much do I need to do today? Would rest or rehab be better? That's what I'm still struggling with. One minute I think I'm making progress with my strength work, the next it's flared up and I have to back off for a few days.
"The key with it is making sure you don't overdo it, and I'm not particularly good at that."
Wood first had trouble with his left foot a year ago, his naturally high arch and over-flexible big toe leading to problems that were exacerbated when he broke his middle toe in March.
"Something like this is so fiddly that you don't know where you're going to end up. That was one of the biggest frustrations for me - should I be resting it, or rehabbing it, or strengthening it, or icing it? I was desperate to do the right thing, but I didn't know what the right thing was.
"It's an ongoing process. I've just got really bad feet. The physios here call me Bird-Feet, because I've got such delicate high arches. And once I get one thing right, something else goes wrong."
Wood, England's player of the tournament in his debut Six Nations season two years ago, is appreciative of his second chance.
"It was really tough in last winter's Six Nations, because originally when my foot went in the protective boot I thought that three weeks would be enough. I was a bit deluded in that. We said I would miss the first two games, so I prepared mentally for the third.
"It wasn't to be. Having to accept that I would miss the whole series was hard to deal with. If you break your arm there is a protocol - reset it, back within six weeks. You have a definite end point.
"I never took it for granted, but having had to watch from afar for so long, you do appreciate it that little bit more.
"I love being out there with the boys. You can train as hard as you like in the gym on your own, but it's not the same as sharing the workload in the scrums and mauls, doing it with the lads in the mud. Beasting yourself on your own doesn't replicate it."
Head coach Stuart Lancaster has stressed once again this week the importance of developing the right culture around his inexperienced squad.
On Wednesday night the team were given a talk by former England cricket captain Andrew Strauss and Olympic heptathlon gold medallist Jess Ennis's coach Toni Minichiello, with both men drawing on the lessons learned in their own sporting development.
The team is once again based in Leeds, training at West Park RFC just to the north of the city, and on Friday will be watched by an estimated 6,000 locals at an open training session at Headingley - another part of Lancaster's plan to reconnect the team to its support.
Wood, one of the few players to span the reigns of former coach Martin Johnson and Lancaster, says the current set-up has benefited from the chance of approach.
"We've got a young group of lads who all buy in to what we're trying to achieve. They can all see where we're trying to get to, therefore it's a far more energetic and dynamic environment to be part of.
"That's what I'm really enjoying. There are no excuses here. Our training is short and focused. The players have input into designing the set-up, and that means we buy into it."