Six Nations: John Beattie previews Scotland's visit to Twickenham

By John Beattie
BBC Scotland
Last updated on .From the section Rugby Union167
Do you think Scotland can beat England in their opening match in this year's Six Nations?
Thirty years ago I was a 25-year-old who played in the last team to win at Twickenham. It was a time before most of the current Scotland squad had even seen the light of day let alone touched a rugby ball.
On 5 March 1983 Michael Jackson's Billie Jean was number one in the charts; a try was worth four points; there was no lifting in line-outs; every forward was expected to get to every breakdown; the ball was leather and brown in colour; the players made no money; and the Scotland jersey was plain blue with a white collar and a white thistle.
Which is the way I like it.
In 1983, we saw the invention of the mobile phone, the CD first went on sale, and UK unemployment stood at 3.2m.
Oh, yes, a difference as great as the contrast between white fluffy clouds and monsoon bearing masses of water high in the sky.
But, strangely, so many similarities.
The English team was crammed full of good players like Peter Winterbottom, John Scott and Nick Jeavons but inexplicably came bottom of the then Five Nations table.
We had lost three games in a row so this was the last throw of the dice for us. Jim Aitken was brought in as captain and proved the right mix of leadership and abrasiveness.
We arrived at Twickenham knowing that there had been only one win by a Scottish team there since the Second World War.
Winning at Twickenham has never been easy. Nobody gave us a hope. Ring a bell?
There are common themes to every Scotland team. We were constantly reminded by the likes of Jim Telfer - probably our greatest ever coach but not in charge as he was about to take the Lions to New Zealand that summer - that it was actually pretty easy to play for Scotland. It's not a big pool of talent.
History, he would claim, is littered with incompetent and soft Scottish teams that had lost with disgrace. Winning is the hard bit. There has always been a resigned shrug of the shoulders at some Scottish performances. Scottish players get too much, too early in their careers.
You know the script.
As I write this I don't know the Scotland team. But I will have a stab at England's play.
I remember specifically watching England closely just after Stuart Lancaster took charge. His side won a scrappy game at Murrayfield, and then edged out the Italians in Rome. What I took from his way of playing from then until their superb game against the All Blacks in November is that he gets his team going forward before anything fancy happens.
English sides have always had the set-piece basics, but Lancaster's team trucks the ball up with big runners taking passes from the scrum-half at breakdown and they smash their way over the gain line.
They do that until they can get a back attack going and pull the ball back behind screen runners.
The English don't play rugby in stupid parts of the pitch either. They kick for position.
I like the way England play. It's pragmatic and a foundation for fancier play should the need arise. But they send a message for any team hoping to take them on.
And Scotland? This could be one of the biggest Scotland packs of all time, possibly bigger than the English one. I don't know how the new coaches will make them play but I suspect more simply than until now.
I've been filming with the Scotland squad over the last few days and been in France to talk to Al Strokosch and in England to meet Richie Gray. The current crop of Scottish players are, to a man, great people. That's what makes rugby different.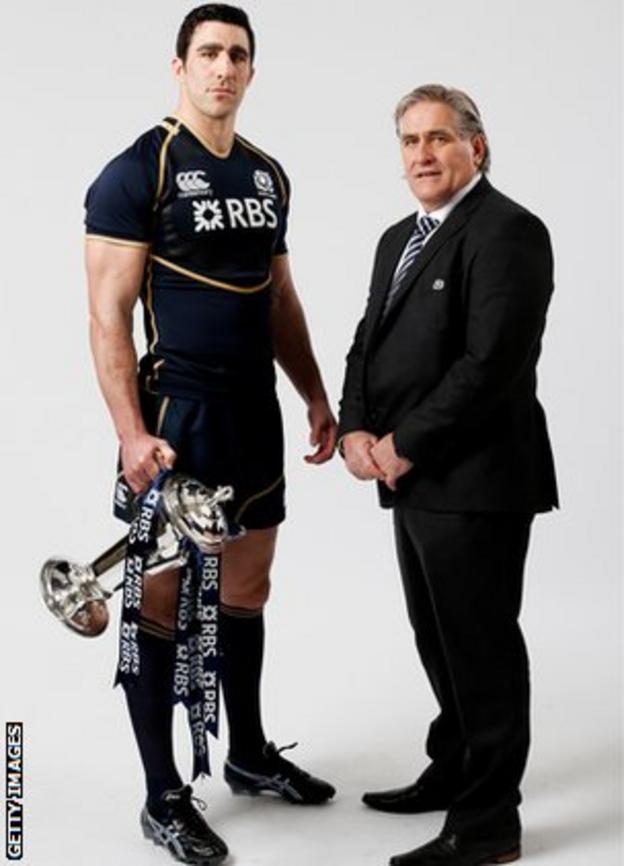 A special Sport Nation preview programme will be shown on Tuesday 29 January at 19:00 GMT on BBC Scotland trying to explain how each team will play.
Strokosch believes the team is as low as it can be but believes their backs are so firmly against a wall that the unlikely might happen.
Other sides are being analysed, interim head coach Scott Johnson and forwards coach Dean Ryan are putting in new systems, and I am sure there are selection issues.
But it's going to be hard to convince Scottish players that they can actually win in London. Oh, they will make all the right noises, but, your honour, what's the shame in failing where so many have tripped up before?
And that's the problem. The technical aspects of stopping the English will be covered, as will Scotland's attack. But can the new coaches, or indeed the public, get into the players' heads enough to make them play the best game they have ever played in their lives?
So much of whether you are a good or bad Scotland team is about more than your technical ability: it's about attitude.
Two years ago I was given a DVD (ironic, I know) of the 1983 game. I was expecting to view a disorganised shambles and to watch me having a bad game. Actually it was OK, and I was OK.
In fact, we were better than OK. We bordered on the insane at times in terms of abrasiveness. David Leslie, the wing forward, was scary, Roy Laidlaw was superb, and our stand-off, John Rutherford, was our biggest back guiding the likes of Roger Baird and Keith Robertson.
I'm going to be part of a 1983 team reunion at Twickenham but I'm actually very wary of looking back like this every two years, remembering distant wins: it's wonderful but, trust me, it's not healthy.
It is magical to be with the other players, but pathetic of us as a rugby country not to have been better than this.
I want the current Scotland team to consign us to history. Oh, and I won't be at the microphone.
Do you think Scotland can win? I so want it to happen.