Owen Farrell wants noisy Twickenham during Six Nations
Last updated on .From the section Rugby Union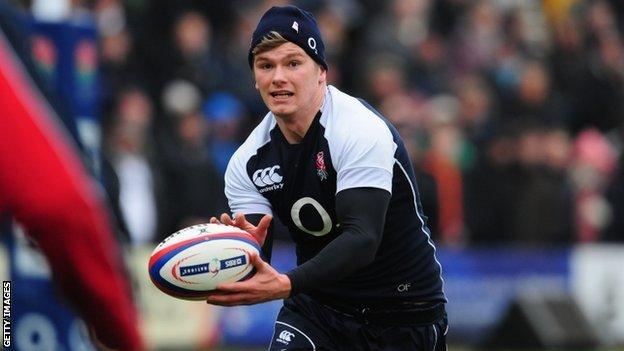 England fly-half Owen Farrell says he would have no problem if the Twickenham crowd cheer him on as he lines up kicks for goal during the Six Nations.
Rugby etiquette dictates that crowds should respect the kickers from both teams by falling silent.
But the 21-year-old Saracens player says he finds it strange when a hush descends in an 82,000-capacity stadium.
"It's not unnerving [when the crowd is quiet], it's just a bit weird - it's good to have an atmosphere," he said.
Farrell kicked through boos and jeers at Munster earlier in the season and afterwards he said: "There was no problem with the crowd, I'd rather have a bit of noise."
England open their Six Nations campaign against Scotland at Twickenham on 2 February - the first of England's three home matches in the tournament - and Farrell, who scored 17 points with the boot when England beat New Zealand 38-21 in December, wants the Twickenham crowd to get behind him.
"It's a bit strange when 80,000 people are quiet," he added. "I don't quite understand that. I think they booed at Scotland last year but it doesn't matter, it's all within the game. It doesn't bother me whatsoever."
Farrell kicked 10 penalties and a conversion in Saracens' 37-28 Heineken Cup win against Racing Metro, part of a run of 26 successful shots at goal which only ended when he hit the post against Edinburgh.
England coach Stuart Lancaster has hailed Farrell's temperament as unique among players of his age and knows the value of a top-class goal-kicker.
But Farrell traces his improvements down to technical changes he made after the trip to Munster, when he missed four penalties.
"When I was in Munster I wasn't striking the European balls as well, so I went away and made sure I sorted it out," he said.
"I work with Mike Catt here with England. He's been brilliant over the last months. I work with Dan Vickers at the club, our kicking coach.
"I slowed myself down a bit, but nothing much has changed. I focused on what I do well. I just got into a good rhythm."
England head into the Calcutta Cup game in positive frame of mind after their win over the All Blacks, while Scotland come in on the back of a 21-15 defeat to Tonga.
"It doesn't matter whether there's expectation on us or not," Farrell said. "We're only looking at the first challenge of Scotland, we've got to put all our attention on that. We've hit the ground running this week.
"It's a pretty fierce rivalry. Any country that's close to another country is going to be, I'm sure they'll be looking to try and upset us. It's always close between the sides. We'll prepare well and look forward to the challenge."