Six Nations: Leigh Halfpenny admits neck injury fright
Last updated on .From the section Welsh Rugby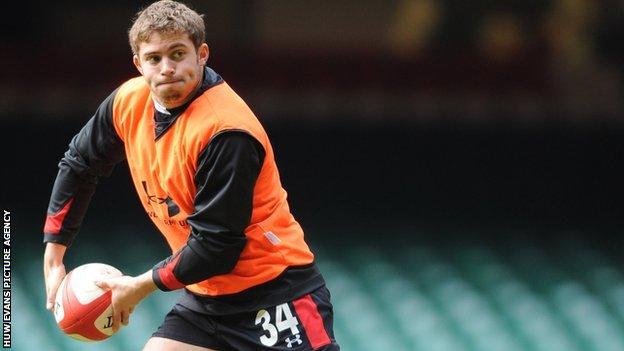 Full-back Leigh Halfpenny has spoken of the "frightening" events during his last Wales appearance at the Millennium Stadium.
As Saturday's Six Nations opener against Ireland draws near, Halfpenny, 24, admits the neck injury he suffered against Australia in November led to a "worrying time".
He said: "I was conscious the whole time, but not sure what had happened.
"I was aware of a numbness in my arm and it was frightening."
He suffered in the injury in a vain attempt to stop Kurtley Beale scoring the winning Wallabies try.
Following his recovery from the injury he for the region as a replacement in their 16-7 Pro12 win in Munster on 5 January.
Halfpenny said: "It was pretty worrying at the time.
"I had a dead arm for half-an-hour and I was not sure what sort of damage had been done, so the scans were pretty good news because they showed no nerves had been damaged.
"I was conscious the whole time, but not sure what had happened.
"I was aware of a numbness in my arm and it was frightening.
"The medical staff were superb and it looked worse than it turned out to be.
"The doctors and nurses at the hospital were brilliant.
"I am a bit claustrophobic and they calmed me down before the MRI scan.
"I had a few weeks off and missed games I wanted to play in, but I have played a few games this month and it has been good.
"I have to learn to stop tackling with my head! I tried to protect my left shoulder and ended up making it worse.
"I have not thought about it in the games I have played since, just throwing myself into it."
The Cardiff Blues star is now set to win his 40th Wales cap as they hope to kick off their title defence with a win.
But while Wales seek to bounce back from the autumn whitewash of defeats by Argentina, Samoa, New Zealand and the Wallabies, Halfpenny is also keen to hold on to his jersey in the face of stern opposition.
of Clermont Auvergne, is back in the Wales squad.
And Scarlet Liam Williams is also a contender for the full-back role as Wales look to end a seven-match losing run.
"It is Wales against Ireland and if I am picked to play it is about doing a job for your country and the jersey justice, giving it everything it deserves.
That is all I am worried about.
"You want to gain the upper hand on your opponent to make sure you are contributing to the team - it is not about individuals, but the team.
"The first game in the Six Nations is always important because of the confidence a win brings, as we showed in Dublin last year.
"The focus is on getting a good start.
"We are determined to put things right after the autumn and prove people wrong.
"We showed last year, off the back of the World Cup, that we could cope with pressure and expectation. We dealt with it and won the Grand Slam."