Jonathan Sexton: Rob Kearney says other Irish stars will follow
Last updated on .From the section Rugby Union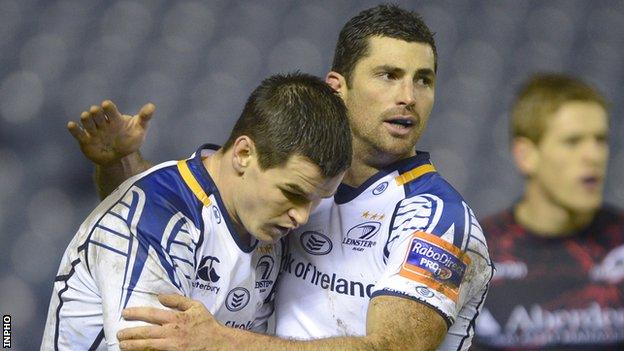 Rob Kearney has acknowledged that Jonathan Sexton could be joined in French club rugby by other Ireland stars.
Kearney said on Monday that he had discussed the issue with Sexton.
"That's professional sport, it happens. It will test the waters," said Sexton's Leinster team-mate Kearney.
"In Ireland we've probably been lucky over the years in that it's only now that a player has left.
"It could go very badly for him, it's impossible to say. Guys always talk about leaving and threatening to look for new experiences.
"Jonny's shown a lot of bravery. If it works out really well for him in that he's enjoying life and playing good rugby while earning more money, people will see that and it will open up a whole new ball park."
Sexton's move is unlikely to have major implications on his Ireland career but coach Declan Kidney will have less control over his playmaker.
The IRFU last week stated that the sums involved forced them to withdraw from negotiations for Sexton, who is reported to have been offered an annual deal of £625,000 by the French club.
Kearney said on Monday that Sexton had wanted to remain with the Dublin-based club.
"Jonny was upset by the whole thing, there's no point lying about it. He will probably tell you that he wanted to stay," Kearney said.
"Myself and Jonny have been very close over the years and we have been talking about it as time has gone on.
"He was upset but now he's been able to grasp the whole situation and has started looking forward to it."