Six Nations: England Women name young backline v Scotland
Last updated on .From the section Rugby Union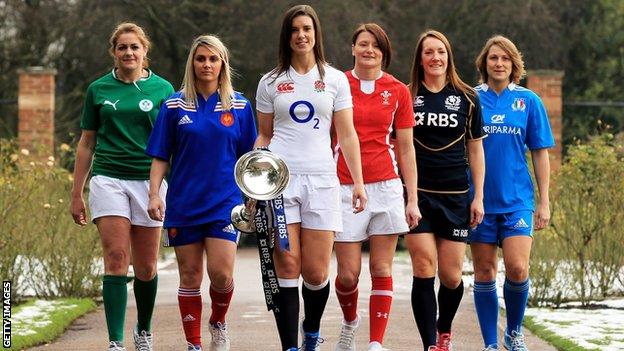 Richmond centre Abigail Chamberlain will make her England Women's debut in their Six Nations opener against Scotland on Saturday.
Chamberlain, who has played for England A and captained England Sevens, is part of an entirely different backline from the autumn Tests against New Zealand.
Captain Sarah Hunter is one of only three players remaining from the team which secured a 3-0 series win.
Many of England's regulars are involved in the Sevens World Series instead.
Prop Roz Crowley and lock Tamara Taylor are the other surviving starters from the third Test against the world champions on 1 December.
Experienced flanker Jo McGilchrist and wing Kay Wilson both return after long-term injury.
In the absence of the entire backline - including captain Katy McLean - that started the first and third Test wins against New Zealand, full-back Lauran Cattell, wing Lydia Thompson and centre Amber Reed all start against Scotland, while Ceri Large and Georgina Gulliver are the half-backs.
England have won six Grand Slams in the past seven years and are aiming for their eighth successive Six Nations title.
"Despite missing several players to the Sevens WRWC training squad, this is still a strong starting line-up and I am sure many teams would also still fear our bench," said coach Gary Street, who earlier this month explained that England's priority this season is to win the Sevens World Cup in June.
"Many of our players may have only a handful of caps between them but the likes of Amber Reed, Hannah Gallagher and Ceri Large have all played France and the world champions New Zealand, and have beaten them."
One of the England replacements, Harriet Millar-Mills, could face her sister with Bridget Millar-Mills handed her debut for Scotland at lock.
Winger Annabel Sergeant returns to the side after a season playing Sevens, while number eight Susie Brown again leads the side.
"Scotland against England always has that added edge and it'll be a really good opportunity to see how our training has progressed, how our squad has developed and it will be an exciting start to the 2013 campaign." said Scotland coach Karen Findlay.
England team: Lauren Cattell (Saracens), Lydia Thompson (Worcester), Abigail Chamberlain (Richmond), Amber Reed (Bristol), Kay Wilson (Bristol), Ceri Large (Worcester), Georgina Gulliver (Lichfield), Kate Newton (Bristol), Emma Croker (Richmond), Roz Crowley (Lichfield), Tamara Taylor (Lichfield) Emily Braund (Lichfield), Joanna McGilchrist (Wasps), Hannah Gallagher (Saracens) Sarah Hunter (capt.) (Lichfield)
Replacements: Victoria Fleetwood (Lichfield), Laura Keates (Worcester), Rochelle Clark (Worcester), Rebecca Essex (Richmond), Harriet Millar-Mills (Lichfield), La Toya Mason (Wasps), Sally Tuson (Bristol), Fiona Pocock (Richmond)
Scotland team: Steph Johnston (RHC Cougars), Annabel Sergeant (Richmond), Sarah Dixon (RHC Cougars), Lisa Ritchie (Carlisle), Megan Gaffney (Hillhead Jordanhill); Tanya Griffith (RHC Cougars), Louise Dalgliesh (RHC Cougars); Heather Lockhart (Hillhead Jordanhill), Sarah Quick (Murrayfield Wanderers), Tracey Balmer (Worcester), Lindsay Wheeler (Richmond), Bridget Millar-Mills (Worcester), Mary Lafaiki (Hillhead Jordanhill), Tess Forsberg (Richmond), Susie Brown (capt - Richmond).
Replacements: Beth Dickens (Murrayfield Wanderers), Suzanne McKerlie-Hex (Murrayfield Wanderers), Lindsey Smith (Hillhead Jordanhill), Becca Parker (Hillhead Jordanhill), Jade Konkel (Hillhead Jordanhill), Sarah Law (Murrayfield Wanderers), Leanne Neary (Murrayfield Wanderers), Lauren Harris (Melrose).
England fixtures
Sat 2 Feb H Scotland (Esher RFC) 14:00 GMT
Sat 9 Feb A Ireland (Ashbourne RFC) 14:00 GMT
Sat 23 Feb H France (Twickenham) 19:20 GMT
Sat 9 Mar H Italy (Esher RFC) 13:00 GMT
Sun 17 Mar A Wales (Aberavon RFC) 14:30 GMT