Six Nations: Andy Farrell ignores Jim Telfer's England comments
Last updated on .From the section Rugby Union434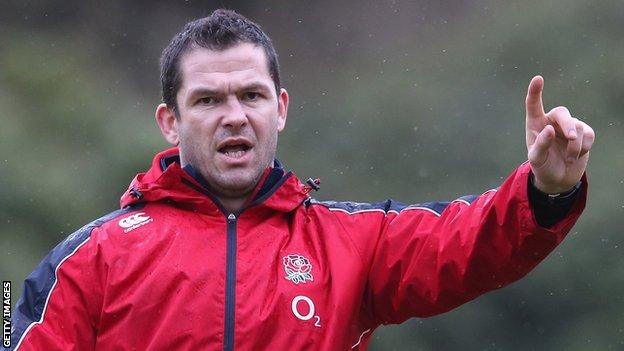 Andy Farrell has dismissed comments by former Scotland coach Jim Telfer that England are "too arrogant."
Telfer said that England are "too arrogant, too pretentious and too condescending", ahead of their Six Nations opener with fierce rivals Scotland on Saturday.
England backs coach Farrell responded: "I definitely don't recognise anything he has said."
Telfer repeated his views on BBC Radio 5 live, saying: "I meant what I said."
The Scot maintained that England, who finished second at last year's Six Nations, are not as good as they believe they are.
But Farrell believes his comments were made only to motivate Scotland, who have not won at Twickenham in 30 years.
"He's Scottish isn't he, very passionate about his country and he wants to give his lads as much belief as he can," Farrell added.
"He cares about his country. It is him trying to do the right thing by his own country, to try and motivate them.
"People say this every year about the English anyway. It has stuck now. That is why we take it tongue-in-cheek. We know exactly what we are about."
England secured a historic win over New Zealand in December, and while Telfer had kind words to say about England's coaching team, he believes that victory went to some of the players' heads.
Telfer added: "In their favour is the coaching team of Stuart Lancaster, Graham Rowntree and Andy Farrell. All from the north and all down to earth. They will not let that victory go to their heads.
"The players are a different matter - people like Chris Ashton, Danny Care, Ben Youngs and Manu Tuilagi. They are young, very impressionable and they think what they read is all true."
But, Farrell says the England players have laughed off those comments, adding: "A couple of the lads have seen it and they are all taking the mick out of each other. They think it's quite funny about those who have been mentioned. There are a few jokes flying around the place."
England prop Dan Cole dismissed Telfer's comments as cliches.
"You know it's coming so it's boring in that regard because it's the standard go-to," Cole said. "People say 'We're arrogant, we're this, that and the other'.
"You can believe it if you want but I don't think we are.
"Yes we're confident in ourselves, yes we back ourselves and what we do, and we're confident going onto the field we can win games, but I wouldn't say we cross the line of arrogance.
"We understand where we are and how we're perceived. Our motivation comes from how we want to progress as a side."
Telfer's criticism was not only reserved for England, with the former British Lions coach also criticising the mentality of Welsh players.
He said: "Wales is not an easy country to coach because, basically, the Welsh are lazy.
"Coaching them, playing against and with them, I realised they had reached the top because they were the cream and had not necessarily worked all that hard to get there. Wales do produce very good rugby players."
However, Wales wing Alex Cuthbert dismissed Telfer's attack.
"It's his opinion, but I know how hard the boys work," said Cuthbert.
"We have shown in a lot of games where we come out on top as the fittest team, especially in last year's Six Nations, and hopefully we can show it again."