Lions 2013: Players primed for Six Nations 'shop window'
Last updated on .From the section Rugby Union103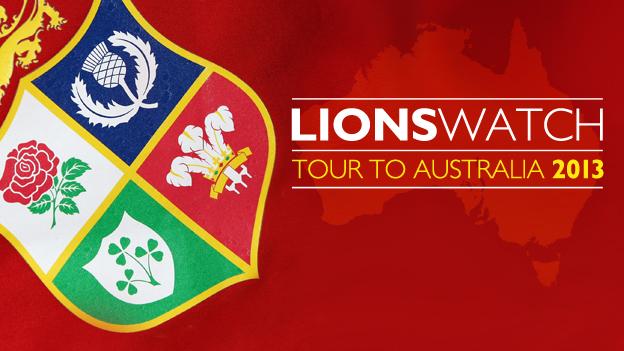 The make-up of the British and Irish Lions party to take on Australia in a three-Test series this summer will not be finalised for another three months.
There may be a few late opportunities - European quarter-finals in early April, for example - to give head coach Warren Gatland a final nudge.
But any player with serious ambitions of heading down under at the end of May knows the next seven weeks will be pivotal in deciding whether they are on the plane or not.
"Players know the Six Nations is the shop window for the Lions," confirms Wales captain Sam Warburton. "If we do well in our national jersey, then further honours will take care of themselves."
Warburton, as the early front-runner for the captaincy, has been forced to answer questions about the Lions all season, but the proximity of the tour now gives this Six Nations an additional dynamic.
"There is definitely a different feel to it," notes Wales interim coach Rob Howley, taking over for the Championship while Gatland goes into full-scale Lions planning mode.
"Players have been well aware it is a Lions year even back in pre-season training. You put a marker down in the autumn but your key performances are in the Six Nations. It will be no different this year."
Our team of BBC analysts have been monitoring the form of the Lions contenders from the start of the season, producing their likely Test teams before and after the autumn Tests.
Here are the latest preferences of ex-England centre Jeremy Guscott, former Ireland hooker Keith Wood, ex-Scotland scrum-half Andy Nicol and Wales fly-half legend Jonathan Davies ahead of the Six Nations.
Jeremy Guscott's team: R Kearney (Ire), T Bowe (Ire), B O'Driscoll (Ire), M Tuilagi (Eng), G North (Wal); J Sexton (Ire), B Youngs (Eng); C Healy (Ire), R Best (Ire), A Jones (Wal), R Gray (Sco), G Parling (Eng), S O'Brien (Ire), S Warbuton (Wal), J Heaslip (Ire).
Keith Wood's team: R Kearney (Ire), T Visser (Sco), B O Driscoll (Ire) J Roberts (Wal), G North (Wal); J Sexton (Ire), B Youngs (Eng); C Healy (Ire), R Best (Ire), A Jones (Wal), R Gray (Sco), C Lawes (Eng), T Wood (Eng), S Warburton (Wal), S O'Brien (Ire).
Andy Nicol's team: A Goode (Eng), T Visser (Sco), B O'Driscoll (Ire), M Tuilagi (Eng), G North (Wal); J Sexton (Ire), B Youngs (Eng); C Healy (Ire), D Hartley (Eng), D Cole (Eng), R Gray (Sco), J Launchbury (Eng), T Wood (Eng), S O'Brien (Ire), T Faletau (Wal).
Jonathan Davies's team: R Kearney (Ire), A Cuthbert (Wal), J Davies (Wal), B O'Driscoll (Ire), G North (Wal); J Sexton (Ire), D Care (Eng); C Healy (Ire), R Hibbard (Wal), A Jones (Wal), J Launchbury (Eng), N Hines (Sco), T Wood (Eng), S Warburton (Wal), J Heaslip (Ire).
If players such as Ireland fly-half Jonny Sexton, Wales wing George North and Scotland lock Richie Gray are firm favourites for Test spots, the autumn Tests also catapulted the likes of Scotland wing Tim Visser and England forwards Joe Launchbury and Tom Wood into the reckoning.
Brian O'Driscoll's return from injury, ahead of what is likely to be his last Six Nations, has reassured our pundits that he is likely to make a fourth tour and the Test team, providing he comes through the Six Nations.
"It is on the radar and I would absolutely love to be on another tour," the great Irish centre concedes. "But I've been around long enough to know that it's still a huge amount of time in rugby terms. So much will happen between now and then in terms of injury and form."
Leinster and Ireland team-mate Rob Kearney has also made a successful return after a long absence to re-establish himself as favourite for the 15 jersey, despite the strong autumn campaigns of Wales' Leigh Halfpenny and England's Alex Goode.
"Kearney is a real try-scorer, very good under the high ball, he attacks the up-and-unders and has a lot of pace, so is a very strong contender," notes former Scotland full-back Gavin Hastings, part of the victorious 1989 Lions tour of Australia and captain in New Zealand in 1993.
"Halfpenny has played very well for Wales, I think it just depends how they get on in the Six Nations as to whether he can project himself into contention for that Test spot.
"I would also love to see the young Scotland full-back Stuart Hogg have a great Six Nations and try to force his way onto the Lions tour. He has a lot of pace and could do well on the firm grounds of Australia."
While there are established contenders in many positions, in other areas - notably at scrum-half where all four nations have tinkered with their options - the picture is less clear.
"I think the strength of this Lions tour is going to be the depth of the squad and that goes for nines as well," says ex-England scrum-half Matt Dawson, a Lions tourist in 1997, 2001 and 2005.
"I think the Irish pair of Conor Murray and Eoin Reddan have a good chance of going, as do England's Danny Care and Ben Youngs.
"Wales' Mike Phillips potentially might get in again, but no-one - prior to the Six Nations starting - is head and shoulders above everyone else. Four years ago before the South Africa tour, all the talk was of Phillips being the man. But this time the Test spot is there for the taking."
Never more so than when they are in direct opposition to a Lions rival.
Phillips v Murray is just one of many match-ups in Saturday's opening Wales-Ireland fixture. Halfpenny v Kearney at full-back. North v the young Irish pretender Craig Gilroy on the wing. Jonathan Davies v O'Driscoll at outside centre. Gethin Jenkins v Cian Healy at loose-head. Warburton v Sean O'Brien at open-side. Toby Faletau v Jamie Heaslip at number eight. All could end up in the Lions squad, fighting for a Test spot.
"When you look at the talent on either side, it is a mouth-watering prospect," noted Howley, with one eye on his role as the Lions' attack coach.
Similarly, Scots like Hogg, Visser, Greig Laidlaw, Ryan Grant and Kelly Brown could make big statements with strong outings at Twickenham against fellow contenders Goode, Chris Ashton, Youngs, Dan Cole and England captain Chris Robshaw.
In all likelihood though, it won't be individual heroics but the success or otherwise of each country - particularly if one wins the title - that will have a greater bearing on the numbers they supply to the Lions squad.
Four years ago Ireland won the Grand Slam and had the largest representation of 14 in the original party.
If the Irish were to repeat that success, or even get close, it is a fair bet Jamie Heaslip will be weighing up a second Lions tour, and maybe even propelling himself into captaincy contention.
"I try not to think about it too much but I allow myself to dream because I know what it's like," said Ireland's new leader. "The experience I had in South Africa was amazing. It was probably the best tour I've ever been on.
"It is amazing to be around such a melting pot of talent, both on and off the field. It would be amazing to go on another one. But that outcome is the result of the process of the Six Nations."