Six Nations: Dean Ryan high on short-term Scotland fix
Last updated on .From the section Rugby Union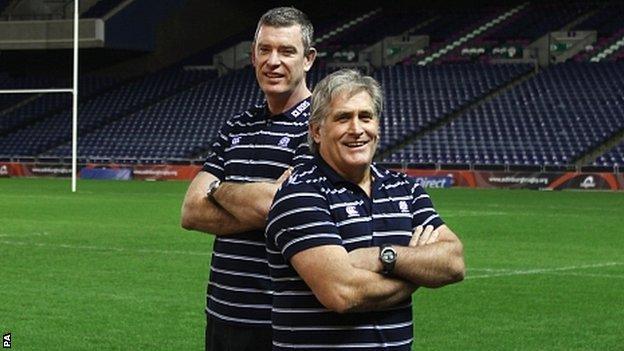 When I tell Dean Ryan what Scotland head coach Scott Johnson called him this week - the first word was "tough", the second rhymed with "plastered" - Ryan dissolves into giggles.
"I've been trying for the last three years to break this perception of me," says Ryan, "and I put a tracksuit back on and it all comes flooding back."
The words 'Dean', 'Ryan' and 'giggles' have probably never been written in the same sentence before. During his four-year tenure as head coach of Gloucester, the former England number eight earned a reputation as something of a gargoyle, his face twisted into a position of permanent displeasure.
But Scotland's interim forwards coach is exuding an intoxicating levity ahead of his adopted side's Six Nations opener against England on Saturday. "It's going to be good fun," he says. "This weekend is going to be brilliant."
Ryan, 46, was the Gary Neville of the rugby union world when Neville was a glint in a Sky executive's eye. A whizz with a stick of high tech chalk and a plasma blackboard, Ryan imparts his deep knowledge of the game with such enthusiasm and clarity you wonder why he ever packed the tracksuit away.
"That's the key, he makes things clear," said Glasgow skipper and Scotland lock Alastair Kellock earlier this week. "He uses a whiteboard, a pen and paper, shows you what he wants and you then go out and put it into practice. Then we come back and analyse it and you know straight away if you've nailed it."
The reason Ryan has been doing his thing in a chilly tactics truck for the last few years rather than a deep heat-infused Premiership changing room is because the former Wasps and Newcastle enforcer had something of an epiphany.
"I never fell out of love with coaching," says Ryan, "but I wanted to break this three or four-year cycle my family was stuck in. At certain stages in your life you have to make decisions which aren't just about you. Although Sky gave me a choice, which is crucial, so I'm not preaching."
While Ryan intends to return to Sky after his stint with Scotland, when he talks of getting his coaching "fix" from the Six Nations you wonder whether he will be able to kick the habit all over again. But Ryan insists his mind is made up, whatever happens over the next seven weeks.
"When I first had the conversation with Scott, the first 10 things that went through my head were reasons why I wouldn't do it," says Ryan, who received the invitation from former Wales coach Johnson following the departure of previous head coach Andy Robinson last November. "But by the time I got to 11 and 12 it was a case of 'why wouldn't I?'
"I love competing, I love the build-up to this game that nobody sees us winning. I love everything about it and that's not going to change. I've made new friends and I know it's going to be difficult to leave. But I also know that in three or four years' time, these relationships would be very different."
Ryan knows perhaps as well as anyone how a fruitful working environment can wither. Under his charge, Gloucester finished top of the Premiership table two seasons running only to come up short in the play-offs. But when Gloucester failed to qualify for the play-offs in 2009, Ryan's time was up.
"The fact I was offered the Scotland job short term was the deciding factor," says Ryan. "It didn't change anything I'd decided to do with my life. But what really hit me when I joined up with the squad is that you get 10 sessions to prepare a Test team, so fancy philosophies are very difficult to implement.
"We're not saying anything has been missed or that the game is some sort of mystical journey we have to set players on the path towards. Rugby is pretty simple: we've got to concentrate and get better at some of the basics."
Ryan dismisses the suggestion he came into a demoralised squad, despite a chastening set of autumn internationals that ended with an embarrassing defeat by Tonga. Indeed, he questions whether this Scotland squad even requires major surgery.
"I haven't come in pretending I can make a difference but it's an opportunity to provide some focus," says Ryan. "The difficulty when you are losing games is that you're constantly asking 'what can we do different?' But you might not need to do anything different, you might just need renewed clarity.
"This side has to recalibrate itself and start again. But this side can do good things, can get better. This side can cause problems for anybody."
The thought of causing problems for England at Twickenham, where Scotland have not won for 30 years, must be giving Ryan sleepless nights. But only because he is so energised by the challenge he and his boys have been set.
"England pulled off a massive surprise against New Zealand," says Ryan, "But the game is simple and against England it is even simpler: forget their success against New Zealand, they don't play a huge amount.
"So field position is crucial, doing the basics very well is crucial and having the whole side on the same script is crucial. The game is up for grabs if we get those things right."
And if Scotland keep getting things right, up to and including their final Six Nations encounter against France in March, Ryan will be staying put. Right?
"No. It will have been a great 10 weeks, the best journey of my life," says Ryan. "Then we'll have the biggest party in Paris and I guarantee Scott and I will need an escort after midnight. I don't have a problem finishing like that."