'Scots love underdog status but have genuine match-winners'

By Mike Blair
Former Scotland scrum-half
Last updated on .From the section Rugby Union39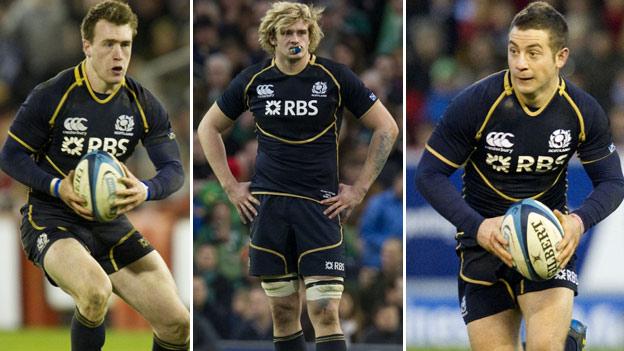 In the last few years, teams have spoken of Scotland as potential dark horses for the Six Nations Championship.
This year, after losses to New Zealand, South Africa and Tonga in November, no-one is giving us a hope.
Ah, we love the underdog status and what better way to start the campaign with a game against a confident England side at Twickenham?
Wet weather; a strong kicking game; good goal-kicker; strong line-out and defending like your lives depend on it: you start to see a picture that the English won't relish.
For the campaign as a whole, let's take the weather out of the equation and control the "controllables" - put those other facets together and you're going to have a chance to win every game you play.
To win at Test level, we need 10 players playing to their full potential and the others to have good games.
That's the reality of rugby at this level: too often we have had most players having OK games.
There are genuine match-winners in the squad in the form of Greig Laidlaw, David Denton, Johnnie Beattie, Richie Gray, Stuart Hogg, Max Evans and Tim Visser.
What needs to change for Scotland to get some wins?
Composure is key: When the opposition are under pressure, keep them under pressure and don't let them off the hook easily. When we get into the 'red zone', come out with points - three, five, seven - anything will do.
Discipline has to be a priority. Two yellows against Wales last year and one against Italy proved to be key in defeat. These cards were awarded in positions where we were under no pressure and there was no need to offend. Teams will always give away penalties but make them 'good penalties'.
Confidence is the last aspect. We have a good squad with players who have been to a Heineken Cup semi-final, Pro12 play-offs and beaten Australia. Have the confidence in the players around you and play with that confidence.
With the team selection having been made, an interesting question to ask Scott Johnson would be whether he chose the game-plan or the team first: did he pick players to fit his game-plan or choose these players and then work out his strategy?
With his selection, especially in the back three, it seems like he has chosen a team to play some rugby.
However, this doesn't mean the ball will be thrown around Barbarians style. I would expect the wingers working off their wings and trying to isolate the 'heavier' English players.
On paper, this side looks exciting: there seems to be a good balance and will be able to play in a variety of ways: Laidlaw probing the corners from nine with pressure coming from a well-organised defensive line-out, or Ruaridh Jackson attacking the line and playing tight through Sean Lamont and Beattie.
Maitland, Visser and Hogg are all dangerous broken-field runners and, with centre Matt Scott playing the role of ball player, they should get opportunities.
The front five will be facing a big day at the office at the set-piece against England but have size and experience, and the bare stats should mean we're not too disadvantaged here.
It's also worth mentioning that there is some real fire-power available off the bench if we can be within touch at 60 minutes.
I'd like to see this team relatively unchanged and given an opportunity over the next three games to build and grow together.
Look at the list of Scotland's fixtures and they'll be pleased.
Find a good performance in a win or loss at Twickenham, followed by three home games and suddenly we, as a nation, start to get optimistic again…
Mike will be writing a column for BBC Scotland throughout the Six Nations campaign.