Women's Six Nations: Police chief Findlay fires up Scotland
By Sara Orchard
BBC London Sport
Last updated on .From the section Rugby Union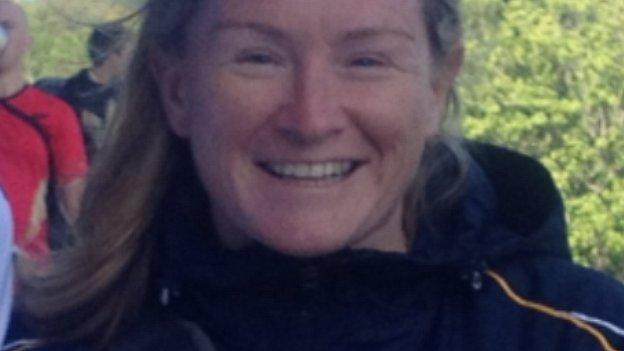 Scotland Women's coach Karen Findlay is the only female head coach of a Six Nations side. She is also head coach of Richmond Ladies, the most successful and largest women's club in England.
And in addition to juggling these two roles, the London-based Scot holds down a full-time job as a chief inspector with the Metropolitan Police.
Ahead of Scotland Women's first Six Nations match against England at Esher RFC on Saturday, Findlay admits her life balance isn't always perfect. "The female species is better at spinning 15 plates, but undoubtedly sometimes a plate falls off," as she puts it.
"But I love coaching at Richmond and I love coaching Scotland. It's another full-time job, but I know what I want to do when I finish policing. I want to put all my efforts into coaching."
Findlay's day-job with the Met saw her acting as the number two in command of the police co-ordination team charged with delivering national security on the Olympic Park during the 2012 Games.
Anything from bags left in the wrong place to people saluting inappropriately in the basketball arena came under her remit.
But the most testing part came at the start and end of the Games. "For the opening and closing ceremonies, I had to make sure there was safe access and egress for every VIP, including the 144 heads of state, the Royal Family and prime ministers. I had to make sure they all got to the right place at the right time. It sounds easy but it was a lot of stress."
Six months after the challenge of keeping Michelle Obama's motorcade moving, Findlay is now trying to inject further momentum into Scottish women's rugby.
In 2011, her appointment as national coach was probably one of the most rushed in international rugby. The Scottish Rugby Union found themselves without a women's coach at the end of January, and she agreed to step in just a week before Scotland played their first Six Nations match.
"This 2013 Championship feels like my second Six Nations, not my third, because the first one felt like, 'OK, let's pick up the pieces so we can get through this'," she explains.
"I think we've had a good last 18 months because they've been the most constructive for me. We've had a good integration of our Sevens and XVs programs and integration of our coaching staff that helps with continuity.
"I feel we're in a far better place than we've ever been since I've taken up my job. We've got three home games in this Six Nations and importantly that helps extend awareness of women's rugby in the country, which is really important."
Scotland have finished bottom of the last two Six Nations Championships, and Findlay has worked hard to ensure the Scottish women have more opportunities to play at a higher level, with more intensive competition.
She introduced the 'Scotland Series' matches, played on Friday nights, in addition to players' club commitments. It enables her to better assess the best 45 players in the country when it comes to narrowing down her Six Nations squad.
"That level of competition wasn't there before," she explains. "It now is and we've picked up players as a result - new talents like Kelly Shields and Anna Stodter."
But change takes time to feed through to results on the pitch. Qualification for the 2014 World Cup in France is the goal and Findlay knows it is likely Scotland will have to qualify for next year's showpiece at a tournament in Spain later this year, rather than via the two places available from the Six Nations.
There is no disguising that other countries are better funded than Scotland Women. While none of England's players, who have dominated the Six Nations for the last seven years, are paid, they are well resourced by the Rugby Football Union. But Findlay has nothing but praise for the Scottish Rugby Union and the support she has been given.
"The money thing isn't an issue for me - women's rugby isn't about money," she says. "I'd love for that to be the case for players in the future but at the moment I can't fault my home union.
"I've had phenomenal support from [Scotland men's head coaches] Andy Robinson (previously) and (current) Scott Johnson. I was able to access the men's World Cup camps to look at the methods used in the men's game.
"I've only had support, and for a woman coming in to do this kind of job and this kind of role - they've invested a huge amount of faith and trust in me. I hope I can pay them back."
Despite every other Six Nations country opting for a male coach, Findlay believes her background in the women's game helps her to better understand and guide the players.
Her captain is number eight Susie Brown, one of four Richmond players named in the side for Saturday's opener against England.
"I've been there and I've done it," Findlay adds. "You can lose sight of that sometimes.
"Women are very critical of themselves and their performance. It's never good, they always pick fault in things and with that goes an element of high maintenance.
"That's all about player management and I'm always trying to get better at that. My players do understand that it's not a full-time job I've got and it's not easy, but it is enjoyable."