Non Evans: Disappointing result for Wales Women

By Non Evans
Former Wales full-back
Last updated on .From the section Rugby Union3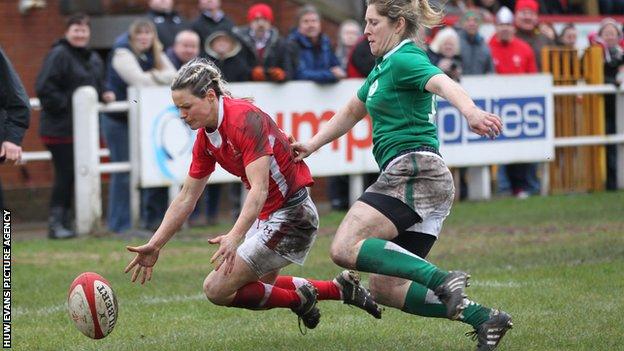 It was heartbreak for Wales in their Six Nations opener as Ireland scored the winning try, completely against the run of play, with only five minutes to go to win 12-10.
Ireland had the best of the first half then Wales had the best of the second half and a Laura Prosser penalty gave them the lead with 11 minutes remaining.
The set-piece was very good, they dominated the scrum and it was an excellent performance but obviously it was a very disappointing result.
Catrin Edwards was back in the scrum and I think that really made a difference and boosted the team while full-back Rosie Fletcher, who's got great pace, scored a very good try for Wales.
Wales need to get the ball in the hands of wing Caryl James more often because she is quick and was unlucky to get a try disallowed. She was very, very close.
Catrina Nicholas, who is an experienced back-row player, pulled out before the game after failing a fitness test but hopefully she'll be fit for this weekend and she'll be a real boost.
Despite the defeat, the performance will give Wales confidence but it is going to be tough now.
They play France in Laon on Friday night and its worth remembering Wales have never won on French soil.
The only positive is that France lost against Italy for the first time ever over the weekend.
It was in Italy and France obviously don't travel well but it will be completely different for Wales.
As I mentioned in last week's column, the aim this season is to finish in the top four to qualify for the next World Cup and Wales really needed to beat Ireland.
Italy having a win under their belt means it will be an uphill struggle for Wales - but they will take confidence from the Ireland game.
France have huge support and they are very good at marketing the women's game. Games are usually played on a Friday night and clubs all over France bid to stage the matches.
When you fly out there it's a real celebration of women's rugby. You usually meet the mayor of the town that's hosting the game and attend a reception the night before the game to welcome you.
On the pitch however it can be a very intimidating atmosphere and the French always pick up their game. Like the men, they might not play well away, but at home they're a different kettle of fish.
I remember one season we were playing in Paris and were winning but suddenly the lights went out. The floodlights came back on and France picked up their game.
They will do anything to disrupt you and make it uncomfortable. The last time I played out there two seasons ago they wouldn't give us the match ball to practice our goal kicking.
We weren't even allowed on the field to do our warm-up and practice kicking because there a mini rugby game being played.
Wales have come close on a number of occasions in France and hopefully will give them a run for their money.
England, without 17 of their leading players, beat Scotland 76-0 and scored 12 tries and that just shows the strength in depth they have. They've been rotating players for years but they've got the luxury of doing that.
Scotland perhaps are not as strong as the other nations but once England get their tails up they do tend to score a few tries and the floodgates open. I know, as I've been on the back of a few defeats against them.
They're obviously the dominant side once again in the Six Nations and I can't see anyone coming close to them after that performance.
* Non Evans was talking to BBC Wales Sport's Aled Williams