Jeremy Guscott's Six Nations Q&A

By Jeremy Guscott
Rugby union analyst, BBC Sport
Last updated on .From the section Rugby Union243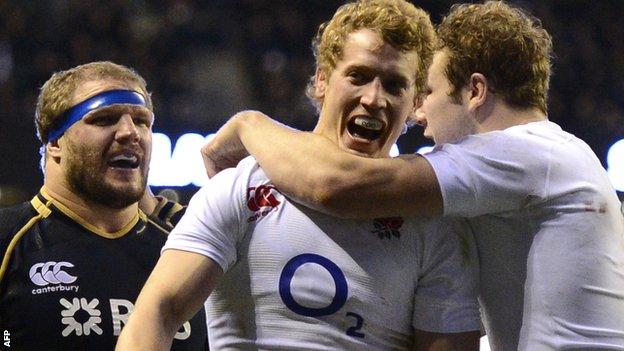 Among the topics Jerry discusses this week are:
- His stand-out player from the first round of the 2013 Six Nations
- Italy's gripping win over France and whether they can push on
- Whether England will win away to Ireland
- The class of Irish tyro Simon Zebo and icon Brian O'Driscoll
- Wales' on-going problems after yet another loss
- What he makes of Scotland full-back Stuart Hogg
Jerry answers questions posted on the website at the start of every week - entries are now closed for this Q&A. This week's answers appear below.
Hi Jerry, simple one this one, who was your player of the round? Cheers. James_Hoggarth.
Hi James, there are a number to choose from - Sean O'Brien, Peter O'Mahony, Simon Zebo, Brian O'Driscoll, Owen Farrell, Ben Youngs, Billy Twelvetrees, Luciano Orquera, Sergio Parisse and Francesco Minto all impressed.
However, I'm picking Billy Twelvetrees (above). To put in a high-quality shift like that on your international debut, and top it with a try, was brilliant.
After Italy's impressive victory over France, do you think they have finally come of age and can begin winning Six Nations matches on a regular basis, or was the performance a one off? Laurence
Hi Laurence, it's impossible to answer that conclusively until Italy have played a few more games, but inside the Italian camp before the game they truly believed they could beat France. What they have to do now is draw confidence from the win and believe they can beat anyone in this tournament.
The problem is, they've won like this before and not backed it up. Jacques Brunel has got to get his team in exactly the same frame of mind to get past Scotland and go from there.
Hi Jeremy, who will win the Ireland v England game next week? Do you think that the winner of that game is likely to win the tournament? badger guy
Hi Badger, who will win indeed? Of course the winner of this week's game will have a great chance of winning the Championship but they will both have three more tough games, no-one's a dead cert to win after one round of games.
The last few matches in Dublin haven't been great for England. They won the warm-up before the last World Cup, but in the 2011 Six Nations they lost by 16 points, in 2009 by only one but in 2007 by a massive 30 points. OK, England have won the last two games they've played, both fairly convincingly, but playing at home will be a huge plus for Ireland and because of that at this stage I would go home win - but it will be close.
Hi Jerry, who should the centres be for England in Dublin next weekend? Personally the thought of Billy Twelvetrees and Manu Tuilagi is mouth-watering. It would be tough on Brad Barritt, who has been outstanding, but Twelvetrees's distribution and running lines could create a lot of space for Tuilagi to burst into. Boredofjamesmathew
Hi there, Twelvetrees had an outstanding debut and because of his impact at 12 he gets my vote to start. Yes, it is hard on Barritt, but who said rugby at this level is easy - especially selection. England boss Stuart Lancaster hasn't always brought what are considered his best players straight back in after injury; they've had to go back to their club and get some match fitness after a lay-off.
Tuilagi hasn't played since 13 January, that'll be four weeks by the time they play. If he's been able to do some fitness in that time he's worth the risk because of his attacking threat. We all want to see the young fella up against the maestro that is Ireland centre O'Driscoll.
Hi Jeremy, after Wales's eighth defeat in a row, and with France and Italy away in the next two rounds, is there a chance of 10 straight defeats or maybe even the Wooden Spoon, or do you think they will carry their second-half form from the Ireland defeat into later rounds? Phil
Hi Phil, because of what happened at the weekend the Wooden Spoon is definitely possible, which is crazy given where Wales were this time last year. If Wales can find that second half-form they produced against Ireland for 80 minutes against France, they will win.
The French are incredibly fragile, I don't know why given their club form in Europe, but they just don't believe in themselves.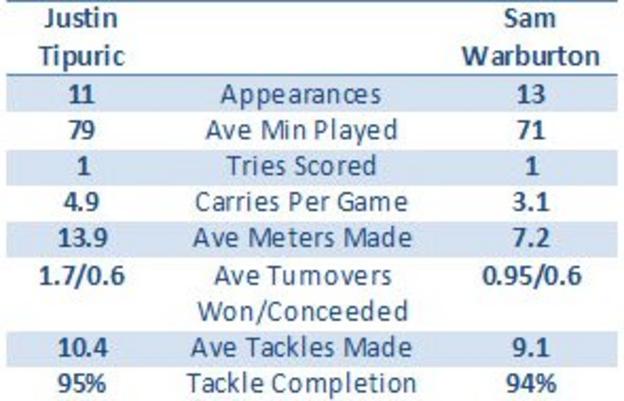 Why do Wales persist with playing Sam Warburton at open-side? He simply isn't performing at the moment and is not showing good leadership qualities. Justin Tipuric must feel very hard done by. Rob
Hi Rob, it looks as though the Welsh management are struggling to know what the quick-fix remedy is for this losing slump they find themselves in. From the outside it's easy to say that if you pick Tipuric and drop Warburton all will be better and Wales will win - if only it were so simple.
Wales have to get off to better starts in games, they have habitually been late starters over the past 12 months and going behind in games. They need to be told: get with the programme, you know you're better players than you're showing, so sort it out yourselves. You don't really need the coaches, you're all good enough players.
Hi Jerry, would you start with James Hook at fly-half for Wales against France and would you have brought him on earlier against Ireland? Joni89
Hi Joni89, I would give Dan Biggar more games at this level because he needs to get used to this standard. He wasn't given the best ball to use in the first half and you can't expect miracles from a lad who hasn't any real experience in this environment. He is the best fly-half Wales has right now and he ought to be given the Championship to prove it, with Hook in the wings if he slips up.
Will Wales rue the day they gave coach Warren Gatland to the Lions a year before the tour of Australia starts? Paul
Hi Paul, we will never know the answer to that one my friend. The decision was made and Wales have to get on with it as they are. It will be interesting to see what the next union does when their coach is selected to lead the Lions in 2017.
What are your thoughts on two Irish players at the opposite ends of their careers, Simon Zebo and Brian O'Driscoll? I thought both were sublime on Saturday. Roarz
Hi, Zebo has that ability, like all good players, to not change the way he plays no matter who he's playing for. He has a freedom about his play. He's not the best defender, but who cares? He's a fantastic, unpredictable, attacking joy to watch.
O'Driscoll keeps producing the sort of superb displays that he's been doing for many years, despite the battering his body has taken. The pass into the future he put out there for Zebo was worth the ticket money on its own - class and genius all in few strides.
Jerry, all the Lions full-back talk has centred on Leigh Halfpenny, Rob Kearney, Alex Goode, Mike Brown and Ben Foden, but very few have mentioned the name of Stuart Hogg. Surely after Saturday's performance the young Scot has a real chance of going on the tour? He was electric in attack and unlucky not to be named man of the match. AMPRugby
Hi, I totally agree. Hogg had an outstanding game and has put himself right up there in amongst the more experienced full-backs. His pace is a threat and it was good to see a show of strength as well when he bumped off Goode at the end of his sprint to set up Sean Maitland's try.
Given the current dry weather forecast for Edinburgh next Saturday, and the performance of the teams this weekend, am I right to be very concerned about the likelihood of an Italian win? AG
Hi AG, who would bet against an Italian victory after that performance against France? I still believe this Scotland team have it in them to win though. England beat them comfortably at the breakdown, Scotland didn't appear to challenge there and home scrum-half Ben Youngs had a very easy afternoon, without any pressure.
Scotland's nine and 10 can't expect to run a game with so little possession or territory. There's a new coaching set-up with a new half-back combination - don't expect miracles.
Does the increase in offloading out of the tackle, slicker passing and generally improved attack in the first round suggest that the northern hemisphere is finally looking to take on the south at their own game? Will this style be maintained as the pressure cranks up over the rest of the tournament? Malchieftain
Hi, when you look at the best team in the world and how many they can stick on any opposition, the future has to be more tries. I really hope it's a change - but I'm not holding my breath.