Six Nations: Sean Maitland proud of Scotland debut try
By Sean Maitland
Scotland rugby union international
Last updated on .From the section Rugby Union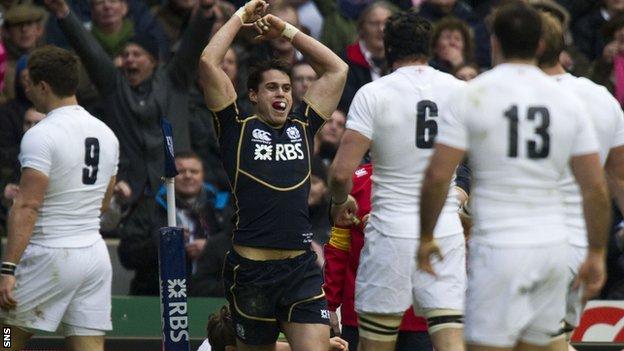 In the first of his Six Nations columns for BBC Sport, Scotland winger Sean Maitland reflects on a try-scoring debut at Twickenham and looks ahead to Saturday's home clash with Italy.
When it comes to beating Italy we know we have to stop them behind the advantage line.
In the 38-18 defeat against England our line speed wasn't good enough. We know Italy like to get the ball wide so we have to smash them behind the line and that will set us up for a first win in the 2013 Six Nations Championship.
Despite the result at Twickenham, it was a proud moment for me to take the field for Scotland and to notch up a debut try.
It all happened so fast but to be honest I should have scored earlier.
Stuart Hogg made a beautiful break and had a simple draw and pass to put me in. He didn't so I've been giving him a lot of stick. It was a very special moment though when I did touch down.
I couldn't hide my emotions. To score in my first test in front of 80,000 people, it's a moment I'll never forget.
I've had great support here in Scotland and my family have let me know that it has made the news in New Zealand.
The flip side though is we didn't win the game. We made too many mistakes and took our foot off the gas. You get a couple of chances in a rugby match and we didn't take all of them.
The breakdown too, was an issue. This area of the game was our main focus going into the match.
In New Zealand we talk about LQB (lightning quick ball), England had plenty of that and it put us on the back foot for much of the game.
I prepared for that English match just like any other. I switch on about a couple of hours before kick off. Music is something I use to prepare so I'll listen to a bit of techno or rap just to get me pumped up.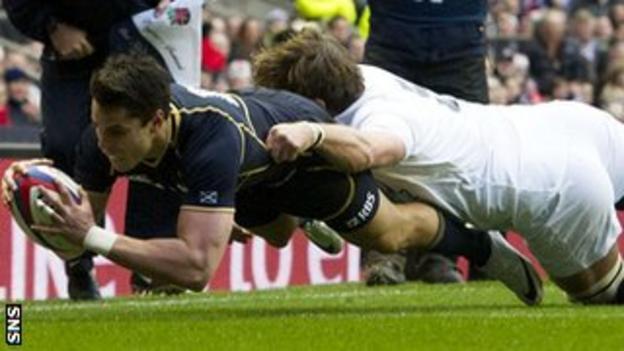 Moray Low is the music man in the squad... he has good taste for a prop.
I get really nervous but I treat that as a positive. I like performing in front of big crowds. It helps my confidence and I'm a confidence player.
This week it's been all about us and our performance. Italy have added width to their game in recent seasons but I still believe we can beat them. There's a lot of quality in our squad.
I feel like a little kid again being one of the new boys in the team.
Much has been made of my New Zealand background but I want to prove to the Scots that I deserve to be in the team.
To be honest its taken me a bit of time to find my feet over here but I want to turn in good performances for Glasgow and Scotland. I've enjoyed it so far but I've got a lot to prove and a lot to offer.
In the Scotland team I play in the back three with Stuart Hogg and Tim Visser. There's a lot of potential there. We're still young so we've got time on our side. The more we play together the better we'll get.
We aim to score as many tries as possible for Scotland. It's exciting because we're all players who like to look for the ball.
I can't wait for Saturday and the match against Italy. It will be my debut at Murrayfield. If you want to know the key for Scotland. It's simple, there's no magic formula. The Scottish team is full of talent, we just have to do the basics well.
Pass... catch... score.
Sean will be sharing his thoughts on the BBC Sport website throughout the Six Nations championship.