Welshman Gareth Delve named new captain of Melbourne Rebels
Last updated on .From the section Rugby Union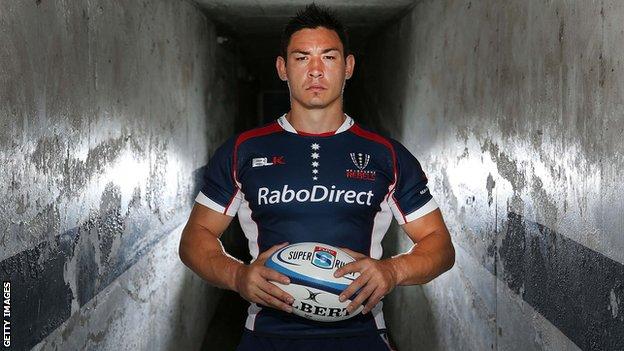 Wales international Gareth Delve has been appointed captain of Aussie Super 15 side Melbourne Rebels.
The number eight is the first Welshman to play Super Rugby and will be the Rebels captain for the 2013 season.
He replaces former Wallabies captain, Stirling Mortlock, who has retired because of injury.
"It's an incredible honour and one I didn't expect when I turned up three years ago as a foreign player," said 30-year-old Delve.
Delve, who won the Rebels' Rod Macqueen Pursuit of Excellence Award as player of the season for 2012, is the first non-Australian to be officially named captain of an Australian Super Rugby Team.
The 11-times capped Wales international has been with the Rebels since they were established and was vice-captain for the 2011 and 2012 campaigns.
Delve, who was linked with a move to Toulon in France in the summer, has emerged as one of the Rebels' most consistent performers since he arrived in Melbourne from Gloucester in 2011.
"The club's been fantastic in terms of giving me that opportunity, letting me have a leadership role and be a part of building a great culture at this Club," said Delve.
"It's going to be a great year for Rugby Union in Victoria, and I'm very proud to be a part of that."
Delve, who last played for Wales against the ACT Brumbies on last summer's tour, has won 31 Super Rugby caps with the Rebels.
Damien Hill, the Melbourne Rebels head coach, paid tribute to Delve's influence and standing within the Rebels' organisation.
"It is a great day for the club to announce the appointment of Gareth as the second captain in this club's history," said Hill.
"Gareth leads by example on the field, and is a player many people at our club, not just the players, look up to.
"Not only is he respected among his Rebels peers, he is respected among the Victorian Rugby community. Recognition of this is him winning the People's Choice Award in both the 2011 and 2012 seasons."
Delve has only missed one match since joining the Rebels and scored three tries last season.