Six Nations: Ireland v England analysis by Jeremy Guscott

By Jeremy Guscott
Rugby union analyst, BBC Sport
Last updated on .From the section Rugby Union99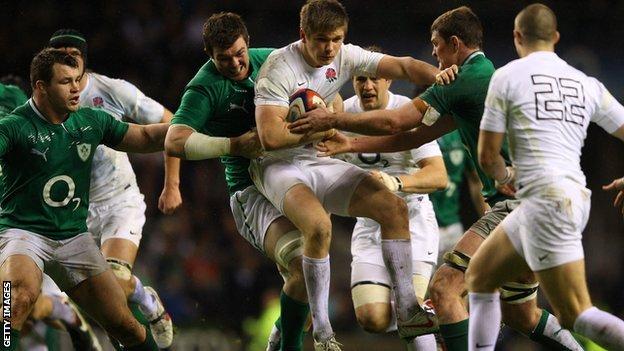 Ireland have won their last four Six Nations games against England in Dublin but both sides go into the match in good form after fine wins last weekend.
Ireland blitzed Wales in the first half in Cardiff and then defended tigerishly for the second 40 minutes.
England were always on top as they cruised past Scotland - but that game was much easier than this is going to be for Stuart Lancaster's men.
Fear the choke tackle:
England ruled the breakdown against Scotland but they will find things much harder on Sunday, not least because of one of Ireland's favourite tactics, the gruesomely named "choke tackle".
This involves wrapping a player up around the chest and shoulders and trying to keep him from going to ground, with all your mates piling in to help out.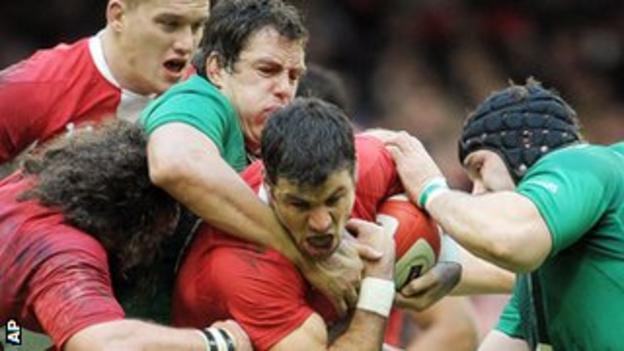 The object of this is to keep the ball off the ground, because that turns what would otherwise be a ruck into a maul.
That means the team that took the ball into contact will lose possession when it doesn't emerge, and as a result concede a scrum.
And that means England's runners cannot afford to get isolated on Sunday.
The breakdown is all about securing quick ball - or slowing down the opposition's - and Ireland will give England as hard a battle as they have had in that area since Stuart Lancaster's men played South Africa in November.
Against Scotland, England cleared the ruck out really well - I'll be analysing that in more detail in our BBC One coverage before the game on Sunday.
Their dominance of the breakdown was also crucial in the big win against New Zealand in November and last weekend I can't remember a time when England scrum-half Ben Youngs had to dig for the ball or was manhandled by Scotland - that shows how good the clear-out was.
England's selection quandary:
Ireland are unchanged, while England have made only one change to their starting XV, bringing back James Haskell.
People may have expected Manu Tuilagi to go straight into the team rather than be on the bench, but that would have been Lancaster making an exception to his normal rule - he shows old-fashioned loyalty to the players he picked in the previous game.
I thought Tuilagi would come into the centres because he's England's X-factor but Lancaster has been true to himself and not stuck him straight back in.
It will be four weeks since Tuilagi last played and that's a long time at this level, but because he is so important to England, you have to have him in the squad and Lancaster will bring him on with probably 30 minutes to go.
It's hard to predict who he will come on for - Brad Barritt or Billy Twelvetrees.
They took off Twelvetrees last weekend, which I thought was bit unfair on his debut. He was playing so well I didn't really see the reason to bring him off - but Lancaster's the coach and he makes the decisions.
However, Barritt is England's defensive rock. He's the cement that glues the defensive line together, and you can't easily do without it.
Can Haskell fill Morgan's boots?
Any side is going to miss the sort of quality ball-carrying that injured number eight Ben Morgan brings. Tom Wood and Chris Robshaw are workers that go about their business unrelentingly but Morgan is England's big ball carrier up front.
Wood, who takes over at eight, is not the same sort of player and neither is Haskell - but he has a good work rate as well as a physical presence and made three turnovers in his 25 minutes on the pitch last weekend.
The Wasps flanker has been quiet for the past year or so, partly because he played abroad, and will be starting his first Six Nations game since 2011.
The young guys have come in and left him behind in some ways, so it's a good opportunity for him.
The perils of indiscipline:
Ireland open-side Sean O'Brien had a monumental game last weekend, there wasn't a blade of grass he didn't cover.
However, while his tackling is phenomenal and his ball-carrying is rumbustious, he gave away four penalties against Wales - and Ireland cannot afford that on Sunday.
Against Wales, Ireland gave away 15 penalties in total, of which 12 were in their own half. England fly-half Owen Farrell had a kicking accuracy of 88% last week, if Ireland give away that many penalties in their own half on Sunday, they will lose the game.
The battle of the 10s:
Farrell's in form. The 21-year-old's not as static as he used to be, because Ben Youngs has got time to put the ball in front of Farrell so he's running onto it, and that fizzes all the way through the back line.
Ireland counterpart Jonny Sexton looks like a real boss though.
You get that sense he's calling the shots and of course he's got experienced guys with him in Gordon D'Arcy - who has shaken off a leg injury to play - and Brian O'Driscoll, while the younger guys have re-energised that Irish team.
Wingers Simon Zebo and Craig Gilroy may both be inexperienced but they are playing with smiles on their faces.
It will be interesting to see how much energy Ireland have got left after their massive second half-defensive effort last weekend - Wales came at them with a vengeance.
They had to make a mammoth 200 tackles during the game and that could have taken its toll on both the young guys and the veterans.
England's gameplan:
It will be interesting to see how England play - they made 18 off-loads last weekend, the highest of all the teams.
However, although their offloading game was brilliant at times, there is a risk involved because it can go wrong, as Scotland full-back Stuart Hogg's long-range counter-attacking try showed.
They will be wary of that but for England to progress they can't move away from that style, so I believe they will continue to try and play.
Prediction:
This is a very tricky one to call and if the weather stays as it is for the next 48 hours it could be a stodgy game.
I'm sticking with a narrow Irish victory… but I might have changed my mind by the time the match kicks off.
You can also follow Jerry on Twitter