Six Nations 2013: Callow England prepare for Ireland's maelstrom

By Tom Fordyce
Chief sports writer
Last updated on .From the section Rugby Union105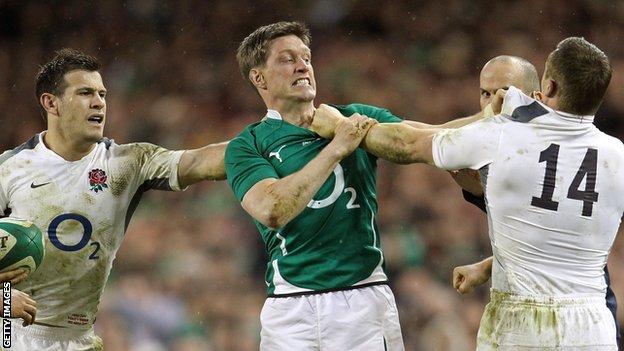 One of the myriad elements that makes the Six Nations such an engrossing tale - along with its rich history, storied heroes, and perfect perch in the calendar - is the fact that every match matters. Intensely.
Forget the mere points or position in the table. There are tribal rivalries at play in these fixtures as fierce as anything in sport. And none, for all the inter-Celtic passion or Gallic pride, is as fiery as those when England come calling.
No victory is chased or cherished more than one over the red rose, and no city has seen more of them in the past decade than Dublin. So how do England's 15 callow men intend to survive the maelstrom that awaits them in Ireland on Sunday afternoon?
"You can't be scared - of the crowd, or the occasion, or the past," says Dan Cole, an unyielding front-row force and, at 25 years old, the veteran warrior in England's ranks.
"At home, 70,000 people will be picking you up when you fall. Away, 70,000 people will be booing you. You rely on your team-mates to pick you up off the floor.
"We know we're disliked. You look at each other in the changing room and know that you've got no hiding place.
"How do I deal with it? If someone's going to hate me for being English, I'll hate you for not being English, for that 80 minutes we're on the field."
Cole is as avuncular off the field as he is belligerent on it. That last comment, said with a smile, tells you less about sporting jingoism - or perceived English arrogance - than the special nature of this particular fixture, in this particular year.
England have not won a Six Nations game in Ireland for 10 years, not since the World Cup-winning vintage of 2003 sealed their only Grand Slam in such buccaneering fashion at the old Lansdowne Road.
Two years ago, their hopes of a first Grand Slam in the decade since were blown away by an inspired Irish side who catapulted out of the traps and never let up. Two years further back, Ireland's attritional 14-13 triumph sent them on the way to a Slam of their own and left Martin Johnson's team a soggy mess.
Scrum-half Danny Care needs little reminding of either. One of only four survivors of those two defeats in this weekend's 23-man party, his sin-binning in 2009 created, inadvertently but indelibly, one of the defining images of Johnson's regime.
Care, on as replacement, wanting to "make an impact on the game", spotted prop Marcus Horan lingering at a ruck, shoulder-barged him out of the way and was instantly yellow-carded - which is when the millions watching on television saw Johnson make an impressive impact of his own, smashing his closed fist into his thigh as he watched with mute fury from high in the stands.
"I looked up at the big screen as I walked off," says Care, "and there it was - Jonno stabbing himself with his pen.
"It wasn't a great feeling. But I actually got a bigger rollicking from my mum than Jonno. She had said to me, a few hours before the game, 'Whatever you do, don't get sin-binned'. I just thought, she's going to go mental, and I was right."
Such are the passions stirred by this contest. What gives the visitors hope this time around is not only their recent revival under Stuart Lancaster - no England team since 2003 has played as well as this young vintage did in thrashing the All Blacks last December - but the lack of scars from those old battles.
There are only six players from the 2011 match-day 22 in Lancaster's squad this weekend, while only James Haskell from the starting XV in 2009 will start once again.
The recent record between these two is by no means a total 'greenwash' either. England won their last match in Dublin, the World Cup warm-up match in the summer of 2011, and claimed an emphatic 30-9 victory in their last Six Nations meeting at Twickenham last March.
The outcome this time around will come down to fine margins and big hits.
England made a remarkable 655 metres with ball in hand in victory against Scotland last week; Ireland made an equally startling 200 tackles as they stopped Wales in their tracks. Unstoppable forces meet immovable objects.
With Jonny Sexton's boot waiting to swing, England must replicate the discipline that saw only seven penalties conceded against Scotland rather than the serial sin-binnings that have blighted their last two championship matches in Dublin.
Ireland, for their part, must match the intensity of their first 50 minutes in the Millennium Stadium rather than the weariness of the last half-hour. How well they have recovered from that sterner physical examination may dictate both tempo and eventual result.
While the contest at the scrum and between such mobile back-row forwards at the breakdown will be critical, nothing is likely to engage more than the battle between the two contrasting centre pairings.
England's Billy Twelvetrees and Brad Barritt have played one Test together. In Brian O'Driscoll and Gordon D'Arcy they have opposite them the most experienced centre pairing in world rugby.
For O'Driscoll, in what may well be his farewell Six Nations campaign, there is one final chance to demonstrate those precious talents and unrelenting effort against a team he has taken delight in tormenting over his decorated career.
Green-shirted rugby disciples will tell you that 'BOD' has only ever been a consonant change from God; hands of an angel, a devil at the breakdown. Another win over the old enemy will convert the few non-believers left in the land.
But he will have to do it against a determined foe. Two years ago, Cole and his fellow forwards were shoved off the ball at the very first scrum, completely outmuscled as they fell apart in chastening fashion. A year ago they returned the favour, dismantling the Irish set-piece after injury to tight-head Mike Ross and winning a penalty try en route to a Twickenham mauling.
Cole, making his 37th appearance in his country's last 38 matches, admits such battles take their toll. He will only begin to feel normal again - and by normal, he means able to move his head without making what he calls "old man noises" - by Wednesday.
"I don't feel as fresh as I felt when I was 18," he says, with a wry grin. "But I'm good in some regards, in that everything still works."
Like all others involved in these monumental contents, it's a price he is willing to pay.
"It's a good bad feeling to have. If you get to Tuesday and you're not hurting, you think, what wasn't I doing at the weekend?"