Six Nations: Rob Harley adds bite as Scotland thrash Italy

By John Beattie
BBC Scotland
Last updated on .From the section Rugby Union73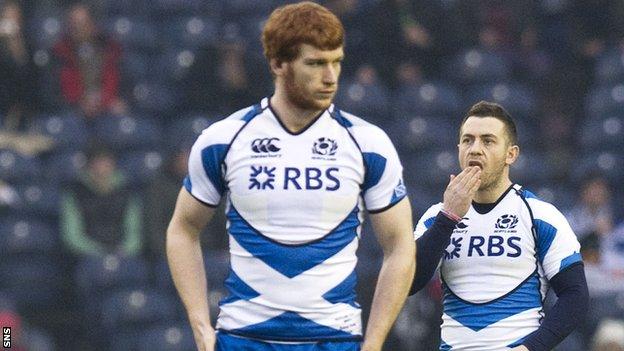 It feels like a long time ago now, but I was once coach at West of Scotland. British Lion Gordon Bulloch was putting in an extra shift by going back to play, unpaid, for the club that nurtured him, and former Edinburgh second row Guy Perrett was doing likewise.
Add to that a mix, including policeman and all-round good guy Scott McKechnie, and the club thrived.
So there I was delivering another old man's pre-match talk. I reminded them that these were the best days of their lives and would never come again.
We had a simple game plan dependent on two codes. "Smash and Grab" was a one pass game to get us over the gain line, and "Shape Up" was trying to get the ball wing-to-wing with a fake hit in the middle.
We had to respect our opponents - Cartha QP, the club my uncle had played for - but blast them at the same time. I also said the players might remember this particular day for the rest of their lives as I thought we had a future international in the side. He was a quiet, studious, tall, crash-tackling wing forward by the name of Robert Harley.
Robert had been in to the BBC for some work experience in the sport department and was reading some heavy duty literature in his lunch breaks.
Some players had already realised that it was dangerous to get too close to Robert even in training. He was that dangerous combination of very clever and very powerful.
Prior to kick-off against Cartha, Our captain McKechnie gave us a wink and said in a stage whisper to young Robert, who was changing beside him: "Stick with me and I will show you a thing or two". Harley just pulled on his boots.
Eighty minutes later, with a good win under our belts thanks to a schoolboy dominating every contact, McKechnie, who had been outstanding too, said: "I told you Robert, just stick with me."
A changing room full of discarded strapping, steam, clots of mud, that smell of cut grass and sweat went very quiet. What was the make of this new young man?
Robert looked up, smiled and said: "Actually, I think I showed you the way today."
The laughter from the players probably still sticks to that dressing room wall like a happy dream. McKechnie laughed the loudest.
I knew in that instant that he would go on to play for his country and I was so pleased to see him rampage around Murrayfield at the weekend.
For those who think Harley is merely a wrecking ball you should know that he played stand-off until height dictated he change position.
And I was pleased for a great club like West of Scotland, and all the other clubs who identified and produced these players we saw at Murrayfield, whose hearts would have swelled had Bill McLaren been able to say "And they will be jumping up and down at Burnbrae as young Robert Harley put in that tackle!"
So, what of that record 34-10 win against Italy?
Scotland no longer play the game in crazy areas and kick for position to get turnovers.
The key psychological battle is always the scrum and Ryan Grant and Ewan Murray at no time let themselves be dominated by Italy.
Plays from lineouts, rucks and scrums are more about getting across the gain line. And quickly.
Matt Scott's try, for instance, came from quick lineout ball and four confusing runners attacking with the blind-side winger Sean Maitland hurtling through a gap and Scott trailing in behind.
Tim Visser's try on the left wing came from a wider hit going right, again from a quick lineout but this time on the left hand side, and some quick hands. The ball was then brought back to the left.
The Italians were mired in a blind-side attack strategy that must have come from something they saw during Scotland's loss to England and their attacks were chopped down.
Jim Hamilton, who had put in a good defensive shift, apparently missed by many at Twickenham a week ago, had another game of bashing people and when he and Richie Gray get together it's good to watch.
The mistake against England was allowing them too much respect and too much time as Ben Youngs ran from scrum-half and brought big runners into play.
That changed on Saturday with Harley, Kelly Brown and team-mates vying to smash the chosen runner.
Ferocity at breakdown was better. Sean Lamont's try came from persistent physicality at a ruck.
All over the side there are blends. The back row has three very different players. The back three have a common element - pace - but, again, they are very different players. The much-maligned Ruaridh Jackson made Tim Visser's try with sneaky break and a one-handed offload.
And most players realise that there is someone who could slot in for them should they go off the boil. It looked, for instance, as though Pat MacArthur was about to get his first cap. Ross Ford is playing well though.
Scottish and Lions legend Finlay Calder once said that it doesn't matter how many rugby players a country has because you can only put 15 on the pitch. And that's what we have to remember as a nation.
There is no real reason why we can't match other sides with thousands more players in their grassroots, as the only limiting factor is ambition.
As I write, I'm just back from a walk down the West End of Glasgow. I bumped into some young players from GHK. One of them said he and his friends had never seen a Scotland team play like that and score tries.
I tried to tell him of great wins and lots of tries in the 1980s and 1990s. "But some of us weren't even born then!" he replied.
It's a strange thing but somehow the world seems a better place when your team wins. It's been a very good weekend, and I hope that all over the country our rugby clubs are uncovering more players like Robert Harley.