Six Nations 2013: Winning ugly confirms England's character

By Tom Fordyce
Chief sports writer
Last updated on .From the section Rugby Union310
Pretty? Pretty can wait for another day.
Sometimes beauty must take a back seat to the beast. Sometimes rugby union is more about character than clean breaks, more about muddy toil and inches held than silky hands and flying feet.
England may not have had the romantics swooning in their 12-6 win over Ireland at the Aviva Stadium in Dublin. It might have been the lowest scoring match in the history of the Six Nations, and the first between these two without a try in 29 years.
They couldn't have cared less. In holding on for their first Championship win in the city for a long, painful decade, England not only passed arguably the toughest test this young squad has faced but gave their supporters belief they could yet ace still higher grades.
It is one thing running in four tries at home, in the dry, against a Scotland side going backwards at the breakdown. It is a different kind of achievement to come into a sodden, attritional slog against a side with double the number of caps and all the support and not only take the ascendancy but then seize it back when most expect you to succumb.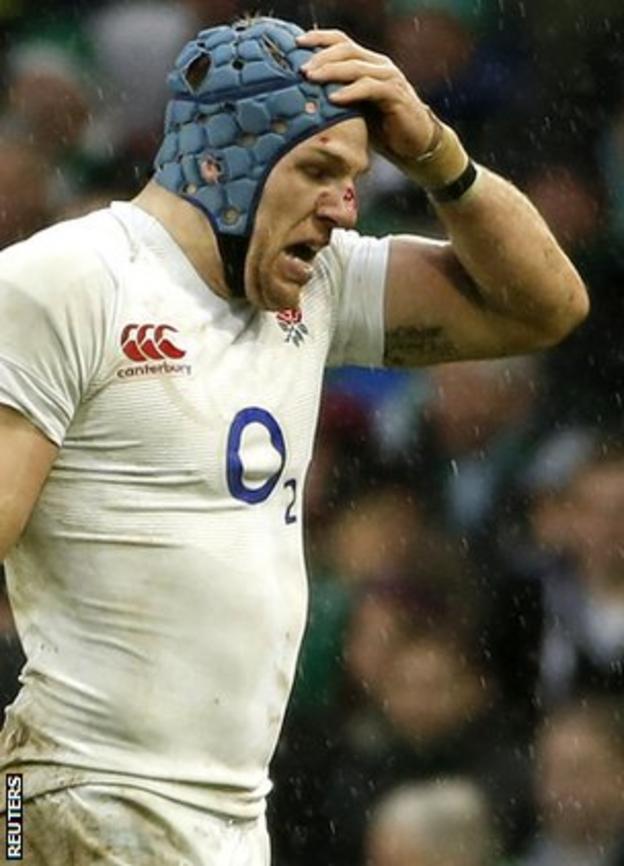 When James Haskell was sent to the sin-bin in the 57th minute to reduce England to 14 men and allow Ronan O'Gara to make it 6-6 from the resultant penalty, it seemed we had witnessed the turning point in the match.
We had, but not in the way most expected. Rather than Ireland taking control, driving the opposition inexorably back with territorial kicking and forcing penalties at the breakdown, it was England's young bucks who performed like grizzled veterans and squeezed out the winning points.
Ireland had 58% of possession in the match and 57% of the territory. They made three line breaks to the visitors' none, won four line-outs on the opposition's throw and missed only three tackles to England's 11.
Those numbers speak of a superiority that was seldom in evidence on the slippery pitch. England played the conditions and the occasion just as they demanded; Ireland, especially in a painful first half, displayed hot heads and hard hands.
England might have conceded 14 penalties to Ireland's 11, but only three were within kicking distance of their posts. The men in green gave away six within range, four of which Owen Farrell coolly landed.
A week after making 19 off-loads on a bright day at Twickenham, Stuart Lancaster's men bothered with just one all afternoon at a rain-soaked Aviva.
They were solid under the high ball, accurate with their kicking from hand, fierce at the breakdown, their defensive line up fast and their appetite for the punishing physical stuff unrelenting.
Injuries cost Ireland, from the to Jonny Sexton's torn hamstring and the stinger suffered by Sean O'Brien.
But so too did errors. The greasy conditions may have made handling difficult, but this was about composure as much as moisture. England held onto the same ball with much greater ease. When all around are losing their heads, no amount of support from the stands will pull you through.
Dublin has been a graveyard for English rugby on so many occasions that Ireland's second-half comeback brought back memories of capitulations past.
Previous incarnations have caved in at that point, yet Lancaster and his coaches seem to have inserted titanium through this team's spine.
In training they encourage the players to be their own mechanics, fixing problems as they spot them rather than relying on intervention from the touchline. In the heat of battle, it worked.
England's strong bench helped. Manu Tuilagi, Courtney Lawes and Dylan Hartley shored up the defences and added beef going forward.
So too did the excellence of many men who started. Skipper Chris Robshaw continues his campaign to make monkeys of his critics, leading England's charge with seven ball carries and halting Ireland's with 14 tackles.
His fellow forwards, while never dominating the set-piece, won six turnovers and gave up only half that; behind them, Alex Goode had his best game yet in an entirely defensive shift at full-back, while Mike Brown's own experience at 15 proved invaluable under an aerial onslaught on the wing.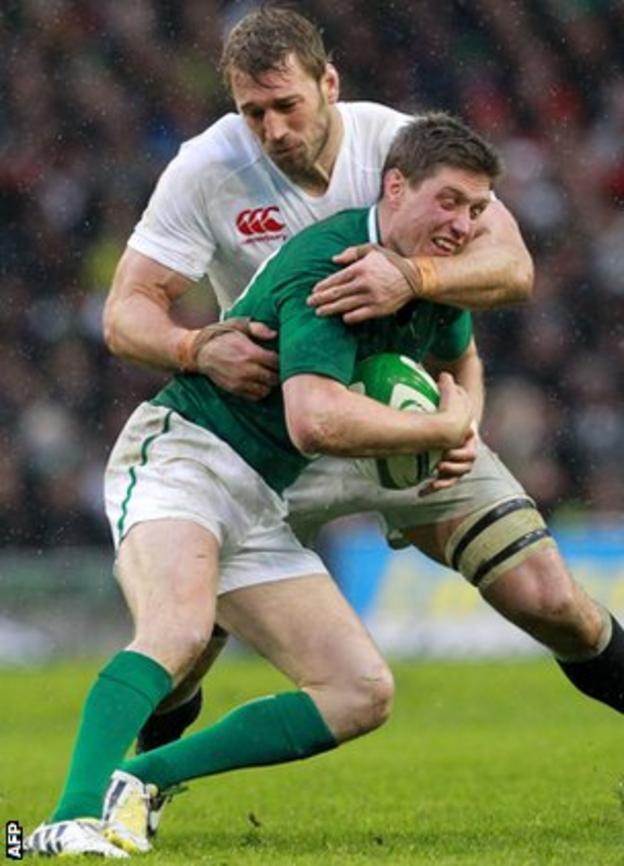 As the pivot between, Farrell continues to show quite remarkable poise under pressure. Seldom does he take the wrong option, instead he regularly plays like a man with 10 years of Test rugby behind him rather than one.
England will now face their remaining three games - the next two at home - with mounting optimism.
"I put that up there as an absolutely massive win," said Farrell's father and England assistant coach Andy afterwards.
"These days are made for Ronan O'Gara and Brian O'Driscoll with their experience and nous to get through these games, and there was a tricky point in the third quarter when we had back-to-back errors.
"But we put in a masterclass of how to win the last 20 minutes. For a young team to do that well, against a team that's been there and done it, is hugely impressive."
For Ireland there is a chastening sense of what-if and why not.
Coach Declan Kidney may have been bullish at times afterwards - "There's the championship to go for, and we're right in it" - but he was also painfully aware of an opportunity tossed away. "To have got to 6-6 with 20 minutes to go… there's a lot of raw emotion there."
With Zebo expected to be out for 10 weeks, Sexton facing a scan on his hamstring and several other players nursing sore limbs and purple bruises, the coming weeks may offer little relief.
The tests for England will keep coming. France, surely, must improve when they come to Twickenham in a fortnight. Welshmen will relish the thought of a final day denouement in Cardiff. Two games in, talk of Grand Slams should be respectfully muted.
That talk will be there all the same. There is substance to this revival in the House of Lancaster.