Six Nations: Scotland's four-try win gives reasons to cheer

By Mike Blair
Former Scotland scrum-half
Last updated on .From the section Rugby Union62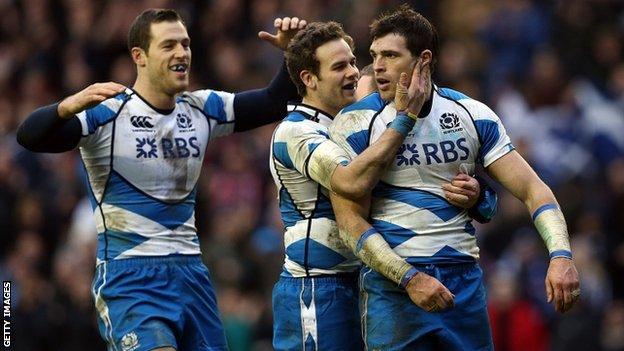 Greig Laidlaw said something very interesting in his thoroughly deserved man of the match interview.
We often hear, post-match, players questioning why a team lost but this comment shows a lot of maturity and gives us an understanding of where this team is in its development.
It's a relatively young and inexperienced side and as Greig alluded to, they have to learn how to consistently win international Test matches.
Let's not get caught up in that yet though: let's talk about some real positives that came out of the game against Italy.
The most obvious is the win and on the back of the Italian's result in France last week, this was no forgone conclusion.
Also, there was the manner of the victory: not a penalty-fest or a scraped victory but a comprehensive four-try win.
Supporters will be enthused by a set-piece score where Maitland showed his footballing ability to go with his undoubted pace; two breakaway tries and a well-crafted team score; finished superbly by expert marksman Visser.
Tactically, Laidlaw had a very sound game. Early on he took all the pressure off Jackson and dealt with the kicking duties himself.
They weren't aimless kicks either; they were contestable in the air and on the floor or found turf and challenged the Italians to play out of their third.
In damp conditions the Italians felt confident enough after last week to try to run the ball out of defence, however, with Scotland's increased line-speed in defence and nuisance value at the breakdown much improved.
The Italians merely put themselves under more pressure. Rob Harley and Kelly Brown were to the fore at the breakdown.
Harley, in particular, always seemed to be in and around the tackle area making good decisions as to whether to contest or realign. I hated playing against players like Harley - he'd accidentally step on your toe or when you tackle him an elbow or knee would invariably end up in your ribs.
Someone you're happy to have on your team...
I liked the attitude and variety of options around the contact area of the ball-carriers too. We saw Beattie offloading from the deck, Gray offloading in the tackle and Ford with a lovely bit of skill pre contact, tipping the ball onto Jackson, in the build up to Visser's score.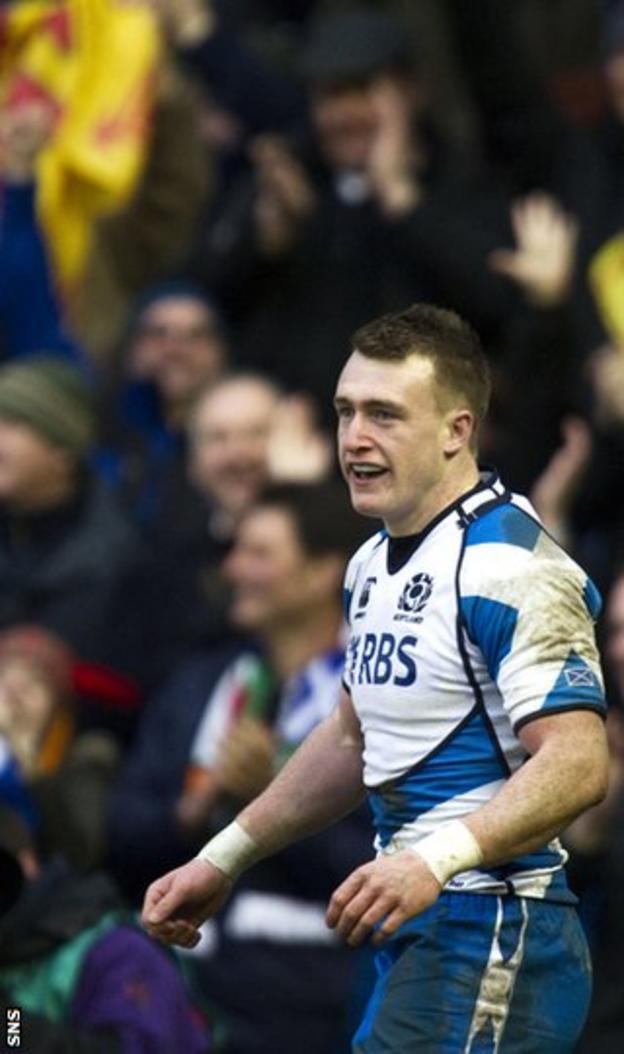 This is where a team becomes hard to defend against as they can't reset their line - moving the point of contact produces quicker ball. It's not more risky, it's making good decisions under pressure and performing the skill.
Scott Johnson, who has a turn of phrase for everything, said that statistics are like a bikini: "they show a lot but not the whole story."
This was especially true of this game. Italy had about 60% of possession in the match but ended up on the wrong end of a drubbing.
You could be wary of this statistic and question what would've happened had you given this amount of possession to a top four ranked nation but the truth of the matter is, it's what you do with it that counts.
Scotland soaked up the pressure in defence and counter-punched at pace in attack with Hogg and Maitland prominent again and Scott having his best game in a Scotland jersey.
Just one thing to note perhaps is the ability to react to and then understand what to do when the scrum-half is not available to play the ball at the breakdown.
For a number of different reasons this occurred a few times, mainly due to Laidlaw having to 'clear-out' at the breakdown.
We seemed to lose composure in this situation and rush something, particularly defensively, or in attack no-one took the responsibility to play the ball away.
As a scrum-half myself, I'd prefer it if the nine didn't have to do the dirty work and be able to play the ball himself, but if this doesn't occur then we must react quicker and more intelligently.
This group of players have shown that they can win, and win well, against Six Nations opposition.
This was done by tactical nous, taking your opportunities, being fearsome in defence and destructive on the deck; but everyone knows, one swallow doesn't make a summer and as Italy have learnt backing up a winning performance doesn't always come easily.
I look forward to seeing the team building on this victory in two weeks, and against Ireland at Murrayfield we will see how much progress has been made. Certainly the signs are positive.
Mike will be writing a column for BBC Scotland throughout the Six Nations campaign.