Jersey certain Nottingham game in Championship will go ahead
Last updated on .From the section Rugby Union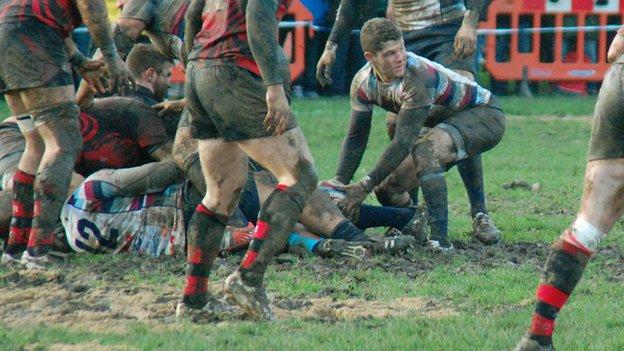 Jersey Rugby Club say they are certain their Championship match with Nottingham will go ahead this weekend, despite the wet weather in the island.
Jersey were forced to after the main field at St Peter was unplayable because of the weather.
The main pitch at St Peter has not had any rugby on it since 12 January.
"The ground is playable and we expect conditions to improve through the week," said chairman Bill Dempsey.
The club could still move the game to one of their training pitches if the main pitch is not able to take the game.
"Unless the weather is significantly worse than forecast, then I would expect pitch one to be ready," added Dempsey.
"However we do have a back-up plan, enabling the match to go ahead in any event, and a team of people are standing by to help on Friday and Saturday in carrying out preparations for the game."