Jersey: Chairman Bill Dempsey surprised at postponement
Last updated on .From the section Rugby Union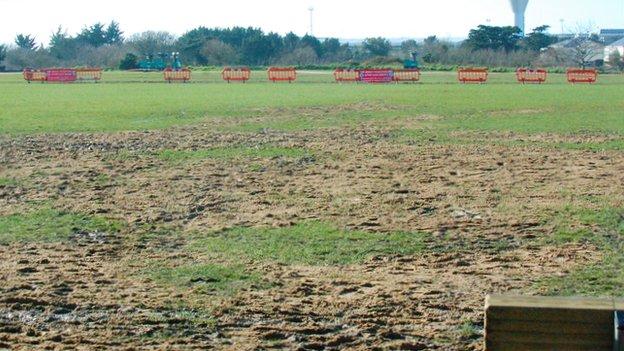 Jersey chairman Bill Dempsey believes that Saturday's match with Nottingham should have gone ahead.
The match was due to take place on one of St Peter's training pitches but at 14:00 GMT, just one hour before kick-off, the match was postponed.
"To me it was playable - we'd done all the things asked for us," Dempsey told BBC Radio Jersey.
"But the word 'dangerous' kept coming into the equation and I suppose based on that they couldn't push it through."
He continued: "We were all ready to play the game. Everyone worked very hard, we had 25 or 30 people working on the pitch.
"Everything was put in place, but it think the referee got to a situation where he was afraid to go ahead with the game as if someone does get injured, it would be a liability to him."
The postponement was Jersey's second in recent weeks, after their British & Irish Cup tie at Pontypridd was called off because of heavy snow in Wales.
A date for that match had yet to be confirmed, but 16 March has been provisionally set.
However, Dempsey feels that his side would be better served playing the fixture against Nottingham on this date.
"The way the fixtures are looking it's more than likely [it will be in March]," Dempsey added.
"The desirable date is the one ring-fenced for the British & Irish Cup against Pontypridd because neither of us can win the pool or progress, so it's a dead rubber.
"The game that actually needs to be played is the Championship game, and the first available Saturday for them [Nottingham] is 16 March, so I think that's what we'll be looking at."