Six Nations 2013: Home comfort for Scotland?

By John Beattie
BBC Scotland
Last updated on .From the section Rugby Union289
Does home advantage really matter, and if so why? And what do we make of Euan Murray's belief that he shouldn't play this Sunday [against Ireland in the Six Nations] as it's a holy day?
As to home advantage first, well, maybe it's the smell of the brewery, the dry chill in the Edinburgh air, or the familiarity of the home changing room, but, whatever, the Scottish team is deemed more likely to win at home.
Amid all that I am left thinking: Beware the Irish! They beat Wales and lost to England. We lost to England and beat Italy. Somehow Scotland have emerged from this as firm favourites because the match is at Murrayfield.
The reality in terms of the result is much harsher and unless Scotland come out of the traps in an even more physical frame of mind than against the Italians, then the game is lost. The Irish, for all their injury worries, are the best team at winning the ball on the floor.
But what of home advantage? US research details that 52% of professional baseball games are won by the home team, while in professional (American) football and basketball respectively it's a still healthier 58% and 66%.
It's also got something to do with the actual playing surface as research has found that relocated teams who find themselves playing on a new pitch exhibit a reduced home-field advantage (Pollard, 2002).
Distant memory also tells me that there is something pressing about winning at home. It's the whole element of leaving the pitch and knowing you might have to walk down a street and have people yelling at you. Not fun when you lose.
Home advantage will only take Scotland so far on Saturday. Home advantage, I reckon, is for the mentally weak. Scotland beat Australia last summer and that was just about as far away from home as is possible.
Nope, the result this weekend will depend on basics like attitude, team shape, defence, and the facet of the game that comes in for criticism from the trendies which is scrummaging.
The scrum is still the game's most potent weapon both physically and mentally. Shove a team back, or stop a powerful team from dominating you, and your game becomes easier, as if a heavy backpack has been taken from your shoulders.
And this weekend Scotland will be without their scrum cornerstone: Euan Murray. His scrummaging at tight-head has been superb, but he won't play.
He has previously been quoted as saying: "It's basically all or nothing, following Jesus. I don't believe in pick 'n' mix Christianity. I believe the bible is the word of God, so who am I to ignore something from it?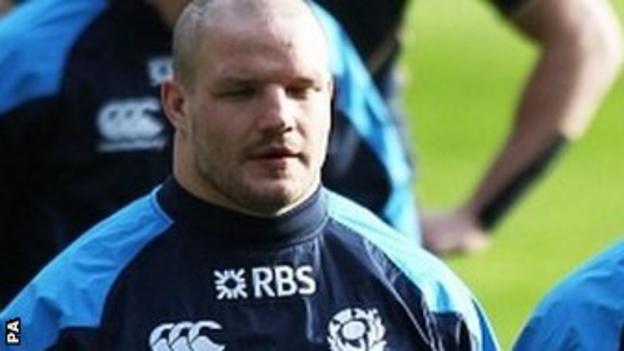 "I might as well tear out that page then keep tearing out pages as and when it suits me. If I started out like that there would soon be nothing left."
I don't share Murray's beliefs. I often question how, say, the Springboks and Samoans, as they have, can pray together at the end of a game after fighting each other during much of it.
Interestingly it appears that religious belief among sportsmen and women is increasing and, as Matthew Syed examines in his book Bounce, a belief in God helps athletes with their confidence, assurance, and dedication.
But let's finish on this. Euan is a family friend of ours and a fantastic bloke. But it's worth looking at the full context of Exodus 31:14-15 which states: "Six days may work be done; but in the seventh is the sabbath of rest, holy to the LORD: whosoever doeth any work in the sabbath day, he shall surely be put do death."
I wish Euan would reconsider his inability to play on a Sunday. I don't question his belief. But exactly how far a sport can go to cater for someone's belief is a different point. There are some pretty strange belief systems in the world.
And I wonder, as I write this, who will play tight-head this Sunday in a key game for Scotland.
Scotland's players need to believe in themselves more than the salvation of home advantage. But what do you think?