Bath: Peter Stringer delighted to be playing again after loan move
Last updated on .From the section Rugby Union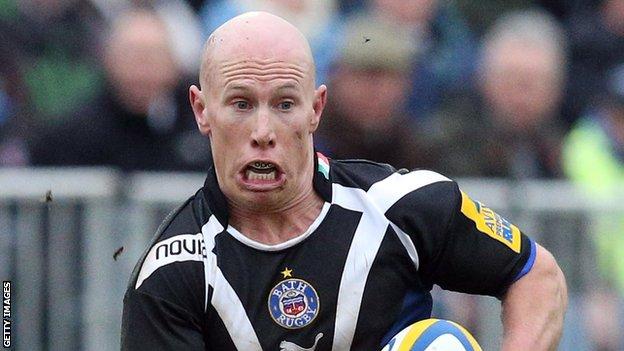 Scrum-half Peter Stringer is enjoying playing regularly again after joining Bath on loan from Munster last month.
The 35-year-old Ireland international has started the last two games in Bath's six-match winning streak.
"It's been a great four weeks," he told BBC Radio Bristol. "We're playing well and the backs are benefiting from a pack that is dominating.
"It doesn't matter that I'm on loan, I've just thrown myself in to prove I can still play top-level rugby."
Stringer is enjoying his third loan spell away from Thomond Park in 18 months, having played for both Saracens and Newcastle last term.
The Cork native has been a Munster player since turning professional in 1998 and is just two appearances short of a century of caps for the Ireland national side.
"It's daunting for me to come to a new set-up when you've been in the same place for 14 years," he said.
"I've tried to buy into the place as much as I can. I don't do half-hearted whether I'm in blue, green, red or whatever colour.
"There's been a lot of hard work with the coaches to learn moves, and a new style of playing. I've studied hard to know my role absolutely inside-out."
The veteran scrum-half has twice won the Heineken Cup with Munster, as well as winning three Celtic League titles.
Ahead of Saturday's match at Northampton, Bath sit seventh in the Premiership, just three points adrift of the Saints, who occupy the final Heineken Cup qualifying birth.
"I've still got some winning in me, that's why I'm playing rugby," the Irishman continued. "I want to be successful and have some silverware in my hands at the end of the season.
"The Saints are a tough side and it'll be a big forward battle. It's a real challenge to look forward to with the run we're on.
"We're really coming through in the final 20 minutes of games and we'll be looking to continue that at the weekend."
Stringer's loan deal is due for review in mid-March, which means he could yet be involved in another three matches before Munster have the option to take him back.
"I'm just trying to play as well as I can for Bath for the time I'm here. Who knows what will happen beyond this initial loan spell," he concluded.