Six Nations 2013: Sergio Parisse ban is bad for tournament - Owen
Last updated on .From the section Rugby Union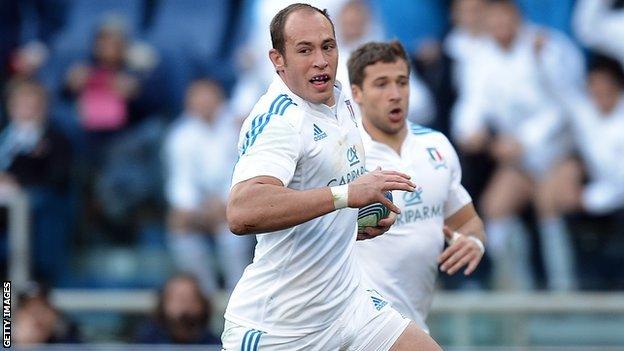 Ex-Wales skipper Michael Owen says Sergio Parisse's 30-day suspension for verbally abusing a referee is good for Wales, but a blow for the Six Nations.
Parisse misses the rest of the Six Nations, starting with Saturday's match against Wales in Rome.
"I think it's good for Wales, but it's a shame for the tournament," said Owen.
"You want to see the best players out on the field.
"It's a massive blow for Italy. He's been in good form, especially in the [23-18] victory against France, so he'll be sorely missed."
Parisse was banned for 40 days by the LNR (French league) hearing on Wednesday, with 10 days suspended.
Former number eight star Owen captained Wales when they won the Grand Slam decider against Ireland in Cardiff in 2005 and also toured New Zealand with the British and Irish Lions that year.
He said Parisse, 29, was a good player back then, but is an even better one today.
"I played against him between 2002 and 2007 and he's probably developed even more since then," added Owen.
"You could see he was a talented player. He always had great footwork and he was always one of the Italian players who looked to get on the ball a lot.
"Since then, with maturity, I think he's really developed and he's become a talisman for the Italian team.
"I think it [Parisse's absence] will make a difference, but Italy will have someone who's a very capable player coming in.
"Going to Italy is going to still be a tough task for Wales and they'll have to do perform well."
Owen understands the dangers of underestimating Italy.
He was in the Welsh team that lost 30-22 in Rome during the 2003 tournament, and the Welsh were beaten again in 2007 when Italy held on for a 23-20 victory.
And Owen backed the decision to impose a severe penalty on Parisse.
"He's been found guilty of abusing a referee and if that's the punishment for that then I think it's fair enough.
"I think it's good to send a strong message."