Six Nations 2013: Scotland's Hogg has Best intentions
Last updated on .From the section Rugby Union61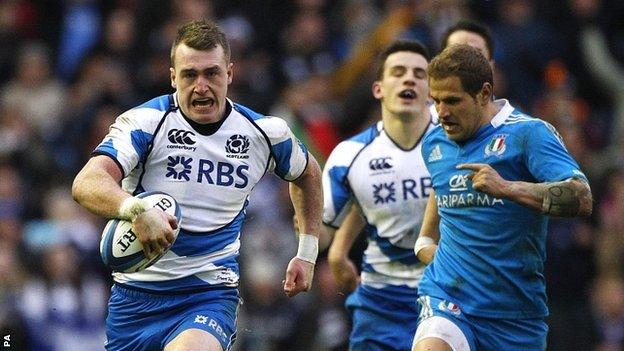 The sudden discovery that you are related to one of the greatest footballers in history could be a curse as much as a blessing: every heavy touch, misplaced pass or shin over the crossbar liable to be greeted with howls of derision from your mates, whether it's a kickabout or not.
Mercifully for Hogg, he is proving himself to be handy enough with a different shaped ball. So that when his links to Best are put into the context of some woeful dribbling or another missed open goal in that aforementioned kickabout, he can at least reply: "I don't remember seeing George Best do this…"
Twelve caps into his international career and the 20-year-old Hogg is compiling a highlights reel Best's relatives over in Northern Ireland can be proud of.
The Bests would certainly have recognised the almost imperceptible jink that led to Hogg's length of the pitch try against Italy, a score that secured a record Six Nations victory and Scotland's first win in the tournament for two long years. And they would have appreciated Hogg's eagle eye for a finish in the eighth minute of his first start for his country against France last year.
"He has ice in his veins, warmth in his heart and timing and balance in his feet," said former Aston Villa and Tottenham great Danny Blanchflower of countryman Best. Hogg is still too young for such florid salutations, although the signs are he will be deserving of similar one day.
But for now it is all about keeping those twinkling feet on the ground. "Stuart is an incredibly talented player," said Scotland assistant coach Duncan Hodge ahead of Sunday's clash against Ireland at Murrayfield. "Hoggy's challenge now is to keep reproducing that good form, season after season."
Hogg already knows what it is like for good form to go missing. Having declared his talent in last year's Six Nations, when he became the first teenager to start a match for Scotland since Jim Renwick in 1972, he found himself struggling in the early part of this season.
Diminished by surgery on his ankle, Hogg lost his place as Glasgow's first-choice full-back to Peter Murchie and made little impact in the autumn internationals. Although, in Hogg's defence, very few Scotsmen did.
"I found it frustrating at times to play 30-40 minutes a game," Hogg tells BBC Sport. "It was difficult to get any form going. Credit to Peter Murchie, he's been Glasgow's most consistent player this season. But I've never worked so hard in my life. It's just about being mature and getting through it the best you can."
Hogg showed he was back to his best with a searing counter-attack that led to a Sean Maitland try in Scotland's Six Nations opener against England, before adding a try of his own. But England's subsequent victory demonstrated all the three-quarter flair in the world counts for little when you are unable to compete at the breakdown.
Head coach Scott Johnson, who replaced the beleaguered Andy Robinson before the start of the campaign, could barely contain his anger in the post-match interview. Interim forwards coach Dean Ryan was equally scathing. Behind closed doors it must have been the mother of all rollockings.
"Dean let his frustrations go and it gave us the kick up the bum we needed," says Hogg. "Massive credit to him, he's an outstanding coach and has brought in little bits and pieces and added them to certain players' games.
"He has his systems and, to be honest, at the start I looked at them and thought it was pretty robotic. But it turned out not to be like that at all."
Some might deem it a paradox of rugby that only by being robotic up front - what Ryan might call doing the basics, doing the basics well and doing the basics well over and over again - can a side give rein to its more artistic leanings. But it is not a paradox at all, as any artist who has grafted for months over a canvas in order to produce an apparently effortless masterpiece will tell you.
"You've got to do the dirty work and get the momentum going before you can even think about releasing the ball," says Hogg. "You have got to earn the right to go wide. It paid off against Italy, we took our chances well."
Alongside wingers Maitland and Tim Visser, it could be argued that Scotland have the most dangerous back three in the Six Nations. "I'll take that," says Hogg. "I've always said, it's just a case of getting these boys the ball and they'll do as much damage as they can and get us on the front foot."
From 100-1 to win the Championship following the 38-18 defeat by England, Scotland sit second in the table after beating Italy. With home Tests against Ireland and Wales to come, 66-1 sounds like a half-decent bet.
"We're right in the mix," says Hogg. "And not many teams get three home games on the bounce in the Six Nations. We need to make that count."
If Scotland are able to build on their success over Italy and continue punching holes in opposition defences - they have scored six tries in their first two matches - chances are that Hogg will play his part. And if Hogg plays his part, he will become a red-hot contender for a Lions spot this summer.
"The Lions is always in the back of your mind and it's great that my name's getting chucked around," he says. "But I'm just concentrating on keeping my place in the 15 jersey for Scotland and playing the best I can."
The timing and balance of Best, maybe, albeit infinitely more sensible.