Charlie Walker-Blair: Jersey switch was unexpected
Last updated on .From the section Rugby Union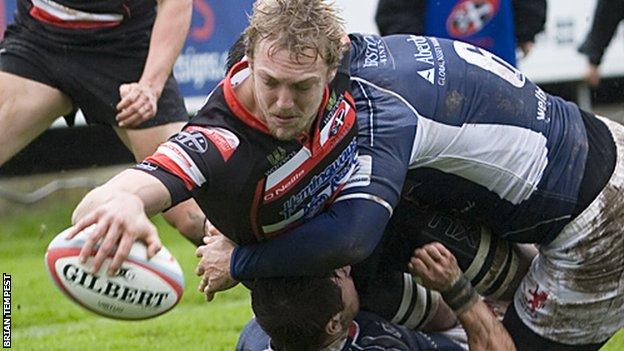 Jersey's new signing Charlie Walker-Blair did not believe he would be playing Championship rugby this season.
The 24-year-old, who joined Jersey last week, could play next Saturday for the first time in about a year after recovering from a serious knee injury.
"I'm very grateful for having the opportunity to get back out on the field," he told BBC Radio Jersey.
"I wasn't looking to play Championship this year - I signed for Taunton to ease back, but Jersey gave me a call."
Former Exeter player Walker-Blair has had a torrid time over the last few years with injuries, most recently a ruptured anterior cruciate ligament and then ankle injury.
"It's been pretty rubbish really," he said. "(In my) first year at Exeter I did my ACL, which was pretty much a year out.
"Coming back I was playing for Cornish Pirates, played 12 games and re-ruputured it, so I had to have another operation."
Having begun his career on the wing, Walker-Blair switched positions to the back row, which he believes will allow him to be more involved in games.
"I get a bit bored on the wing, if I'm honest, so I like to play seven or six," he commented.
"On the back row, you're a bit more involved and it's a bit more physical which is what I enjoy.
"I'm glad the move happened. I've wanted to do it for a long time and Exeter gave me the opportunity to move back."