Six Nations: England v France analysis by Jeremy Guscott

By Jeremy Guscott
Rugby union analyst, BBC Sport
Last updated on .From the section Rugby Union154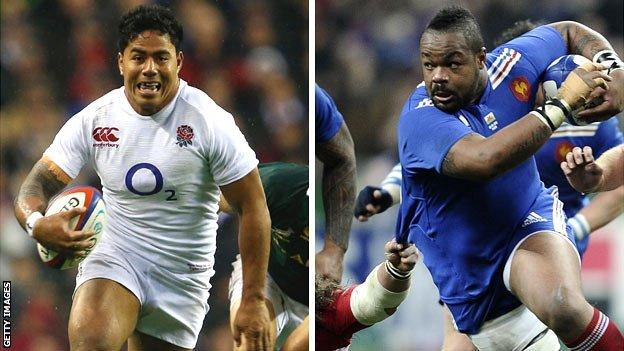 France coach Philippe Saint-Andre has called on his struggling side to be "courageous, audacious and unpredictable" in their Six Nations game against England on Saturday.
But anyone expecting a France team who have made their worst start to a Championship for 31 years to emulate the "French flair" of Les Bleus' glorious past could be in for a big disappointment at Twickenham.
England are likely to revert to their fast-paced off-loading game after the muddy arm-wrestle in Dublin last time out.
But Saint-Andre has never been the most adventurous of coaches, preferring a big pack and a direct gameplan - so don't be surprised if his brave pre-match chat turns out to be mind games.
What is morale like in the two camps?
The two teams could not go into this match in more contrasting moods, with England unbeaten after two games and France bottom of the table after a brace of defeats.
Where can the French go from here? The same side that has been so poor in this Six Nations played so well in the autumn, when they beat the likes of Australia.
Saint-Andre has now decided half of them are no longer any good and changed seven players - which for me leaves a big question mark about the coach.
I cannot guess how they will do on Saturday. We can predict to some extent how they'll play - just not how well.
The French gameplan
They'll be big scrummagers, they'll be good in the line-out and number eight Louis Picamoles will pick up from the base and carry hard.
I think the talk of being courageous and unpredictable is a smoke screen, because if you look at the Sale Sharks and Toulon sides Saint-Andre coached, he's always been about forward power - there's nothing audacious about it.
Vincent Clerc (France's all-time second highest try scorer with 34, four behind the legendary Serge Blanco), Wesley Fofana and Yoann Huget have the ability to be audacious but I don't think Saint-Andre's teams play with that mentality.
The French of old may have, but Saint Andre is all about crash, bang, wallop - it's route-one rugby.
Any residual flair?
After shoving him out on the wing, Saint-Andre has finally restored the terrific Fofana to inside centre.
He's one of the most gifted players in the tournament and I see him as the new Brian O'Driscoll.
Fofana has unbelievable talent - he can step off both feet, he's quick and he likes to score tries. He's a real superstar.
Clash of the titans
Fofana's centre partner will be the mighty Mathieu Bastareaud and the latter's battle with equally powerful England counterpart Manu Tuilagi is the confrontation everyone will be talking about.
They're big physical players, but their defence is far from perfect.
If you compare Tuilagi's defensive record to fellow England centre Brad Barritt's there's a huge difference, and although Bastareaud has completed 12 out of 13 attempted tackles in the tournament, he only averages four tackles a game in the French Top 14 - the same as Tuilagi in the Premiership.
We all know what these guys bring in attack though - they're both great at getting over the gainline.
The fact Bastareaud has beaten more defenders (nine) than anyone else this Six Nations, despite playing less than a game and a half, does not surprise me, and Tuilagi's pretty much the same and will be raring to go after playing only 33 minutes so far in the 2013 Six Nations because of injury.
Blind-sided
I'm intrigued to see Courtney Lawes at six because all his previous England starts have been in the second row.
We know about his excellent defensive qualities - although I hope he keeps his head on the right side this time, after his game-ending knock against Ireland.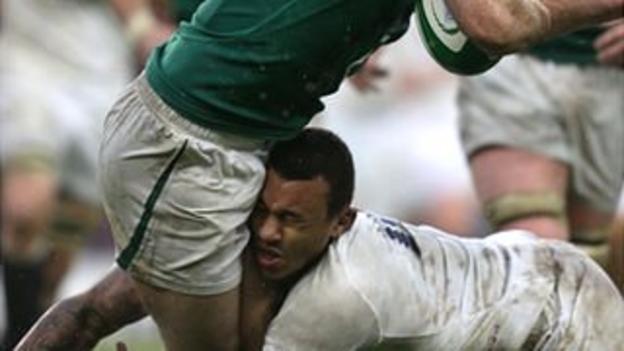 He's very tall, so will have a height advantage over the French, but he's also quick. The question is whether he's just quick for a second row or has the pace and stamina to play blind-side at Test level.
We'll find out on Saturday because if the conditions are fast and dry, as predicted, then he's going to be doing a lot of running.
He'll be more involved in the game at blind-side but I'd like to see him carrying more. I want him to use the same athleticism in attack he shows in defence.
The Northampton man is like a missile when he tackles. It's like a blur - maybe that should be his nickname. The Blur arrives and whack! He flattens people and they don't even see him.
He's an incredible athlete. It is a very interesting call but England boss Stuart Lancaster hasn't got much wrong - he knows what he's doing.
Key areas
How the line-out, scrum and breakdown go will have a major bearing on the result.
Looking at the percentages I'd say the line-out is the main reason Dylan Hartley starts at hooker in place of Tom Youngs.
Youngs has hit only 60% of his throws this tournament while Hartley has nailed 10 out of 10.
The scrum also looks a bit harder now as well, which is handy as the French scrum is always going to be solid.
France might have a couple of quick flankers in Thierry Dusautoir and Yannick Nyanga but the key to success at the breakdown is working as a collective.
At the moment England are clearing ball for scrum-half Ben Youngs better than I've ever seen it done by an English team.
The likes of Chris Robshaw, Tom Wood and co are clinical at the breakdown, letting the pacy Youngs play at his own pace, and as a result he's been just about immaculate.
England's approach?
The question is, will England try to play the offloading game they showcased against Scotland?
It is not without risk, as Stuart Hogg's try for the Scots showed, but I think they will try to keep it alive.
The key is to get the balance right - don't try the miracle pass - and only open up off quick ball.
They want to play in the opposition's half so they'll look to kick to get there, and then they'll work really hard to get that quick ball to let the backs do their thing.
If France come and really give it a go, as Saint-Andre has told the media, the match would be deserving of the traditional Le Crunch moniker.
But I can't see that happening - you can't change seven players and expect them to go out there and do the business.
They respect the French but England are favourites and, given their current mental state, I see them winning well.
I do have some caveats. They need to produce that quick ball they've been enjoying and fly-half Owen 'Iceman' Farrell has to kick as well as he has been doing.
If they do that, then England will win by 10 points at least.
You can also follow Jerry on Twitter