Six Nations 2013: Geoff Parling wants England consistency

By Tom Fordyce
Chief sports writer
Last updated on .From the section Rugby Union134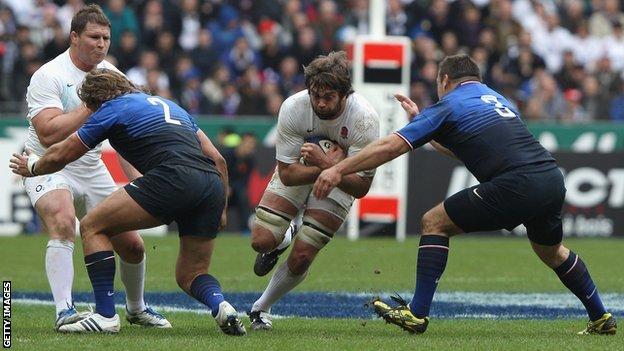 England-France matches tend to bring out the confrontational in the combatants; a remembrance of bloodied battles and punches past; an animosity at odds with the modern relationship between the two nations.
There is logic in Parling's thoughts - Darwin and ZZ Top are mentioned in relation to his insistence on a Clive Woodward-baiting beard, the hurdles to his fascination with sporting technique, the Hunger Games to his pre-match reading ("Yes, I did get it out of the teenage girls section of the bookstore. But I don't care, because I really enjoyed it").
And while his easy manner should not distract from the serious role he has played in this England team's improvement, that composure bodes well for both this weekend and the campaigns ahead.
"We've come a long way, but it's still a very young squad," he says, his 6ft 6ins frame comfortably held in an enormous leather armchair at England's training base in Bagshot.
"We're a team that's going well at the moment, but a few months ago, during the autumn internationals, we only won two out of four.
"We beat New Zealand, which was great. But a sign of a good team is like the All Blacks showed last December. It was like the end of the world for them when they lost one match. For England it was almost as if we'd won the World Cup. I want us to be like New Zealand.
"There's a good feeling around the squad and English rugby but let's not get carried away. The challenge is to be consistent. If we beat France, if we win the Six Nations - brilliant, but what's next? If we succeed on the summer tour, what's next?"
Alongside Dan Cole and Owen Farrell, Parling is one of only three ever-presents in the 14 matches of the Stuart Lancaster regime. At 29 years old, he is both a late bloomer and a representative of the sort of understated, unflashy character that the coach has built his team around.
On Saturday he will face Yoann Maestri: a man who made his debut on the same February day last winter and who will aim to dominate the English line-out just as Parling wants to wreck his.
While England have the lowest line-out success rate in the tournament so far - 77% to France's 86% - they have stolen five of their opponents' throws. On a day when set-piece dominance could decide the outcome of the match, the battle between the two (Leicester's Parling has won 34 line-outs in the Heineken Cup this season, double the number of Toulouse's Maestri) may prove critical.
Lancaster's three changes to the team that so impressively ground out that win in Dublin a fortnight ago tells you everything about how he expects this "titanic" clash to play: enormous impacts, brutal collisions; England the immovable iceberg and France the sinking ship.
In picking the heavier Dylan Hartley over Tom Youngs at hooker he hopes to add weight to the scrum and accuracy under pressure to the line-out throws; Hartley has a 100% success rate on his throws in the championship so far, Youngs just 60%.
In throwing Courtney Lawes in at the less familiar slot of blind-side flanker he aims to shore up the defence on French throws and prevent the men in blue driving off their line-out as they did against Wales - and as Ireland's men in green succeeded in doing last time out.
Injury has slowed Lawes' rise through international rugby. That Saturday will be his first start in the Six Nations comes as a surprise when he has been around the team for so long.
But his size and athleticism going forward, and relish for the tank-trap tackle, are assets few coaches can ignore.
Lancaster's opposite number Philippe Saint-Andre, so fickle and feckless in selection so far this winter, has finally let logic back in to his own line-up, returning to the old combination of Parra and Trinh-Duc in the half-backs and bringing Wesley Fofana back from his lonely wing exile to his natural slot at centre.
Quite how France will perform after pedestrian defeats away to Italy and home to Wales is anyone's guess.
Their recent record at Twickenham is poor, with only one win to show from their last six visits; England have won five of the past six championship meetings, while France have now lost four Six Nations matches on the bounce.
"The outside perception is of a weakened team," agrees Parling. "But for us it doesn't feel anything but a massive game. You can't read anything into their form."
Why not? Isn't it sporting cliche to believe a team are never more dangerous than when they've just been badly beaten?
"It would be against other teams," adds Parling. "But France can live, more than anyone else, off the emotional energy.
"When things are going well for them, they're off-loading, they're chucking it over their shoulders, they're chipping it through, they're doing all sorts. If you can get into them, they get down on themselves more than other teams."
So if France are a wounded lion, would Parling rather face that than a fully fit beast?
A grin appears behind the beard. "I would beat either. I would take on the fully fit one, tame it, and use it as a pet.
"The injured one might die - let's use the strength of the fit one. With petrol prices the way they are, if I can ride a lion into training each day, then that's ideal."