Six Nations 2013: John Beattie questions the value of statistics

By John Beattie
BBC Scotland
Last updated on .From the section Rugby Union159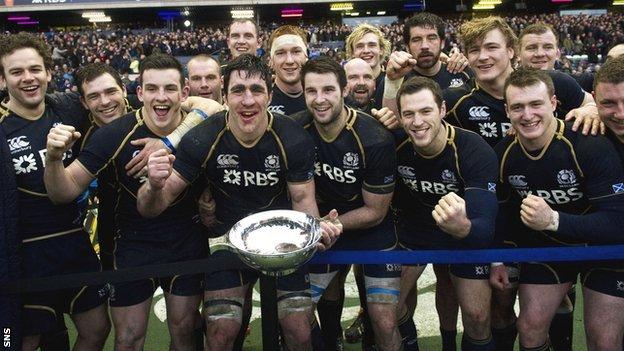 The phrase that springs to mind after is that one about statistics being like a bikini.
At the start of the month, before Scotland journeyed south to Twickenham to play England in their Six Nations opener,
Scotland had not beaten England on their own turf in 30 years. Indeed, they had won there only four times in a century.
"Statistics are a bit like bikinis - it shows a lot but not the whole thing," Johnson had quipped.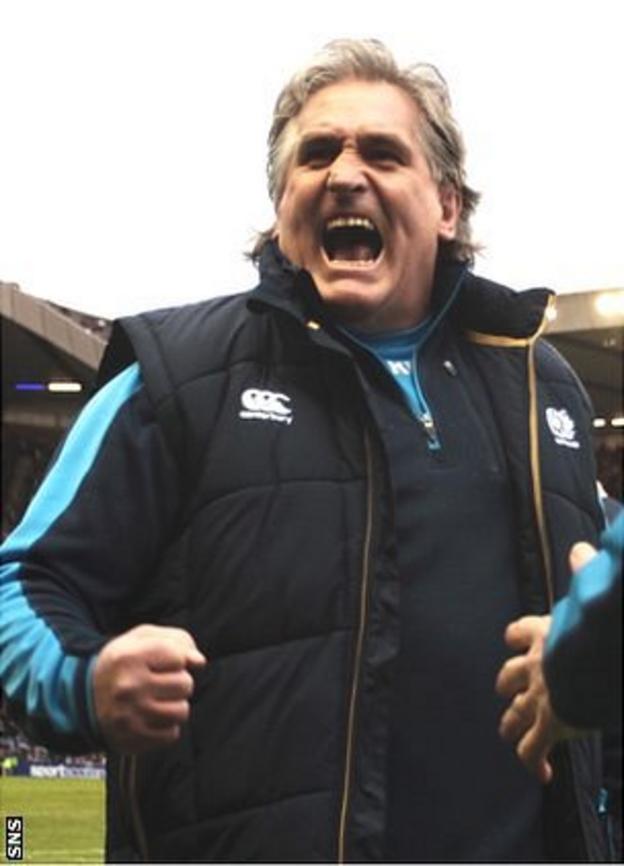 "The reality is you can take what you want from statistics.
"We're here to make our own future and create our own history."
Before I pore over Scotland's amazing Six Nations win over Ireland at Murrayfield on Sunday, there was another stat to mark.
I'd been asked to present lock Al Kellock with his special commemorative jersey for winning his 50th Scotland cap in the changing room after the match, which I'd attended as a punter.
My speech was prepared.
In my head I was going to talk about the 1,000 or so men who had represented Scotland since 1871.
I'd mention that around 300 might still be alive, and how proud they would have been of him and of watching the team win.
Then there was a bit about him being a Glasgow boy and then I'd give him his jersey.
Team manager Gav Scott gave me the jersey outside the changing room door, and I mentioned to him that I was pretty tired and might cry. He said with a smile: "It's best if you cry…"
So I was ushered in, feeling completely ill-at-ease to be back in an international dressing room nearly 30 years since the last time, and saw all the players smiling.
I garbled the words "three hundred", thrust the jersey into Kellock's arms, burst into tears, and ran out the room.
Utterly pathetic.
Anyway...my view of the game was pretty simple. Part of Scotland's win was down to Ireland blowing the match as their side didn't, as the cliche goes, "keep the scoreboard ticking over".
They may have enjoyed 71% of possession, but they lacked a reliable kicker.
Rugby has a few fundamentals. Scrummaging helps you win games, line-outs help you win games, and kicking your points wins more games than anything else.
Scotland did well in the scrums with Geoff Cross posing a selection problem, they disrupted line-outs while securing most of their own and, unlike the Irish, slotted their easier kicks at goal.
Which is where I come back to statistics being like a bikini. You can have a thousand line-breaks, make a million ball-carries, and win all the ball, but unless you score points it's all completely meaningless.
Of course it's more likely that you win if you do all that, but it doesn't mean you come out on top.
And that's why scoring was invented. Originally the only way of scoring points in rugby was by kicking a "goal" which you were allowed to "try" to do after dotting the ball over the line. Hence, a try is a try.
You have to either get the ball over the line, or get it between the posts to win a game. Nothing else really matters.
All rugby players have taken part in a game where they have outscored the opposition in terms of tries, but the other team have a kicker who can kick from anywhere and you lose.
And my point, at the end of all this is this: are we now, as a media industry, bombarding viewers and listeners with meaningless statistics? You know, time in opposition half, ball-carries per person, tackles made, line-breaks and all the rest?
One piece of genius from one person who breaks through a line and scores, or one successful kick from the halfway line, must be as important as all the rest put together.
The only statistic that really matters, surely, is the final score.
Tell me, what did you think of the game?