Jeremy Guscott's Six Nations Q&A

By Jeremy Guscott
Rugby union analyst, BBC Sport
Last updated on .From the section Rugby Union280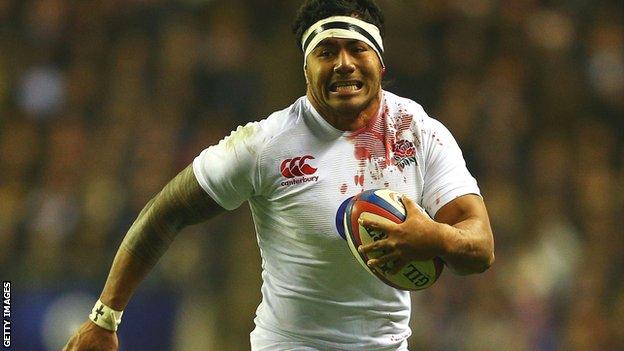 Among the topics Jerry discusses this week are:
- Chris Ashton's missed tackles and ball throwing
- England centre partnership for the game with Italy
- Who will get the 2013 Six Nations Wooden Spoon
- Where Ireland go from here
- What to do about poor behaviour towards referees
Jerry answers questions posted on the website at the start of every week - entries are now closed for this Q&A. This week's answers appear below.
Hi Jerry, a lot of people are questioning whether Chris Ashton should be in the England team - with his defence and attitude coming in for particular criticism. Your thoughts? Azaer & VoiceofReason
Hi, Azaer & VoiceofReason, Ashton seems to be riding Stuart Lancaster's patience when it comes to his attitude on the field. Throwing the ball at Benjamin Fall in injury time was petulant and unnecessary.
Yes, the France winger pushed him in the face, but be the bigger person at that point. It's game, set and match, goodnight, enjoy the trip home. Lancaster will balance Ashton's attitude against his good try scoring record and how much he's influencing the team's performance.
There's no doubt Ashton has tackling issues, he misses too many and when he does make contact, his timing and accuracy can be off.
Attitude and tackling are quick fixes - or should be - and I'd be surprised if Lancaster drops the Saracens winger for the Italy game, because if Ashton scores a couple of tries, that will get him in the mood for the potential title decider with Wales.
But Ashton is treading a very thin line with his attitude. Lancaster will tolerate a degree of attitude but not petulance, there's no place for that in his squad.
Hi Jerry, not overlooking the great service Brad Barritt has done for England, do you think the Italy game is the right time to see the centre partnership of Billy Twelvetrees and Manu Tuilagi? I get the impression most England fans would like to see this duo in the centre. TheLastKingofEngland
Hi TheLastKingofEngland, it's well documented now that I look at Brad Barritt in a different light today than a year ago. The Saracens centre is probably in Stuart Lancaster's first five picks when he selects the team.
As much as I want rugby to be all breaks, side steps, swerves and tries, you need your grafters within a team and Barritt is your worker ant. He's relentless in his pursuit of the opposition to knock them back and as boring as I may find relentless defence, Barritt helps make this current England team tick.
Billy Twelvetrees has proven his worth and will get some game time against Italy but England will want to win the Italian match and because of that I can't see much of the starting XV changing.
Tuilagi is first choice because of what he offers in attack - and Barritt is because of his defence.
Which was the biggest factor in England's win against France, visiting coach Philippe Saint-Andre or the referee? Thing
Hi Thing, when you're in a good place things seem to go your way more often than not and England got their fair share of fortune on Saturday when it came to a couple of referee's decisions.
The accidental offside before Manu Tuilagi's try was difficult to spot for any official because it happened so quickly.
But when Mako Vunipola slapped the ball out of Morgan Para's hands at a ruck it should have been spotted by the ref or his assistants, and could have resulted in a yellow card. They say over the season the refs' decisions balance out, France will hope to get more fortune in their next two games.
Hi Jerry, do you think the performance of Louis Picamoles highlights the lack of balance in England's back row at the moment without a proper number eight? Dannyboy
Hi Dannyboy, let's not get carried away, Ben Morgan being injured has allowed Lancaster to look at different options and one thing he's learnt is that Courtney Lawes isn't an international blind-side.
Personally I don't think Wood has done a bad job at eight. Against Ireland he was brilliant but in the game he had James Haskell, an international back-rower, alongside him at six, not Lawes.
Having said that, Lancaster should have Morgan back soon and all will be back to normal, England will have a well-balanced back row then.
Hi, are we seeing a trend with Owen Farrell. First he pulled back on a jersey off the ball and then there was a forearm smash on the way past an opponent. It seems to me he may come a cropper. Keith
Hi Keith, Owen Farrell is a young man who is incredibly competitive, learning what it's like to be an international rugby player. He's going to make some mistakes along the way but he strikes me as someone who will learn what's right and what's wrong.
Only Owen Farrell will be able to tell us why he stuck a little elbow on Para, and that's all it was, a tap - it wasn't a smash. If it was mis-timed he could have hurt Parra and then been cited, banned and missed a lot of rugby, so because of those hypothetical reasons I hope the Saracens fly-half has learnt his lesson.
Jeremy: Who's going to win the Wooden Spoon, and why? Einveldi
Hi Einveldi, well it's between France, Ireland and Italy, they all have one away game and one home game left. I believe Ireland will beat France and it will go down to points difference between Italy and France, unless Italy can beat Ireland at home.
France are in such a bad place, coach Saint-Andre is struggling to get his message across and he's now changed his team so much, who knows what's what?
Italy have been emotionally worn out since that first match, when they beat France in such thrilling fashion, but could regenerate enough to put Ireland under the cosh in Rome. I'll go for France winning the Wooden Spoon.
After doing a fantastic job marshalling Scotland's defence and with his impressive goal-kicking percentage, how do you rate scrum-half Greig Laidlaw's chances of being picked for the Lions vs the likes of Ben Youngs/Danny Care/Mike Philips? Simiwol
Hi Simiwol, of the nines you mention, if they were all playing at their very best, I believe Laidlaw would struggle to get picked (if only three go on tour).
Statistically, bar his goalkicking, he's not overshadowing his rivals. His missed tackles and turnovers conceded stats definitely won't help his case for inclusion.
Hi Jeremy. Scotland are winning more in 2013 but also have significantly reduced possession stats. Much of this seems to stem from kicking any ball that isn't lighting quick or coming to them from broken play, a big change from the Andy Robinson era tactics. Do you agree that in the modern game it's better to have no possession than "bad" possession? tdkf
Hi tdkf, quick ball is king and unless you have a pattern that can turn slow ball into quick ball with ball in hand, then it's easier and less risky to kick the slow ball into opposition territory. Certainly in your own half you shouldn't mess around with slow ball - exit, chase and put pressure on the opposition.
Hi JG, in a parallel universe Dwayne Peel, James Hook, and Gavin Henson would be supplying George North, Alex Cuthbert and Leigh Ha'penny with try-fodder on a silver platter, and in much greater abundance. If I had tickets would you jump through the looking glass with me...? Owen Lucas
Hi Owen, I do think that's a bit of wishful thinking. Unless those Welsh forwards produce quick ball the backs can't produce miracles.
Simple question: Where do Ireland go from here? Ferris6
Hi Ferris6, don't move away from Paddy Jackson, give him another go at fly-half. Luke Marshall did very well in the centres, keep him in the team, tell Keith Earls to learn how to pass, and try and support players who make breaks.
Jamie Heaslip needs to find the form of 2009 and if you then get a few players back from injury, job done, Ireland start winning again… If only it was that simple.
Some of the players' behaviour seemed to be from football, ie trying to put pressure on the ref. Surely play-acting should have no place in rugby? Actionr
Hi Actionr, I read today that they are looking to sort all this out in the Premiership and I agree, there's no place for it in rugby - or any sport for that matter. The refs are the judge and jury during the game but they have to be stricter in applying the rules.
They have let the scrum feed become crooked, please don't let some rugby players' poor behaviour go unsanctioned.
Hi Jerry, after hearing that Manu Tuilagi played most of the game with an ear injury that needed 19 stitches (see picture at top), what is the worst injury you played through in your career? Impala66
Hi lmpala66, I had a few stitches in a game during my time but nothing like 19 and an ear half hanging off. If the injury doesn't stop you from doing your job, you won't go off.