Non Evans: Wales set sights on 2014 World Cup

By Non Evans
Former Wales full-back
Last updated on .From the section Rugby Union0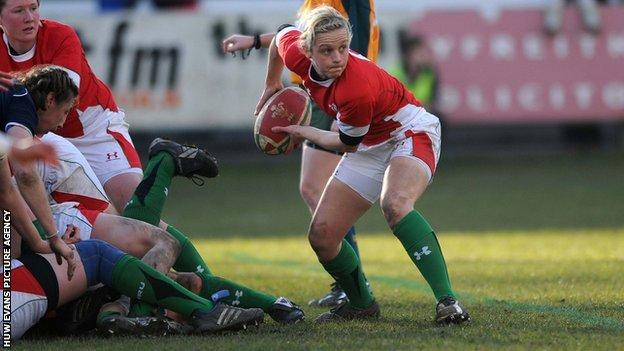 Nobody should underestimate how important Wales' narrow 16-15 win against Italy in Benevento on Sunday was for their world cup qualification hopes.
Wales were under huge pressure to win out in Italy because the aim of this Six Nations campaign is to qualify for next year's world cup in France.
The defeats to Ireland and France, in the first two games of this campaign had really brought into focus Wales' ambitions of playing in the World Cup.
Wales have to win two Six Nations games to qualify for the 2014 World Cup.
If they had lost in Italy, they would have had to beat Scotland and England, in the final two games, in order to qualify.
So the pressure was on out in Italy and Wales came through with a victory but a very important one.
It was a tight game and Wales were ahead for the whole game but Italy kept in touch throughout the match and they managed to win by a single point.
Wales scored two really good tries in Italy, kicked the points and to come away with a win was brilliant because they have lost in Italy in the past.
The Italians are improving every year and they would have been full of confidence after beating France for the first time and Scotland.
Wales now need to get the vital second win by beating Scotland because I cannot see them beating England on the last weekend of the Six Nations. France beat England 30-20 at Twickenham and I cannot remember the last time the old enemy lost two consecutive games in the tournament.
So the pressure is still on Wales and if they don't beat Scotland, they could miss out on qualification for the world cup - so it's a must-win up there.
The Scots will be dangerous because they got thumped 30-3 by Ireland and have lost all three of their games so far, but they have been the weakest side in the Six Nations for a number of years and I cannot remember the last time Wales lost to Scotland.
Wales should be confident but not complacent and it won't be easy at Scotstoun in Glasgow.
A win over Italy and Scotland would mean the pressure would then be off for the visit of England to Aberavon on the final weekend of the tournament.
Wales will play an England side weakened by the loss of so many of their top players being away on the Sevens circuit during the Six Nations.
England have something like 17 of their players, who are semi-professional, missing from Test duty during this campaign. A number of the major women's rugby playing nations are following suit because money and funding is being thrown at Sevens due to that format of the game being included in the Olympic Games in Rio.
England, who have won five Grand Slams in the last six years, are not the side they were and are vulnerable but this is a young developing side Wales side and they will do well to register a first Welsh win over the English since 2009.
Non Evans was speaking to BBC Wales Sport's Simon Roberts