Six Nations: Mike Blair analyses Scotland's win over Ireland

By Mike Blair
Former Scotland scrum-half
Last updated on .From the section Rugby Union215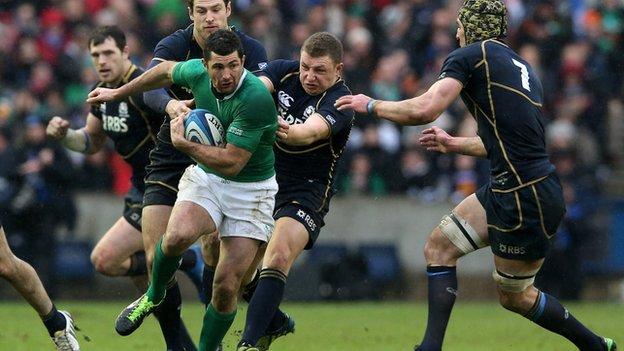 There are many ways to win a Test match.
Possession, territory and amount of tackles made by each team all weigh heavily in Ireland's favour. Key facets of the game, undoubtedly, and as a consequence the Scottish win went down as a "great escape".
My first attempt at this article literally gave me a headache as I was analysing the official Scotland team match statistics put together by Rob Holdsworth. There is no point. It doesn't make sense. I'm going to say what I saw instead.
At half-time Scotland had absolutely no right to be within 15 points of the Irish - but they were and clear-cut opportunities went begging. Sure, bemoan the clinical edge of the Irish but also remember the scramble defence of the Scots.
It must have been demoralising and frustrating for the Irish to have only gone into the changing room 3-0 up.
Scotland were playing a sensible game in the wet conditions and didn't become frustrated by the lack of possession and start playing from deep. Laidlaw did the majority of kicking, a clever array of short chips, noticing the Irish backfield coverage was very deep, mixed with contestable box kicks and pressure-relieving touch finders.
In defence, something that caught the eye was the "one-man spot blitz". Sean Lamont and Sean Maitland both performed this a couple of times with success.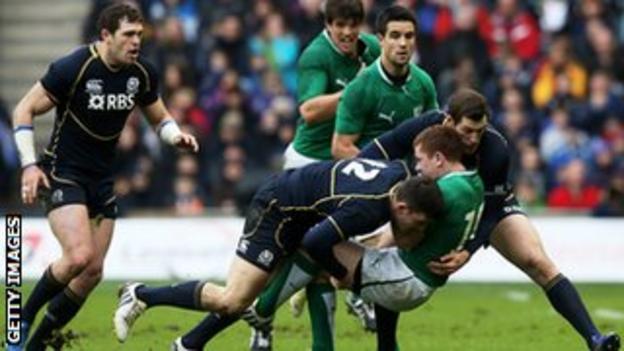 Basically, it is when a wider defender accelerates a bit quicker than those inside him in an attempt to get in the opposition ball player's eye-line. He is effectively trying to "spook" the opposition into not throwing the wider pass and forcing him back inside where the safe haven of the stronger inside defence wait.
Against a young 10 [Paddy Jackson] in wet conditions, short on confidence after an early dropped ball, it worked perfectly. The same two players pulled off a miraculous tackle on Brian O'Driscoll on the eighth minute of the game too.
It's moments like these that have such a bearing on a Test match result. Concede early and confidence drops. Hang in and belief builds.
OK, I've caved in - here is a statistic, you have to concentrate! Of the 47 times that Scotland started with the ball they didn't play past two phases 36 times. They kicked early in their sets and looked to pressurise the Irish through their kick chase, breakdown work and spot blitz.
Ireland surprisingly only started with the ball 42 times but they chose to play a multiphase game, 17 times putting together three phases or more (on four occasions putting together more than 11 phases).
This explains the possession statistics. Scotland were happier to part with the ball than their opponents. There is no hiding that of course they would want more possession but as half backs you play the cards you are dealt and they played the conditions sensibly.
The fact that Scotland lost the ball 11 times in the first two phases maybe suggests they weren't comfortable taking the risk of playing as turnover ball is a terrific attacking source. Accuracy in these first few phases must be improved as you won't win all your games with 29% of the ball.
The line-out functioned well, especially defensively. You could see Jim Hamilton, who had a strong game, moving up and down the line-out trying to pre-empt where the ball was going to be thrown to and this certainly disrupted the Irish.
The scrum was very solid too, even when Ryan Grant was off the pitch with the yellow card.
I have taken tap penalties many times, been smashed after three or four metres and rarely has a yellow card been given. I don't know if Grant actually touched Murray and yet a potential game-changing yellow was awarded.
Players just want consistency from referees across the board but that's a discussion for another day…
Matt Taylor, Scotland's defence coach, will be pleased with the forwards' efforts, making 84 of their 89 tackles but will be concerned with the backs only completing 39 of their 56 attempts.
They can ill-afford making the same errors against the likes of Roberts, North and Cuthbert in two weeks' time.
There are certainly things to work on but Scott Johnson will be delighted that this will be done on the back of a second successive win. The difference between winning and losing is marginal and often comes down to little things but the impact of a winning culture is huge.
Keep winning and no-one is too bothered about how it's done and if Johnson's team can keep building on their foundations in defence, set-piece work, goal kicking and desire then a win against Wales is not out of reach.
Mike is writing a column for BBC Scotland throughout the Six Nations campaign.