Scarlets agree to release Argentina lock Tomas Vallejos from contract
Last updated on .From the section Rugby Union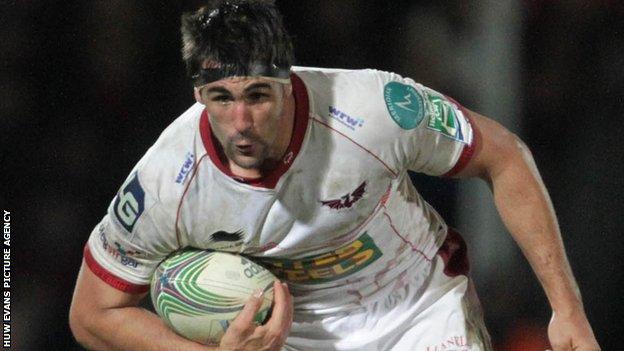 Scarlets have released Argentina's Tomás Vallejos from his contract to play for Pampas XV in the Vodacom Cup.
Vallejos, 28, travels to Argentina on Thursday to join the Pampas team before they travel to South Africa next week.
Capped eight times by Argentina, Vallejos played eight times for Scarlets this season.
"It is important to me to be able to take up this opportunity as the Vodacom Cup will ensure that I get some more rugby under my belt," he said.
"I've not made any firm decisions about what I intend to do after the cup competition in South Africa and there are a number of options available for the future.
"I have been given a warm welcome from the Scarlets players and the region's supporters and I am grateful to all those who have worked with me at Parc y Scarlets during my time here in West Wales.
"I have enjoyed my time in Llanelli and wish all the boys luck for the rest of this season."
Vallejos was signed from Harlequins ahead of the 2012-13 season.
Scarlets head coach Simon Easterby said the region had respected Vallejos' to be released from his contract.
"We have supported Tomás' wish to play with Argentinean side Pampas to allow him to get a substantial period of game time which he has unfortunately not had with us," said Scarlets head coach Simon Easterby.
"Tomás joined us later in our season after his commitments with the Championship and had to play catch up to an extent within the squad dynamic.
"We appreciate this wish and respect his decision to move back with an Argentinean side and thank him for the spirit and enthusiasm he has shown for Scarlets rugby during his time with us.
"We wish him all the best in the Vodacom Cup and his future aspirations in rugby."
The Vodacom Cup is a developmental competition with 14 South African teams and selected invitational teams.