Wales lock Ian Evans expecting mind games from Scott Johnson
Last updated on .From the section Rugby Union44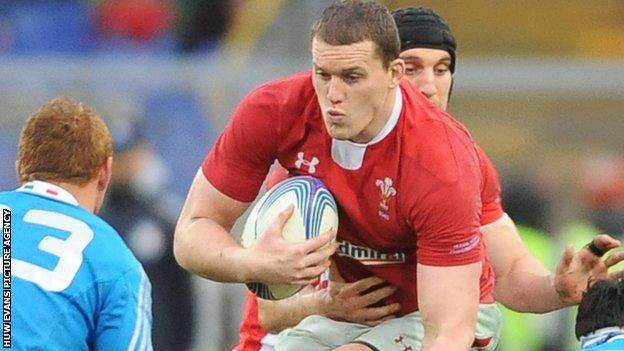 Wales lock Ian Evans believes his former Ospreys boss Scott Johnson will play mind games ahead the Six Nations clash against Scotland on 9 March.
The Australian has guided Scotland to two straight wins, against Italy and Ireland.
"He likes to put himself out in the press, trying to ramble some jargon and trying to play mind-games," said Evans.
"His worst fear is probably that he's coached most of the boys within our squad, so we will more or less know how his mind-set is.
"So he can ramble as much as he wants, it just becomes pretty boring in the end.
"Rugby is a pretty basic game, isn't it? I don't think you need to add fuel to the fire.
"There is no doubt that there will be [mind games next week]. But, like I said, it's boring, for me anyway.
"He [Johnson] is quite a character, really," Evans added.
Like Scotland, Wales have won their last two matches - against Italy (26-9) and France (16-6).
It means the Celtic rivals remain in contention to challenge Six Nations leaders England for the title.
And Evans is not surprised at Johnson being the first Scotland coach to guide the country to back-to-back Six Nations wins in the same season.
"He [Johnson] has been around international rugby with Wales and Australia, and he's obviously with Scotland now," said the second row.
"So he is a very experienced coach, to be fair to him. He knows what he's doing and you've got to respect that."
Evans has never previously played for Wales at Murrayfield and he expects a fearsome battle, especially opposite in-form Scotland locks Jim Hamilton and Richie Gray.
"They are quality players. They play in the Aviva Premiership, where set-piece is a main part of the game," he added.
"Hamilton is massively underrated. He is a great player.
"But I have got confidence in my ability, and when you play international rugby you want to play against the very best players.
"It's going to be an interesting day at the office.
"You saw them against Ireland with their line-out defence.
"They caused them [Ireland] a lot of worry and didn't give them much clean ball, so they pose a big threat, but it's up to us to counteract that."