Six Nations 2013: Jamie Roberts set for 'two weeks from hell'
Last updated on .From the section Rugby Union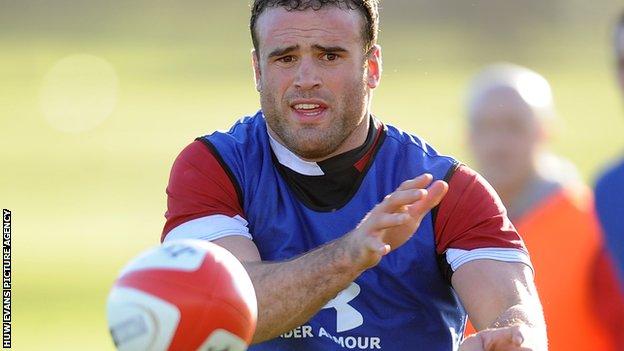 Wales centre Jamie Roberts has embarked on "two weeks from hell" as the climax to the Six Nations coincides with the end of his medical degree.
While the rest of the Wales squad can concentrate on Saturday's visit to Scotland, Roberts must also prepare for an exam two days later.
"I had a big weekend in the library this weekend," revealed Roberts. "It's tough, I won't lie, it's very tough.
"It's very demanding mentally more than anything, but I'm managing."
Roberts has long juggled the demands of professional rugby with his studies and has taken up all the allotted seven years to complete his degree at Cardiff University.
But the pressure and workload is greater than ever, he said, requiring a positive mental attitude to quell last-minute doubts over a lack of revision.
Two written exams lie in wait - the final one coming two days before a potential Championship decider against England on 16 March - and then a final practical the following week to bring it all to an end.
"It's two weeks from hell - probably the toughest two weeks I'll face with the climax to the Six Nations coming up and medical finals," he said.
"But I'm getting there and hopefully I'll be smiling."
On the field, the preparation is just as intense. Roberts, hoping to impress to make the Lions tour to Australia this summer, will be part of a Wales team hoping to stay in contention for the Six Nations title.
Victory at Murrayfield - a fourth in five visits - would set up a potential title decider at home to tournament favourites England, who must beat Italy at home on Sunday to stay on course for a first Grand Slam since 2003.
But Wales would be "very stupid", said Roberts, to look beyond a Scotland team he rates as the most improved team of the Six Nations over the past year.
The home side will also have the added incentive of knowing that a third victory this season will keep their title hopes alive.
"They play at a level now where they can beat a lot of teams on their day," said 26-year-old Roberts.
"Even though they were probably outplayed by Ireland they still got a result and that's a sign of an improving team and a good team."
Defensive resilience rather than attacking flair has been the theme of Wales' two wins this season.
Those victories over France and Italy brought significant relief after a run of eight successive Test defeats, and Roberts admitted they were classic performances of a team playing "not to lose rather than go out to win".
He hopes the "shackles are now off" as the confidence to play a more expansive game returns, but stressed he had no problem with grinding out a win if required.
"They are the hardest to come by, but also the most rewarding and satisfying as a player," said Roberts, who is expected to win his 52nd cap on Saturday.
"If you run in four or five nice tries and you win quite comfortably it's not as rewarding as really dogging it out in wet conditions in a defensively solid game."